Photography: Bharat Aggarwal; courtesy the designers
Read Time: 2 mins
.
Sankraman Design Studio captures the essence of Rajasthan's culture-scape in this thaali restaurant in Gurgaon…
A contemporary expression of the culture and diverse textures of vibrancy amidst desert sands – that is Rajasthan - served in a traditional platter reflect through the restaurant's introvert planning on a deep rectangular site with the entrance positioned on its shorter frontage. The synergy between the main door composed of stained-glass panels held by a wooden frame and a glass wall with a traditional miniature-art silhouette establishes a dialogue with its patrons at the very beginning; and sustains the thematic with the setting on the inside.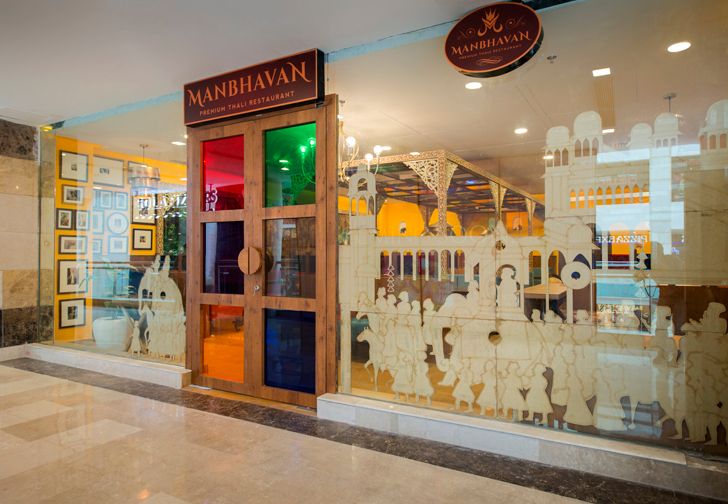 .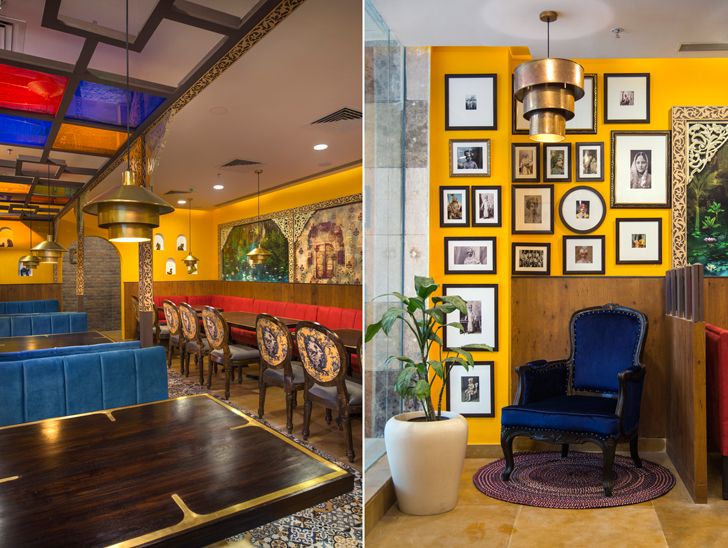 .
A subtle tonal warmth induced by the ochre volume constitutes the interior envelope, functioning as an ideal canvas to the pop of colours and patterns that bring the ambience alive with distinct echoes of the native land. This is further endorsed by a royal blue 'Maharaja' chair that animates the waiting area through its bold contrasting tint with a backdrop of photographs from the royal families of the region.
Simply composed elegant furniture is defined by yellow Jaisalmer stone flooring with mosaic tile inserts in the aisles for a pragmatic outcome that responds well to the narrative. The central dining area is distinguished by a false ceiling designed with a wooden frame holding stained-glass panels, supported on ornamental posts extending from low wooden partitions.
.
.
A rich material palette includes mango wood, bright and printed upholstery for handcrafted sofas, brass inlay work on dining tables and lighting fixtures… further enhancing the concept of joie-de-vivre with a burst of colours. The arches framing exposed brick walls contain niches for local artefacts and printed wallpapers adorn the peppy interiors, thus moulding a one-of-a-kind experiential ambience.
.
.
'Manbhavan' as the casual diner is christened, holds true to its name as it epitomises the warmth and guest relations that are synonymous with the region.
Design Firm: Sankraman Design Studio
Principal Designer/Architect: Ar.Sapna Lakhe and Ar.Shwetambari Shinde
Carpet Area: 1400 sq. ft.