By Team IAnD
Photography: PHX India; courtesy the architects
Read Time: 2 mins
.
Studio Design Inc designs The Den – a home technology solutions store in the heart of Mumbai, playing on one's emotional responses to different kinds of audio-visual systems…
Envisioning the AV den as a mood catalyst, the designers craft the 2000 sq. ft. retail space in the basement of a commercial complex into a series of experiences. Using the principles of set design, they transform a conventional retail store into personal-space simulators, providing the much-needed feel of advanced audio-visual equipment and home technology solutions.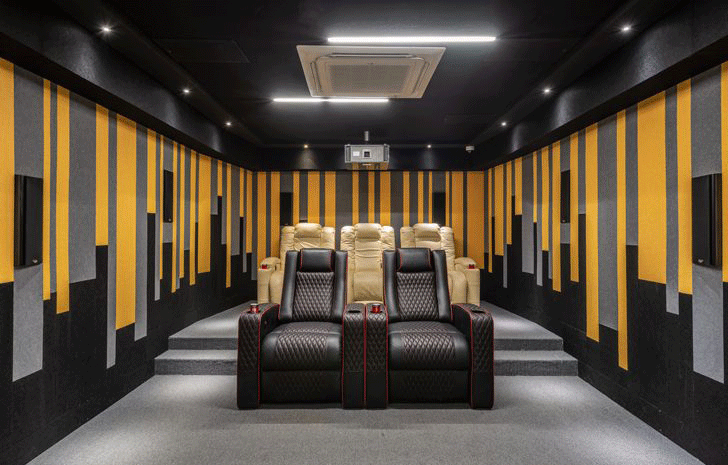 .
Preparing the ground for a bespoke set of experiences, the space hosts a home theatre and a speaker room – complete with a lone white chair to sink into; besides the perfunctory office and service areas.
Mitigating the undesirable aspects of the site - dim and dull interior space with inadequate ventilation - the designers approach the space as a "man cave"- an individual's personal relaxation zone. This is handsomely facilitated by creating scenarios that synergize with varying technology preferences of each visitor, exploring his psyche to tap into his emotional responses.
.
.
.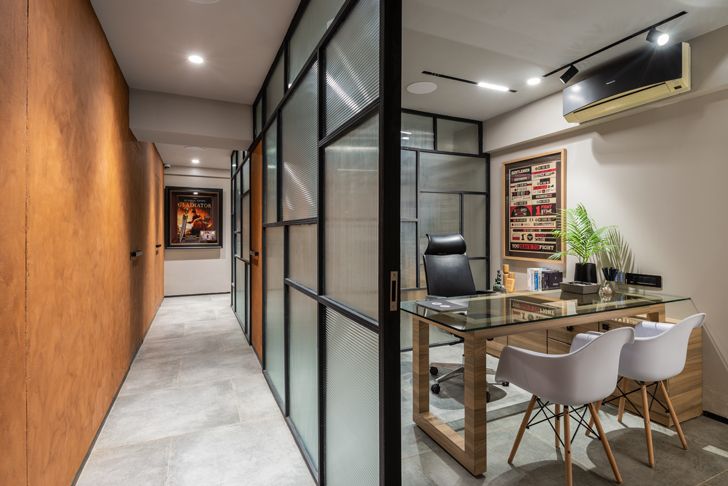 .
So, a sleek juxtaposition of steel grey, black and copper with patchy grey tiles and black slats on white walls in the interior envelope comes alive with pops of vibrant hues in the deep-seated sofas, throw cushions, rugs and accessories; and is ably highlighted by choice collectibles related to movies, sports, art and the like, ensuring positive and active visitor engagement. Track lighting conveniences this further as the neutral tone-on-tone shades can be altered to reflect different moods viz., loner, group, dark, bright, family, dim, happy, silent, party… etc.
The Den reflects an engaging personalised approach that goes way beyond a point-of-sales experience, reaching out to the magic that is distinct only to upbeat techno enthusiasts. An exercise that demonstrates the altering emotional quotients of clientele in relation to current tech offerings; and one that has proved enlightening to the designers as well.
Principal Designer/Architect: Khushboo and Kunal Khandelwal
Design Team: Devanshi Rathod, Kunal Khandelwal
Carpet Area: 2000 sq. ft.