By Rutvi Ashar
Photography: Tejas Shah; courtesy SPIRIT
Read Time: 2 mins
Mumbai-based architecture and interior design studio, Spirit uses light and its magical effects as the mainstay of this Vadodara office...
Satisfying both - the art-centric as well as modern architecture lovers, Spirit headed by Ar. Shailesh Veera has a diverse portfolio that continues to surprise. From their milestone fluid lines of Dream House in Vadodara to this office space (for the same client) that boasts of sharp angles and lines, the studio works with a philosophical approach – in this case with light as the focus loci, endorsed with a carte blanche by the client.
Inspired by magical crystals, the architect evokes a sculptur-esque space using coloured graphic films on glass to create a prismatic effect on a neutral palette of white, gray and black.
.
The idea is to break-free of any preconceptions and approach colour through a fresh lens, generating an element of interest in the angular 2500 sq. ft., three-storeyed structure that allows for an arrangement of spaces that house a stilt floor used as parking, office areas on the first and second floors, guest house on the third and an entertainment zone on the terrace.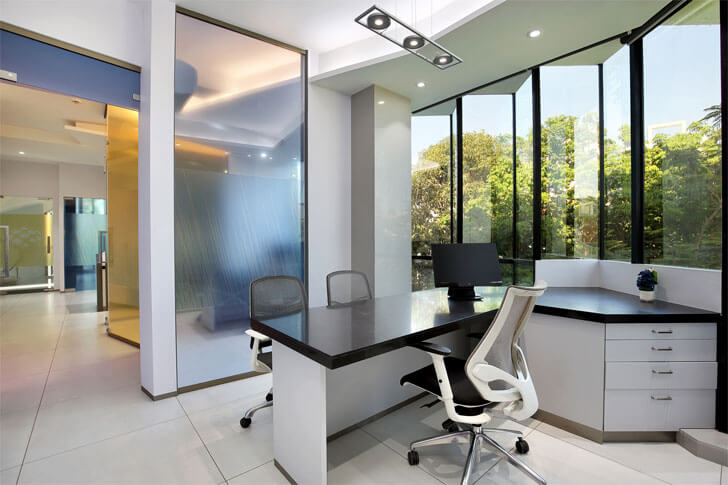 .
Making a bold architectural statement, the space stands tall with a strong zigzag glazed facade creating translucent interiors infused with magical lighting – direct as well as reflected/refracted rays that reduce the need of artificial lighting to a bare minimum. Contributing to the passage of light are mid-height partitions with their coloured glass interjections that stand out in an otherwise neutral floor plate.
.
.
Disciplined lines dominate this design as they cut through one another rigidly – surprisingly delighting the eye in a play of planes. Playing with the cladding, glass and opaque endorses the play of light on form and spatial elements, ushering joy and intrigue into the workplace.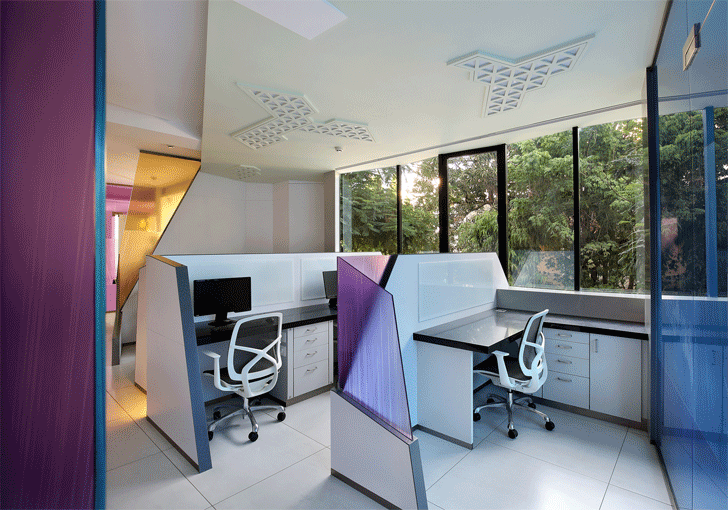 .
Attention to detail and virtually maintenance-free material viz., vitrified tiles, laminate and composite marble not only satisfies the pragmatics of workplace functionality, but creates a silent backdrop conducive to receiving light and colour glow from the glasses.