Photography: Edmund
Sumner; courtesy Studio Lotus
Studio Lotus reinterprets legacy into a contemporaneous fabric - effortlessly doing exactly what it excels at - marrying the best of both worlds!
Reinterpreting erstwhile palace spaces using the flexi-key of hospitality, the recent redevelopment of
the existing cafe at the city palace Jaipur into a fine-dine-cum-trendy bar-cafe lounge destination follows a concept that
seeks to create a balanced interplay of historic revelations and contemporary additions: both drawing from and interpreting the underlying Indo-Sarcenic influences of Jaipur's architectural history.
Nested within the oldest walled quarter of the historic city within the City Palace Museum., and spread across 14000 sq. ft., the relatively non-descript café now includes a private dining area, bar and various private lounges – together accommodating 200 covers - along with a quick-service counter, whilst back-of-the-house facilities are retained in their existing location.
The entire program is revisited by firstly stripping the existing layers of paint and cement plaster and exposing the rubble masonry, finishing it with traditional lime mortar generating an absolutely fresh envelope.
Add to this a key conceptual move – using the courtyard as a binding element for the new program rather than just an extension of the restaurant. To effect this, the existing structure, being used as a toilet block, has been completely razed to the ground, opening up the courtyard both, visually and spatially. An avant-garde pavilion in the form of a Baradari (literally translated - pavilion with 12 columns) is inserted as a bar into the courtyard to divide yet link the two zones flanking it. Built in handcrafted marble and brass, the contemporary expression of the Baradari-inspired pavilion heightens the surrounding historic vocabulary and gives the place its key identity.
A water cascade at one end of the courtyard helps create a micro-environment that cools the courtyard in summer, while drowning out noises from outside. It also serves as a connector by opening up between the Museum and the city through a secondary entrance – making the courtyard a semi private spine of that connection.
Traditional crafts of Jaipur like Thikri work, bespoke casting and foundry work, furniture and stone work have been interpreted in this new idiom – whether it was through finding new form or using them in a new manner for a new use.


"The Baradari at City Palace Jaipur in Rajasthan cites an example of how design brings inherent value to a place, when conventions on conservation and adaptive re-use are looked at through a fresh lens," conclude the architects.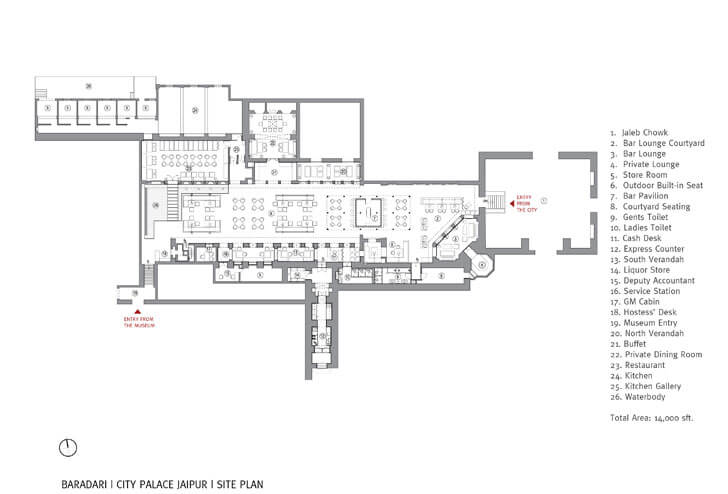 .
The project is a finalist in the World Architecture Festivals Awards in the
Completed Buildings:
Hotel & Leisure category.