Diwali Special 2016
Photography: Courtesy Rupande Shah
Read Time: 4 mins
Taking glamour to everyday lifestyle patterns, India Art n Design (dot) com presents top-of-the-line Design Expert, Ar. Rupande Shah answering readers' questions everyday starting today...
This is that time of year that has everyone in a frenzy to have their homes looking picture-perfect!
So you have a design/décor related problem?
Ar. Rupande Shah of Rupande Shah Associates, Kolkata

is a creative, who blends the contemporary with the distinctly Indian. With over two decades designing the interiors of the who's who in Kolkata, she specializes in residential interiors, bringing to the space a chic flair – bespoke, elite and glamorous!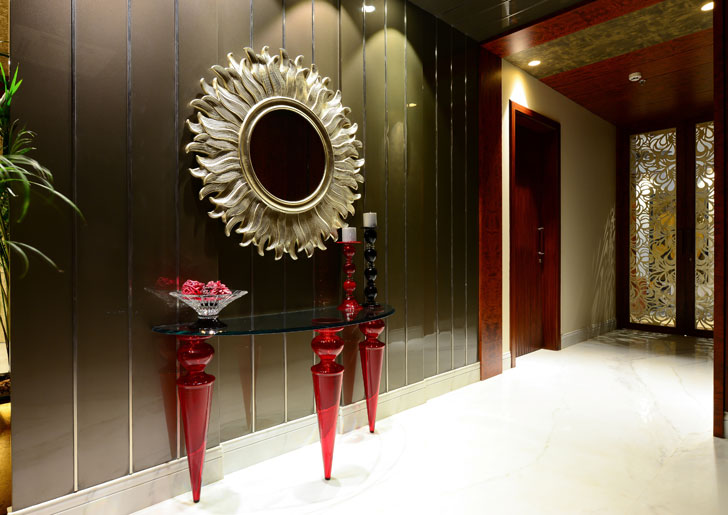 For that 'oomph' factor!
Q: Is shimmer the only component associated with 'Glamour' or are there other components as well? How can I make inexpensive good quality fabric appear glamorous?
Anjali Pathak, Pune
Rupande Shah: "Glamour" does not necessarily mean shimmer. It could be associated with a lot of other components. Use of high end materials like leather and metal can also be used to add an "oomph" factor in your project.
Any fabric, inexpensive or not, can be made to look glamorous with embellishments; motifs, borders, sequences, beads etc., can be used to make it look "dressed up".
Enliven an otherwise negative space!
Q. How do I enliven a dull and negative space/ corner in my living room?
Roohi Janardhan, Jaunpur
Rupande Shah: The best way to liven up a dull or negative corner is by bringing in a bright piece of art, which acts as a highlighter. A big green indoor plant could also brighten up the corner.
Q. One of my external walls of my bedroom is leaking and has spoilt the look of the entire room. Is there any way I can treat it without having to re-paint the entire room?
Hetal Agase, Mumbai
Rupande Shah: The only way to finish a damp wall is to texture it. They do have a fair number of external textures that are water resistant. However, if the leakage continues, the texture will not last unless you get the leakage repainted.
Switch on the moment!
Q. Could you please suggest a splendid table arrangement and décor for an Indian type of sit-down party?
Komal Balaji, Trichy
Rupande Shah: If it is an Indian type of sit down party, you could use materials that go with Indian design sensibilities like cane or bamboo mats, copper dinner set or even put in actual banana leaves as table mats. Serviettes could be in coconut platter etc. Fresh flowers could be added as a table centre with earthenware or ceramic crockery.
Q. What different and dramatic lighting options can I use to brighten up my bedroom?
Dhaval Mishra, Surat
Rupande Shah: Bedroom always require soften and dramatic lights. A corner up lighter is very effective and works very well. Another good way to add romantic lighting in the bedroom is to have an LED strip light below the bed on its perimeter. The light is thrown on the floor and it reflects upwards in a very soft manner.
Style lies in detail!
Q. Can you suggest innovative storage options for a small apartment?
Purnesh Kulkarni, Mumbai
Rupande Shah: Small apartments are always in need of storage spaces. Pullout systems, concealed cupboards, tall and long cabinets tucked away in corners are ideal for storages. Drop down tables can also be an option.
Q. How does one cull out a home-office. And what important tips one must keep in mind while doing so?
Simreen Kapadia,Udaipur
Rupande Shah: A home office can be carried out in even a small space of your apartment. It is important to remember to keep it minimal and uncluttered. If there is a separate room, then an elaborate office space can be created , however if it is a part of another room, try and keep it simple and small.
Dare to be different!
Q. Pls suggest ways to help me declutter my kitchen.
Vidyamani Selvan, Chennai
Rupande Shah: The best way to declutter the kitchen is to actually not have anything that is not required. Please dispose all the unnecessary things. We tend to keep old bottles, boxes etc. The best thing to do is to actually dispose all that. Also try and keep as much stuff as possible into cabinets. Today there are very effective ways to store even fruits and other supplies in the cabinets by giving adequate ventilation for them. So once everything is inside, your kitchen, however small, is going to look uncluttered.
Q. Pls provide an economical way to decorate my living room sofas.
Rupande Shah: Cushions, bright coloured, printed, multi designed are an effective way to decorate living room sofa. Tone on tone fabric throws is also very effective.
Q. Could you suggest ideas for doing up my son's room with a jungle theme?
Arohi Krishna, Gurgaon
Rupande Shah:
Wallpaper with various themes are available that could be used for your son's room. Also try and use a lot of raw wood and matt finishes that give the space a natural feel. Avoid using highly polished or shiny surfaces.
Creating pockets of interest
Q. Can you suggest innovative storage options for a small apartment?
Mrinalini Katyal, Lucknow
Rupande Shah: Small apartments are always in need of storage spaces. Pullout systems, concealed cupboards, tall and long cabinets tucked away in corners are ideal for storages. Drop down tables can also be an option.
Q.How can I create a storage room/cabinet to stack away stuff, which I would require in future but presently keep it out of sight?
Sayeeda Kareem, Hyderabad
Rupande Shah: Lofts or overhead cabinets are the most common way to store materials that are not required for everyday use. However these cabinets should be made where they are not obvious and do not make the space look smaller.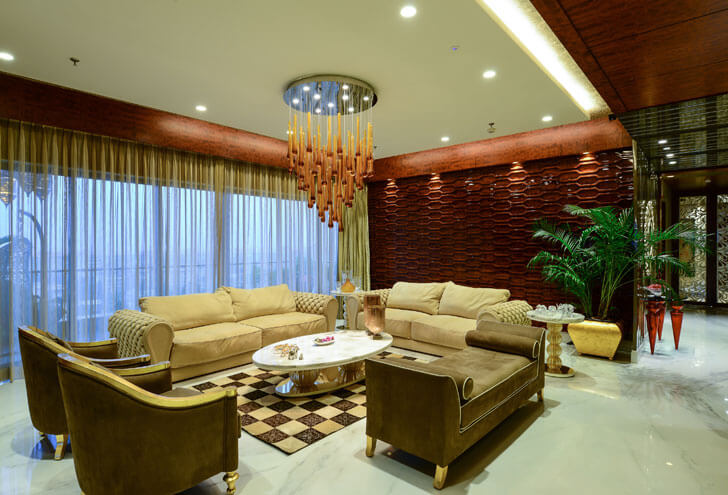 Room with a view
Q. I live in a house that has the front and back side open but I get very little light and ventilation. How can I improve both in the existing scenario?
Manohar Umap, Mumbai
Rupande Shah: If there are openings on the front and back only, it is a very similar situation as in a row house. In these cases, it is necessary to keep as wide openings as possible for internal walls as to allow light and ventilation to flow from front to back. If possible keep collapsible partitions so that once in a while all the partitions can be opened out and light and ventilation will flow through the entire length of the house.
Q. I'm planning to redo my house. What flooring would you suggest – vitrified tile vs. natural stone like marble, granite etc and why?
Sayanti Parihar, Kolkata
Rupande Shah: Depending upon your budget both are good options for your flooring. Vitrified tiles are faster to install and much cheaper compared to marble. However the longevity of marble or natural stone is far more than vitrified tiles. Granite is not recommended for flooring of the main area. It can be used in kitchen and toilets.
Accentuate!
Q.Which is the most affordable way to achieve a few glamorous accents in the home? Can you please enumerate 2-3 accents?
Vaidehi Vyas, Indore
Rupande Shah: The most affordable way to achieve glamorous accents in the home are
Floor rugs, Beautiful piece of art, Wallpaper.