Photography: Courtesy Spaces Architects@ka
Communicating through a dynamic spatial vocabulary, Ar. Kapil Aggarwal of Spaces Architects@ka, chisels a sprawling farmhouse on a 2.5 acres site in South Delhi...
The expansive luxurious habitat is a beatific exercise in opening the inside to surrounding nature and forging a seamless connect.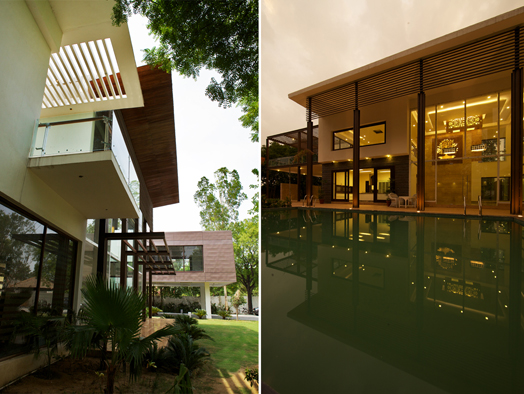 .
The two-storey structure with its double-height lobby is, in the words of the architect, "an attempt to create different architectural compositions from all sides". So we have this modern architectural residence stationed at the rear end of a rectangular plot, with plenty of room for a large pool and a front garden. The building blocks are oriented perpendicular to the plot, juxtaposing the spatial configuration in an L-shape, flanking the pool and evolving a larger-than-life ambience.
The language is totally, completely architectural with the material palette of a stand-out zinc frontage, rough Indian stone cladding, back-lit glass, clear glass and wood, fashioned into straight-lined forms, spacious right-angles, transparency and a very chic understated aura.
Largely sectioned into two units, one facing the front and side and the other, the pool area, the home is open on all sides with large glass panels ushering in ample natural light and establishing the interior-exterior equation.
.
.
A minimalist clean approach to furniture and furnishings prevails, quite naturally training the eye to commodious indulgence. The private and semi-private spaces house the lobby, drawing, dinning, two bedrooms and a bar area on the ground floor along with a home office; whilst three bedrooms including the master bedroom, the home theatre and gym are positioned on level one with breath-taking views of the pool. A glass lift flanked by an indoor water body connects the two levels besides a dramatically sparse staircase.
.
Each frame, each composition of the different areas is stitched together frame-by-frame, exuding a strong aura of belonging. Endorsing the differential spatial experiences intended, the spaces flow into each other – for example, one enters through tall entrance doors under a cantilevered entrance block, into a double-height lobby; the family lounge connects to kitchen, which has approach from the dinning, and to the bar area at the end; steps lead to the terrace garden above the gym extending into a party space… and the like. The spaces change with changing light of day, creating experiential intrigue and pockets of surprise.