By Chirag Sharma
Photography: Courtesy World Wide Web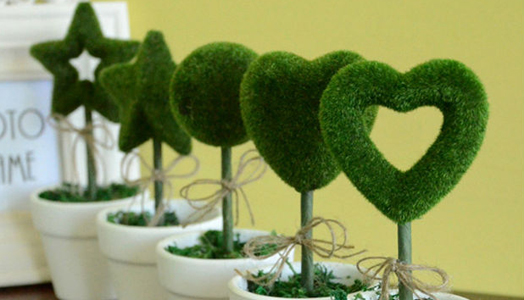 .
Fitness figures in your plants too! Get nimble with your indoor plants and shape up those green monsters
now
…
Believe it or not, plants can do much more than merely sit in a pot! Just a little extra time and effort can train your plants into living wreaths, cubes, or even animal forms.
Yes, what we are referring to are "Topiaries" - plants that are trained to grow into desired shapes.
One of the easiest topiaries to begin with is the living wreath. All you need are two small leaved vining plants, such as English Ivy, a six-inch pot filled with soil, a sturdy wire or a coat hanger, and some thin green easily-malleable stems.
First, form the wire into a circle (open up the coat hanger and bend into desired shape) with the two cut ends pointing down at the bottom of the circle. Push these ends to the soil, and pot a plant by each one. Wind the vines up the wire until they meet over each other and wind down the other side. Secure the vines to the wire with thin green stems. That's it for sometime.
As the plants grow, spare a moment or two to continue twisting them around the wire in opposite directions from each other until a fat, bushy living wreath is formed.
You can turn your attention to other things while the plants have grown enough - to the desired size. Now simply prune off any shoots that tend to mar the shape.
A little more exotic, but an equally easy shape to make is a cube. Form an open bottomed cube out of chicken mesh. Stuff it with damp, long fibered sphagnum moss, and set the cube on a pot filled with soil, with the cube's open side down.
Set in vining plants on all four sides of the cube. As they grow, pin them into the moss until they root into it. When you water the soil, water the moss. Continue training the vines up the wire until the entire cube is covered. Then, all you have to do is prune off any frisky little shoots that refuse to join the others. You end up with what looks like a solid cube of plant, but what we know is mostly moss stuffed chicken wire!! Now we know where the garden greats come from eh?! Psst… I won't tell if you don't!!