Hospitality Design Special

By Marina Correa
Photography: Courtesy the architect
.
Two terrace
restaurants located in Bengaluru and designed by Interface Architecture
are interestingly positioned: one fosters a strong connect with nature, while the other is inspired by fluidity of form..

.
Translating the signature element of a name into a concept, co-principal architect Vijay V Raikar of Interface Architecture, has developed a fluid yet functional design concept for S.signature – a new fine-dine restaurant introduced by Swathi, a chain of Andhra-style restaurants, in Bengaluru.
Play of ceiling lighting in dining areas
Bar Counter
Using clean, soft, curvilinear and curvaceous lines, the fine-dine experience is broken into three visual zones; differing in their treatment of furniture and ambience. While the innermost zone sports a casual but privy feel, the one immediately after and shielded by the natural roof is anointed with a signature element in the false ceiling; filled with blue lighting and analogous to the sky. Below, free-flowing granite flooring outlines the seating layout; with a darker shade enveloping the circular seating area and the lighter one defining the circulatory path. The third zone - the open-to-sky section is shielded from the western sun with a glass roof coupled with stone and bamboo wall cladding to ensure the relaxed feel of outdoor dining.
The exclusive Lounge Bar
A combination of fluorescent and normal yellow lighting binds the areas, lending them a mood board that could easily please a variety of senses.
Overall view Orchard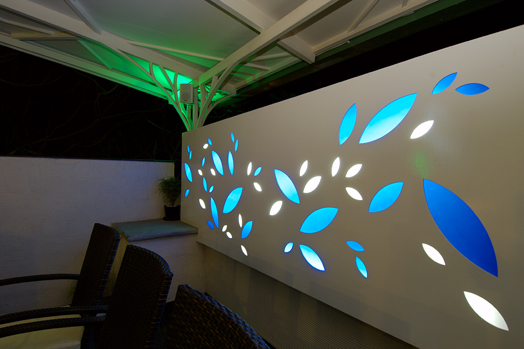 Backlit Acrylic
The other restaurant, Orchard, spread across 2,150 sq ft evolves from the surrounding greenery with leaf motif fenestrations, tree branch-like roof structure supports and ceiling patterns designed to follow this concept. A clarity and simplicity of finishes articulates this entire area as it allows customers to be drawn to the stunning green vistas all around: flamed granite flooring, stone seating, wicker chairs, simple glass-topped tables, duco and textured finishes and the like.
Outdoor dining area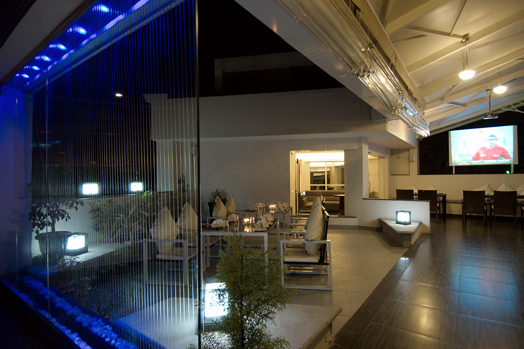 Waterfall partition between indoor & outdoor
Though they cater to different strata of diners, both restaurants are underlined by a modern, minimalistic approach, proving that good design does not have to be over the top but rather defined within its context.