Photography: Praveen Mohandas & Lijo Jos; courtesy the architects
.
Compositional artistry achieved in a contextual vocabulary, rooted in the vernacular, lends this residence an imposing aura, in congruence with the architect's vision and mission…
Catering to an unusual request for "a fortress-like house that cannot be scaled",

Thrissur-based

Lijo.Reny.architects had some serious thinking to do. Located in a grungy district Kannur in Kerala, the design solution dictated an intimidating piece of construction on a 2,183.09 sq.m plot with a floor area of 507.93 sq. m. bound by local elements in a local context.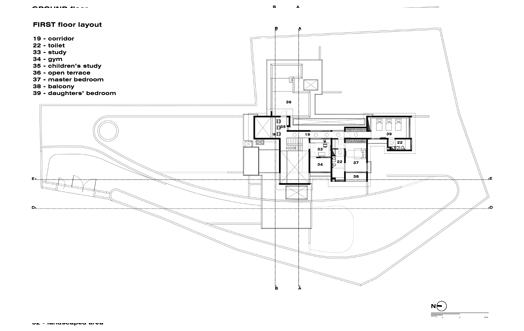 .
A combination of plastered walls and exposed laterite (ubiquitously seen earlier in Keralite architecture) provides an instant connect with the surroundings. "We thought that usage of this stone in a new language, without losing its innate nature, would anchor the design yet acknowledge the presence of a change," explain principals Lijo Jos and Reny Lijo.
Akin to a two-toned snake winding its way from the compound through the landscaped courtyard, the wall with its random punctures add to the design in a rustic kind of way. The long driveway leads one to a sit-out from where a sneak peek of hidden courts and landscaped spill-out areas emerge.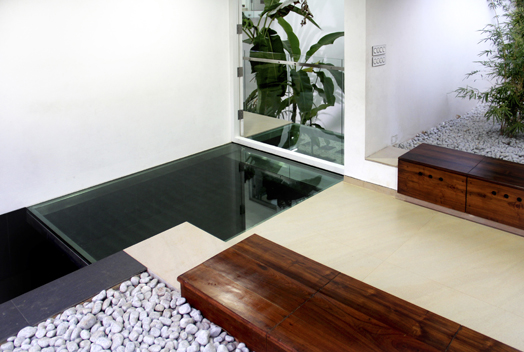 .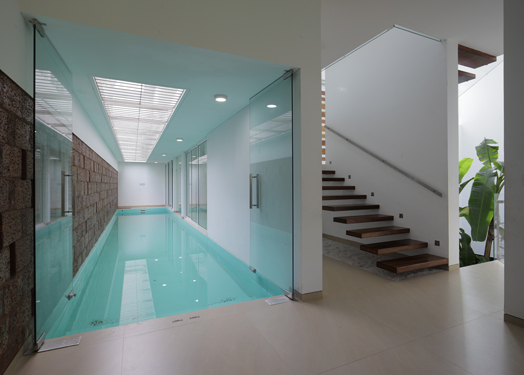 .
The intrigue only builds further as one steps onto a clear glass bridge over a water body that overflows as a cascade below the main door and into an internal lap pool. The corridor from the main door forks into the living and dining, where both open out onto a huge landscaped break-out space.
.
.
Besides the bedrooms, bathrooms, living and dining, this 3-level structure is akin to a labyrinth comprising kitchen, rear backyard with an attached badminton court; internal courtyard filled with banana trees, ferns and many tropical plants; home theatre, study and corridors.
With an intuitive sense of the vernacular merging into the contemporary, the architects have indulged in a play of levels on the ceiling; a combination of barrel vault and flat slab at higher levels has vents to expel hot air. Also matching the circular ceiling lights are round skylights that allow an abundance of sunlight and ventilation.
Minute attention to detail is seen in every facet of design - be it the sourcing of subtle yet differently-coloured laterite stones from two separate quarries or the great lengths taken to fill the vertical joints between the laterite stones with a mixture of white cement and powdered laterite so as to visibly pronounce the horizontal lines which "impart greater fluidity to the meandering wall".
Overall, the treatment of the project makes it instrumental in influencing the way contemporary architecture is practiced in Kerala – thus making it socially relevant with positive ramifications.
The Running wall is the recipient of IIA KC Award – GOLD LEAF for Excellence in Architecture (2012) and All India Stone Architectural Awards in Landscape Category from CDOS (2012)