Hospitality Design Special
By Savitha Hira
Photography: Courtesy the architect
Understated elegance anoints the interiors of the Park Plaza Business Hotel, silently announcing its intent without being in-the-face.
A business hotel high on techno-amenities and aesthetic appeal, Hotel Park Plaza is well connected to Connaught Place, Patparganj industrial area, Shastri Park IT Hub and is in close proximity to Sahibabad industrial area and the business district of Noida.
Business hotels are no longer about a comfortable room with bed and bath facilities; the concept now engages its clientele with up-to-the-minute technological amenities, good conscientious food offerings, easy access to lounge and bar, and fitness facilities amongst a host of other desirables that address the comfort levels of busy jet-setting executives.
The Park Plaza, New Delhi designed by Khozema Chitalwala of Designers Group is a modern fit-out, clean-lined, plush, washed in a muted palette of earthy hues – beige, walnut, oak, raw umber, chestnut, rosy brown, taupe, tan and the like, suitably complemented by shades of white viz., crème, ivory, sea-shell, champagne and the like.
Set against this neutral but richly conceived backdrop, are hues of vibrancy in reds, oranges and magenta that subtly enhance the ambience, simultaneously bringing it alive and maintaining its chic status quo. Softly rounded forms are strategically introduced. Pattern and texture are diligent in application.
An open-plan characterizes the spatial layout, where areas are visually demarcated leaving one to experience the

candour

of individually designed pockets that are woven together purely on the basis of their treatment and the experience that they purport to convey.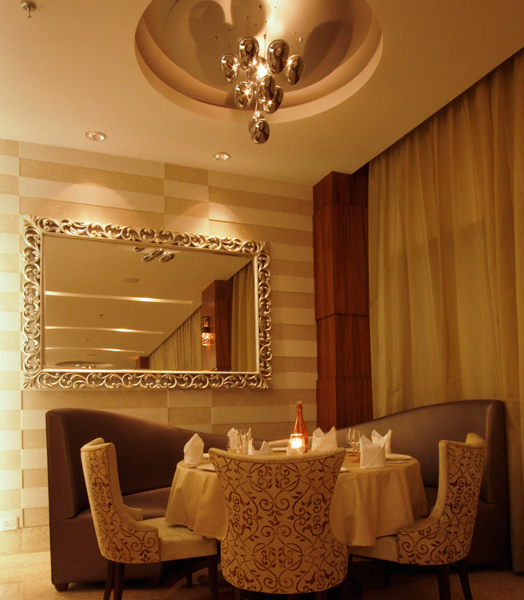 .
The hotel with its 91 rooms and public areas comprising Coffee Shop, Lounge Bar, Specialty Restaurant, Ball Room, Business centre, Gym and Spa besides a large pool and outdoor areas has a total spread of approx. 45000 sq. ft. tends to redefine luxury by being understated yet affordable, an idiom in the direction of 'intelligent luxury'.