Photography: Ajay Kadam Photography; courtesy the designer
director's cabin
Mahesh Punjabi Associates personify a company brand whilst exploring how a distinct mix of styles and elements can unite to form coherent and flowing spaces.
Located near Mumbai's domestic airport and designed for a company that manufactures screw fasteners for aircraft interiors, this 3750 sq. ft. top floor office accommodates 90+ employees. Emanating class and refined taste, the space's distinguishing character can be attributed to its varied themes, novel sensor technology and handmade furniture.
entrance and reception desk detail
reception
peripheral corridor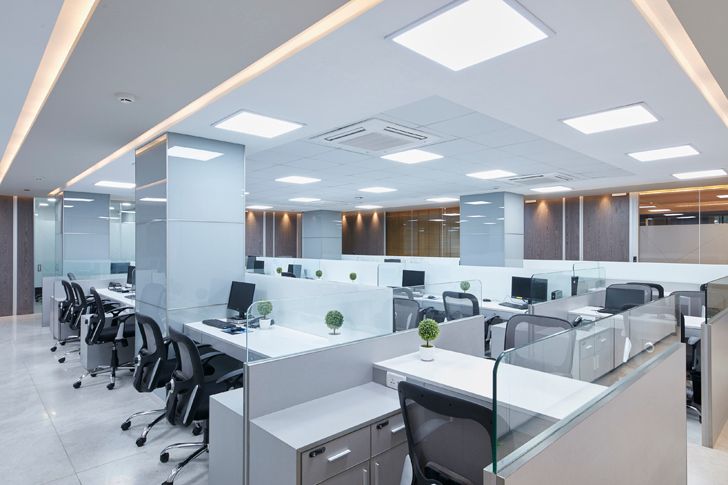 workstations
workstations
Planned according to Vaastu, at the heart of the square plan lies the workstation block while the executive spaces line two sides of the external periphery - looking outward onto the domestic airstrip and inward into the circulation corridor. Beyond the grand entry lobby, all five cabins and conference rooms feature different styles and finishes – modern, fusion, classical and contemporary, with the pure white and frosted glass aesthetic of the workstation block serving as a palate cleanser before one enters a themed space. Merging individual tastes, the colour and tonal palette transitions from white to grey and from cream to beige, maintaining seamlessness and balance. The pantry and cafeteria at the far end offer a casual, colourful respite.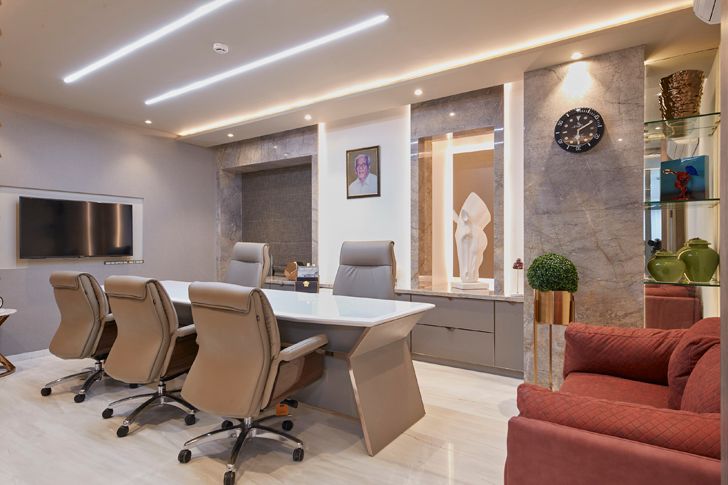 director's cabin
director' 'cabins
director's cabin
The dull grey metallic laminate echoes the colour of their stainless-steel product tying the interiors to the company brand and product, while the combination of steel and glass renders a modern vibe. Clean interiors and sharp lines boost productivity and concentration as handmade furniture in the executive spaces stands out as a rare, classic addition in today's modular age.
meeting rooms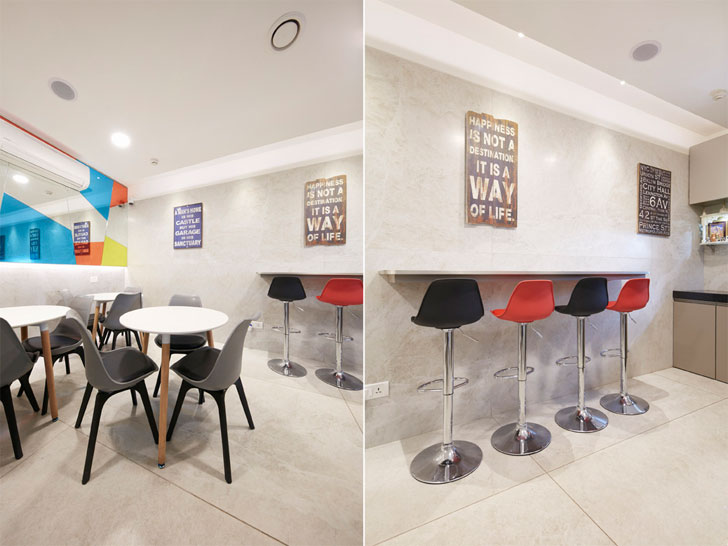 canteen
Though designed pre-COVID, the use of door sensors, swiping mechanism and suspended screens allow for easy access and minimal contact – perfectly suited for the post-COVID era. Touch-free sanitary fixtures and lights add to the health and safety considerations.
A third-generation business that outgrew its previous office-cum-factory space and is still growing, the design vocabulary strategically provides for the company's future expansion plans to the basement and the upper sky lounge as well.
Client: Agarwal Fasteners Private Limited
Design Firm: Mahesh Punjabi Associates
Principal Designer/Architect: Mahesh Punjabi
Location: Vakola, Santacruz (E), Mumbai