Photography: Tejas Shah Photography
Read Time: 2 min
Arham (inset) Dipen Gada
Ar. Dipen Gada designs a humble abode in Vadodara with the focus on low maintenance cost, sustainable environment, and climate responsive architecture...
Renowned for his earthy palettes, keen aesthetics, and contextual designs, Dipen Gada once again explores his tenets - this time, in a compact home for three generations with differing requirements and, a budget constraint.
.
.
Simplicity manifests in various ways. The ground-plus-two storey home on a plot size of 1500 sq. ft. is surrounded by built forms on three sides and faces a road to the west on the fourth. With zero exterior view and the necessity to provide discreet screening from the roadside without compromising on light and ventilation, the design details an understated, enigmatic interior environment that when looked at closely, reveals a discerning use of both - function and aesthetics.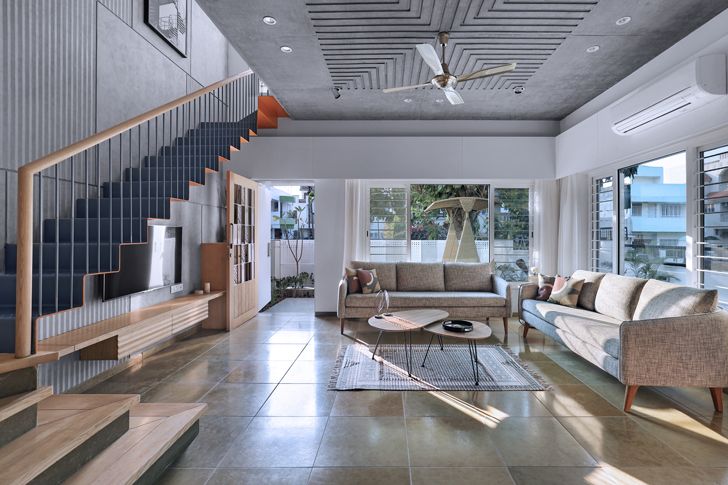 .
.
.
.
.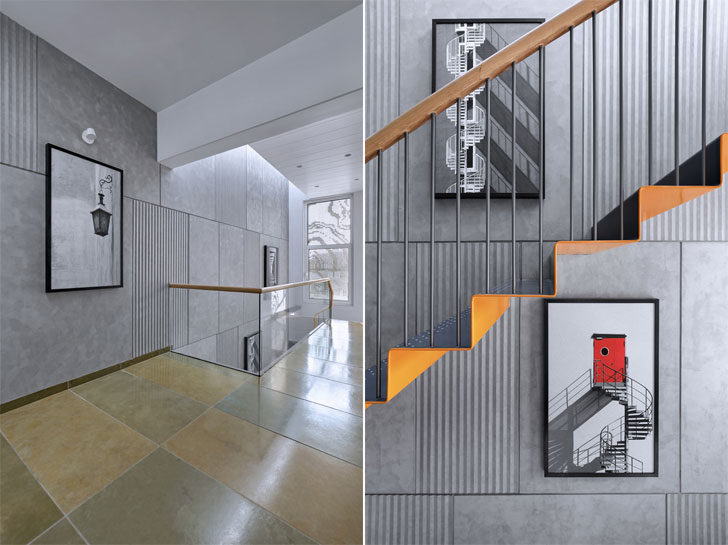 .
A subtle feel with an overall muted palette is strategically highlighted by materials like multi-colour leather finish Kota and mirror-polished Green Kota stone for the flooring; micro-concrete interior finish for the staircase wall; use of veneer, wood, glass, even metal… the beauty lying in the way they are applied. The staircase is conceived in metal and depicts a burst of tangerine colour (on its underside) as the design of the treads (painted charcoal grey) with folded metal at the ends catches the eye, subtly defining the attention paid to every detail and setting a tone of vibrancy throughout the volume of the house up to the terrace.
.
.
Large windows let in streaming daylight as curtains offer privacy. Straight lines abide by an uncluttered feel as the furniture is almost spartan and soft furnishings come as soft cotton throws, floor rugs and soft cushions.
.
The pragmatic layout hosts the public spaces and one bedroom on the ground floor; two bedrooms and a puja sthal on the first; and yet another bedroom suite on the second floor along with an expansive sit-out - almost like a private deck. The floor above hosts the terrace. Two skylights – one above the staircase well and the other above the puja sthal fill the interior with light and ventilation. They are ably aided by a perforated aluminium façade that covers the staircase well and finds a complement in large open-able perforated window screens on the first floor. Even the compound wall follows the same architectural vocabulary harmonising design elements and creating a striking presence in the milieu.
The home stands out for its subtle yet intelligent design language that creates candid comfort and warmth indoors, while its architecture controls the ingress of sunlight and heat, an intriguing element of design in itself, creating chiaroscuro effects indoors - a naturally shifting phenomena that nods to the aesthetic resplendence of the abode.
Typology: Residential architecture and interior design
Design Firm: Dipen Gada and Associates
Principal Designer/Architect: Dipen Gada
Design Team: Nidhi Patel, Shraddha Patel, and Prakash Prajapati
Built-up Area of project: 2460 sq. ft
Carpet Area of project: 2030 sq. ft
Location: Karelibaugh, Vadodara, Gujarat