Photography: Tejas Shah photography; courtesy the designer
Read Time: 2 mins
.
Manoj Patel Design Studio puts on display the unpretentious beauty and simplicity of recycled materials, giving this Vadodara-based fashion boutique an aesthetic that is anything but monotonous.
The 350 sq. ft. retail space presents a contemporary yet authentic experience, where unembellished materials play the protagonists. The studio reuses traditional materials and scraps to transform the space through uniquely crafted elements - a cost effective and environment responsive approach.
.
.
.
.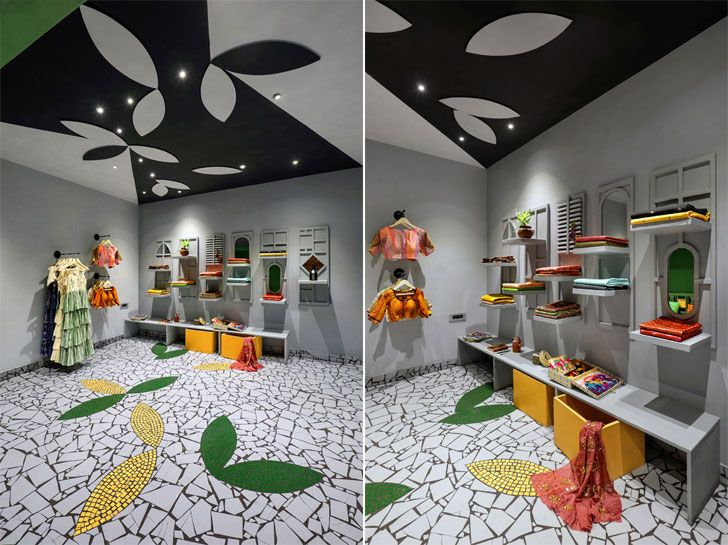 .
.
Lending visual connectivity through compositions, graphics and material frames anchor the spatial layout, unifying the display area and the material selection room - nevertheless offering a different perspective from every corner. Waste clay roof tiles, beer bottles, metal rings, unused sample tiles, mirror claddings, damaged floor tiles and recycled window shutters compose a palette of vivid colours and contrasting tones. Favouring both longevity and aesthetic, these claddings radiate a pleasing ambiance.
The entrance wraps in two dark, contrasting colours – black and green, serving a backdrop for the mosaic bubbles. The waste clay tile flooring throughout the store adds texture and drama with floral patterned mosaic inserts creating a visually distinct graphic, precisely mirrored on the ceiling in black and white to accentuate and balance.
Beer bottle art work
Floor plan
The earthy clay tiles create a textured pattern resembling that of a traditional Indian saree, and an ornamental moulding portraying the illusion of lights. The hanging areas depict an accent wall of reclaimed glass bottles reminiscent of a necklace while monochrome shutter windows take the form of display shelves. Reclaimed fabrics renew old seating, and old table legs make for unique door handles and suspended central connections of thin metal pipes. The circular rings form floral hook ends for hanging dresses, while the asymmetrically placed mirrors allow for a two-person visual access.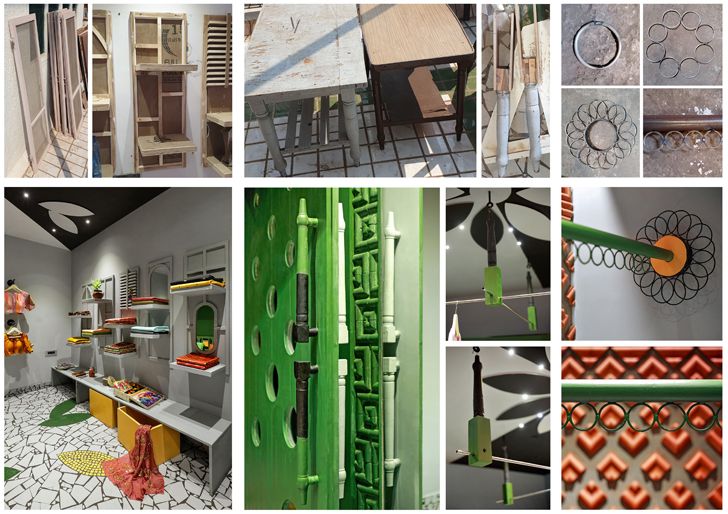 Making
Lending new meaning to existing materials, the studio celebrates the individuality of both, the materials, and the spaces they adorn.
Design Firm: Manoj Patel Design Studio
Principal Architect/ Designer: Ar. Manoj Patel
Design Team: Ar. Manoj Patel, Shivani Tamboli, Aishwarya Gupte, Sonu, Devanshi and Manali
Clay Cladding: Tarachand Prajapati
Location: Vadodara, Gujarat, India.