Photography: Nayan Soni; courtesy IBR Designs
Read Time: 2 mins
.
Ranjani S of the eponymous IBR (Interiors by Ranjani) Designs incorporates colour-blocking and attention-to-detail as basic tools to craft a clutter-free, well-defined company guest house in Bengaluru...
Having successfully accomplished the interior for a holiday home in Devanahalli, Bengaluru, Ranjani S was approached to design yet another similar home interior for the owner's corporate guesthouse - in the same complex and having an identical footprint.
Reinventing the material palette and treatment to drive chic eclecticism, Ranjani rose to the challenge of crafting an interior, the ambience of which would outlive the employees' stay as a pleasant throw-back memory.
.
.
.
.
.
The L-shaped living cum dining room with the modular kitchen in the open-plan layout harmonises as one single unit, tied together by a bold and in-the-face use of grey batten-panelling that lends it a distinctive style; discernibly cut-off by the warm umber in the kitchen.
Vibrant hues of a deep mustard chair anoint the ambience as storage is cleverly camouflaged and the expanse is clutter-free, almost minimalist.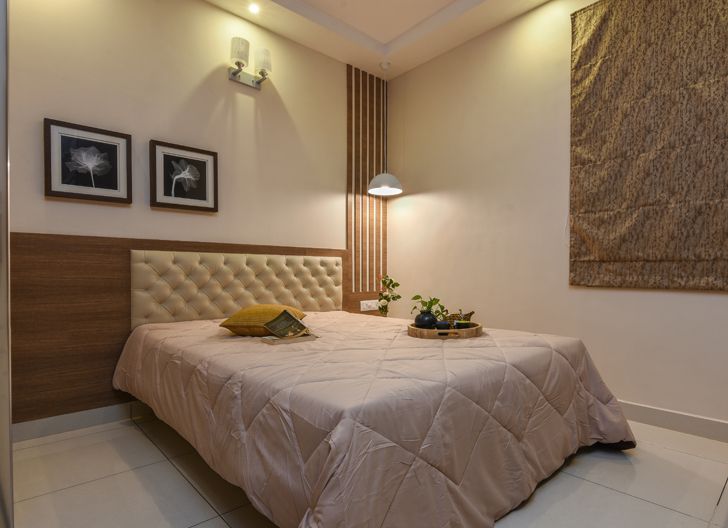 .
.
Both bedrooms are tailored to individual tastes following a neutral timeless appeal with warm brown's and beiges taking centre stage; the vocabulary of solid colours and fine lines continuing to sustain effortless, understated flourishes. Enhancing equanimity, few colour-popped artifacts, a vintage chandelier, nude cupboards, a small chest of drawers and the like… capture eyeballs, making their presence felt and augmenting the warm and welcoming vibe of the interiors.
Attention-to-detail, which is a hallmark of almost all Ranjani's projects ensures the design and detailing is sleek and modern, without compromising on inherent comfort.
.
"Most of the time, a simple design can be very comfortable and beautiful," informs the designer. "The key lies in maintaining a balance of elements used - furniture, décor accessories, light fixtures, minimum colour palette and space-saving ideas – and their harmonising effects on the vibe that the home conveys."
Client: Mr. Nirmal Kakkar
Design Firm – IBR Designs (Interiors by Ranjani)
Principal Designer: Ranjani S
Built up area: 1340 sq. ft.
Location: Devanahalli, Bengaluru