Photography: Prashant Bhatt; courtesy the firm
Read Time: 2 mins
Ivy Fashion Boutique (inset) Designer Navien Niesaar
Instant glamour meets time-honoured sophistication to converge dauntlessly into a charming atmosphere at the Ivy Fashion boutique by Navien Niesaar .Design…
Crafting a succinct narrative for a Kids' Fashion retailer in central Mumbai, the compact 40 sq. m. boutique embodies the mark of a true retail store - offering a bespoke customer experience while drawing attention to the product.
.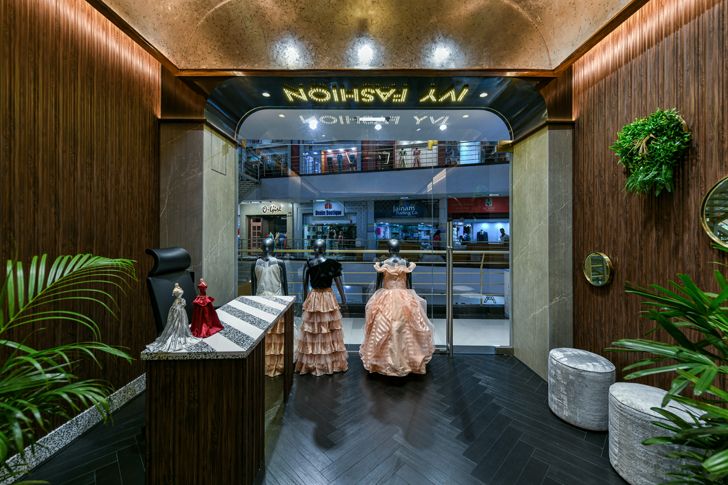 .
.
Physically demarcated into three zones, the store boasts an indoor-outdoor theme. With the former mezzanine removed to make way for a grand volume, the designer transforms the shell's blank canvas to spotlight contemporary aesthetics and sleek finishes, elevating the identity of the brand.
.
.
The design spurs curiosity, from the entrance. The entrance threshold gives away little - a horizontally lit brand signage and an impactful display behind seamless glass and ribbed grey stone. Beyond the reception, the store's salient feature - the metal screen, takes inspiration from ancient arches. Cladded with rich paisley neutral fabric and gold distressed antique-finished mirror, the screen introduces privacy for the business development area and the back office. The boutique also features flexible furniture, maximising floor space, allowing for future adaptability.
.
.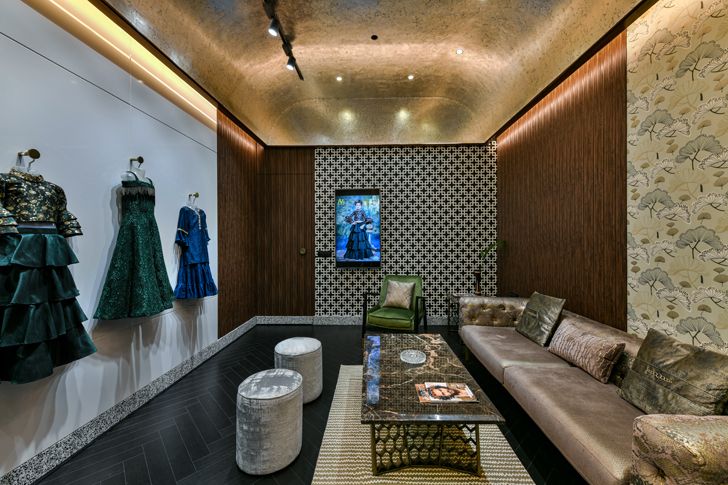 .
Above, the expansive, vault-shaped arched ceiling shines bright. Finished with exquisitely textured champagne leafing, its luminous glow complements the black, herringbone-patterned wooden flooring. The marble and rippled wooden cladding on the walls and the geometric and organic design wallpaper bring focus to the Greek Thasos clad wall used for displays. The use of false partition walls meets the project's challenge of incorporating technical services and detailing of finishes - both managed with aplomb.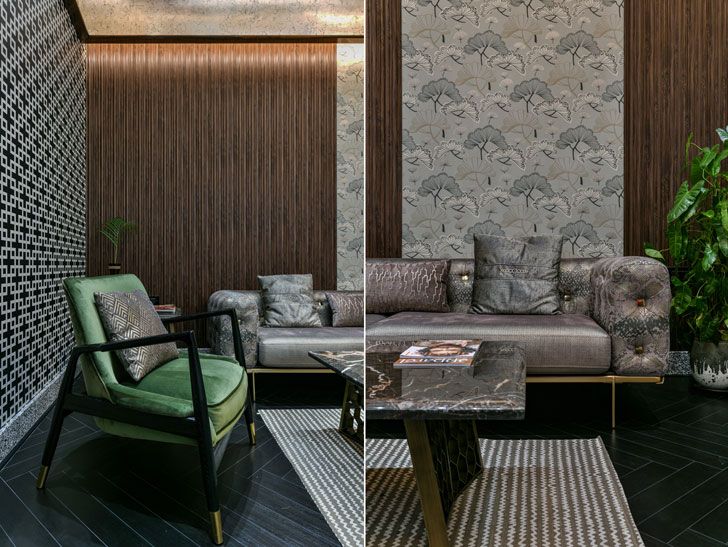 .
From its unusual entrance to its practical spatial composition and statement visual merchandising concept, the store strikes a fine balance between boldness and simplicity.
Client: Ms. Ivy Clothing LLP
Design Firm: Navien Niesaar .Design
Principal Designer/Architect: Navien Niesaar