Photography: Vistarooms; courtesy the designer
Read Time: 2 mins
.
On the banks of Pawna lake, surrounded by the Sahyadris, this tropical villa echoes Balinese architectural traditions to beautifully complement the sereneness of the environment.
Co-planned by Interior designer Arpita Bhandari with Balinese Architect Dani Yuliadi, the 7000 sq. ft. villa sits over 5-acres of lush green land.
Designed as a sustainable, restful abode in harmony with nature, the villa influences positive mental and spiritual well-being. Its architecture draws inspiration from Hinduism, spatial compositions, and social relationships, even integrating ancient Javanese elements that mirror Indian traditions.
.
.
.
The villa comprises of three separate pavilions, serving distinct functions. Overlooking the patio and the swimming pool, the villa establishes an authentic presence with the landscape and the lake beyond - a strong visual, physical, and emotional connection. Stone pathways cut through the vibrant landscape, allowing the users to engage with the fauna and large open spaces. The open gazebo offers expansive views. A temple too, graces the backyard.
With the pavilions manufactured in Bali and constructed on-site, the design expresses true Balinese artistry. The use of merbau, bangkirai, teak wood and bamboo ensure a robust structure - their colours and textures imparting a natural, distinct look against the landscape.
.
.
.
The prefabricated walls comprise semi-structural, reinforced thermacol panels, while the thatched roof employs shingle tiles. These materials guarantee energy efficiency and cater to extreme weather conditions.
The patio features natural Kota stone flooring, its rustic look blending with the surroundings and its water-resistant and non-slippery qualities making it suitable for exterior use.
.
.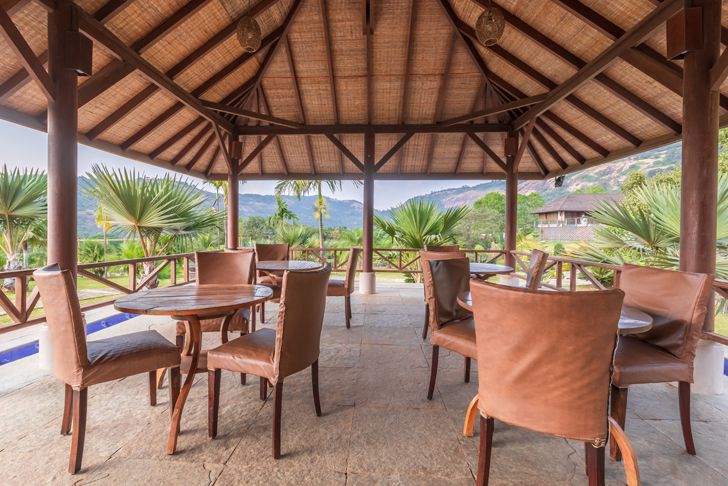 .
.
At the threshold, woven bamboo panelled doors amplify material honesty. Inside, a large free space between the roof and walls gives depth and openness to the rooms, adding to the effect of the full-size windows. The durable, easy to maintain wooden flooring creates a warm ambience. The furniture and accessories too, embody the same spirit.
The site's steep slopes, restricted mobilization and limited availability of manpower and resources ensured a longer completion timeline. However, it was worth the wait. The contemporary villa is a true getaway - vernacular, yet exotic.
Interior Design Firm: Arpita B Design Studio.
Principal Designer: Arpita Bhandari
Project Architect - Dani Yuliadi (Bali)
Built-up Area of project: 5 acres
Carpet Area of project: 7000 sq. ft.
Location: Near Pawna lake (Village Apti), Maharashtra