Photography: Maulik Patel, Inclined Studio; courtesy the firm
Read Time: 2 mins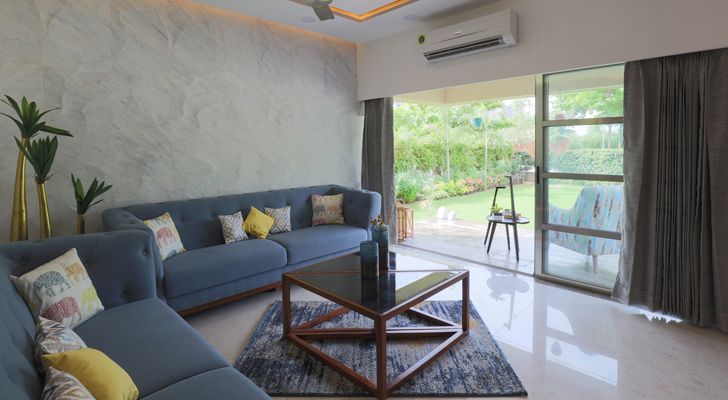 .
Ika Studio designs a bungalow for a business family in Ahmedabad - high on textural nuances and design features despite a limited budget…
The homeowners - a young couple, were clearly different in their wants: the man wanted a luxurious home with a wooden look all over; whilst minimalism with a spatial feel appealed to the lady of the house. Diligently walking the fine line between subjectivity and maintaining her own signature style, principal architect Hannakumari Chauhan strikes a harmonious balance by using a subtle play of textures (within a traditional material palette) to impart different aesthetics to each room.
.
.
.
.
.
Starting out with keeping things functional and easy-to-maintain in this basement-plus-ground plus-two structure, well-thought out features bring fancy results without escalating costs. For instance, a marble slab behind the sofa exudes duality in appearance under different lighting options. Green suede headboard in conjunction with etched patterns on cement sheets or an ochre headboard used alongside polished wooden pattis or bronze ceiling patch over the dining table add interest, depth, and beauty to the overall schematic.
.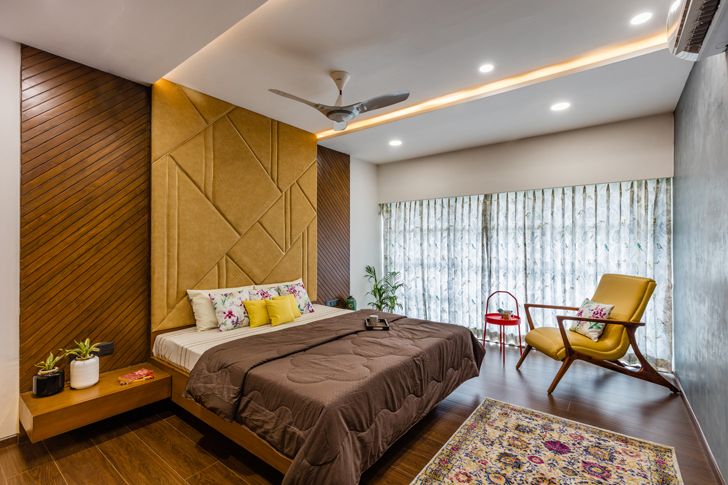 .
.
Though upholstered in simple cotton fabric, the sofas are button tufted and deliberately made low in height to resemble a Chesterfield; yellow upholstered armchairs inspired by Vladimir Kagan, made by a local product designer add a touch of exclusiveness… carving out a bespoke luxurious aesthetic.
To create different moods, lighting options include chandeliers, indirect and backlighting, whilst split air-conditioners keep temperatures pleasant. Large window openings harness ventilation and sunlight.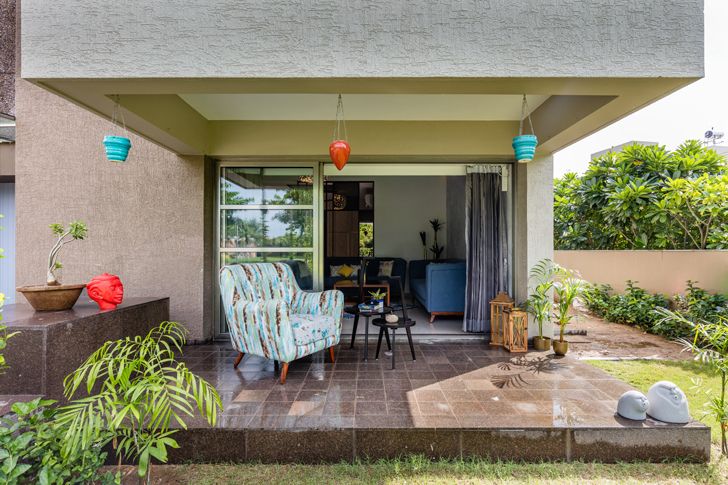 .
.
Another noteworthy feature is the principle of camouflage and continuity, which is seen in several pockets contributing to harmonious synchronicity. In the living room, just above the television lies a wooden panel that camouflages an unsightly beam, whilst the same vertical rib design follows through at the entry vestibule. In the dining area, one would never guess there is a powder toilet hidden behind the cream wallpaper with brass piping.
Clad in river washed Kota stone, the outdoor areas blend into the natural greens with the backdrop of the community clubhouse, expanding the bungalow's horizon well beyond its physical boundaries infusing spaciousness — an important facet of luxury.
All these nuances drive home the point that a limited budget does not mean a compromised home when ideas are well-conceived and executed.
Principal Architect: Hannakumari Chauhan
Built-up area: 445 sq. yard
Carpet area: 320.4 sq. yard
Location: Sky City, Shela, Ahmedabad