Photography: courtesy the architect
Read Time: 2 mins
.
Interior design studio Meraki Dezine crafts a diagnostic centre in Delhi using the principles of cognitive healing to render a patient experience that alleviates stress and anxiety...
Chromatherapy or the influence of colour on healing the mind and the body is an age-old practice in the design of medical facilities. However, in recent times, fresh research has emboldened design approach and introduced vivacity in spaces that were otherwise relegated to merely inducing calm and serenity.
.
.
.
.
One such medical facility that visibly creates havoc with the human psyche is an imaging diagnostic centre. The fact that one may be detected with some horrific disease via the MRI, sonography, mammography… creates multiple physiological and psychological stresses, deeply impacting the disease-treatment-recovery mechanism.
Combating this problem with its interior environment is the Mahajan Imaging Centre in Delhi that is designed to positively influence the psyche of the patients by radiating warmth, distracting from fear, and calming the mind.
Bearing in mind the functionality and workflows critical to such medical facilities, circulation, and hospital standards, and more importantly bringing in and accommodating large diagnostic machines spearhead the planning decisions of a layout that is primarily rectilinear.
.
.
.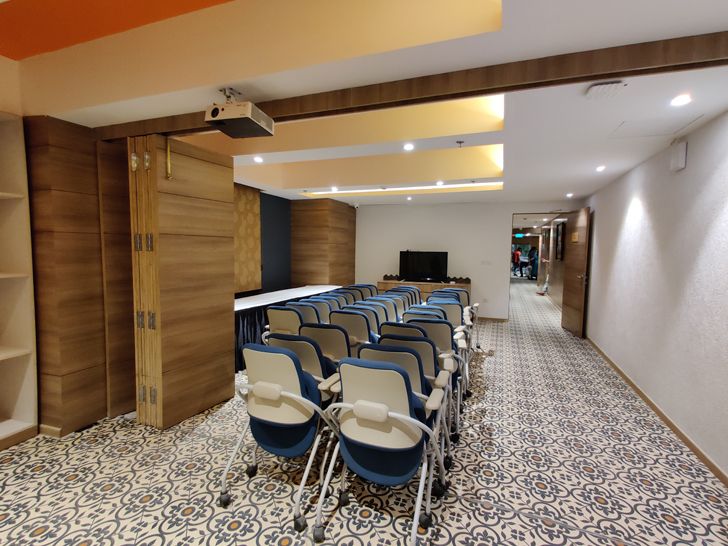 .
Right from the entrance, the onus is put on soothing colours, patterns (soothing floral flooring) and finishes (distress finish on the reception console, grains on laminate) – light coloured and patterned flooring, latticed ceiling, entire walls covered in greenery and the like… all set up to create an ambience of elite and calming aesthetics, almost instantaneously impacting the frame of mind of the patient who walks in.
An interior envelope of wood grain laminate for ease in maintenance is juxtaposed with brightly printed wallpaper to introduce cheer. Every room is designed to reflect an upbeat and cheerful demeanour. Colour contrasts, biophilic elements, printed tiles, customized graphics, and artwork set the visual identity of the place and are quick to humanize the clinical experience. Patterns find their way in flooring and wall niches, and ceiling cut-outs, juxtaposed against distressed wooden finishes. Vertical gardens and local Indian elements further accentuate the environment of healing.
.
.
Largely indirect light that avoids glare and suspended pendant lights transform the space lending a distinguished character almost atypical to health centres. A far cry from dull and neutral interiors, this patient-centric design draws focus towards lively, therapeutic disruptions.
Creating an empathetic space that spells safety, the studio elevates the user experience through a holistic environment.
Design Firm: Meraki Dezine
Principal Designer/Architect: Ar. Chandrika Sahay
Location: Pusa Road, Delhi