IAnD Exclusive
Nostalgia
By Minnie Bhatt
Photography: Prashant Bhat; courtesy the designer
Read Time: 2 mins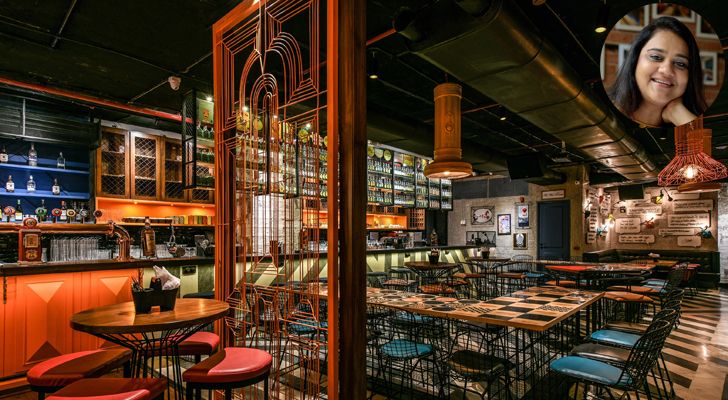 Tru Tram Trunk (inset) Interior Designer Minnie Bhatt
Interior designer Minnie Bhatt juggles through her most-loved projects to zero-in on one of her most challenging assignments – Tru Tram Trunk at BKC, Mumbai…
From so many of my projects that are remarkably close to my heart, is the Tru Tram Trunk bar and restaurant that I designed at Bandra-Kurla Complex in Mumbai a few years back.
The name is a take on 'Too damn drunk' and inspired the design concept and I imagined the space to be visually deceiving inspired by the thought of seeing things when one is drunk.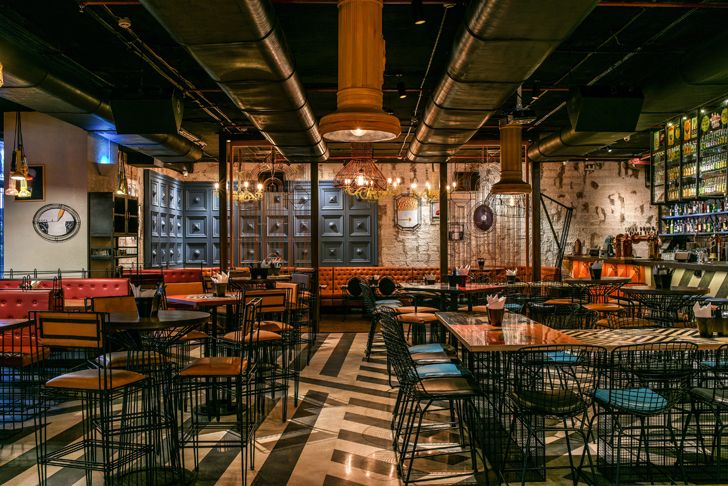 .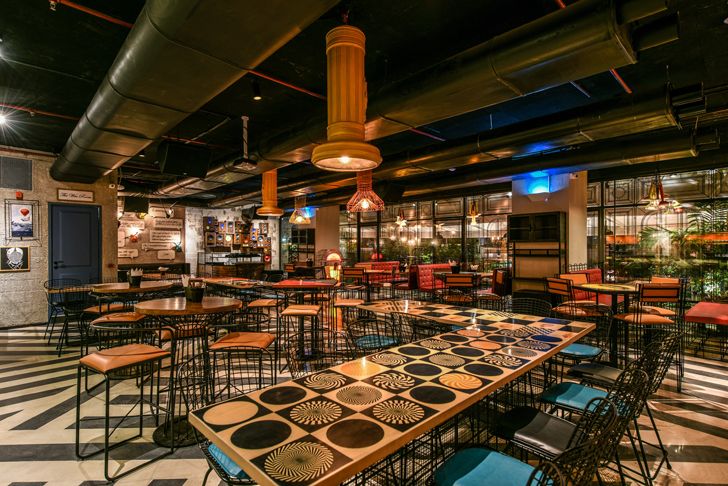 .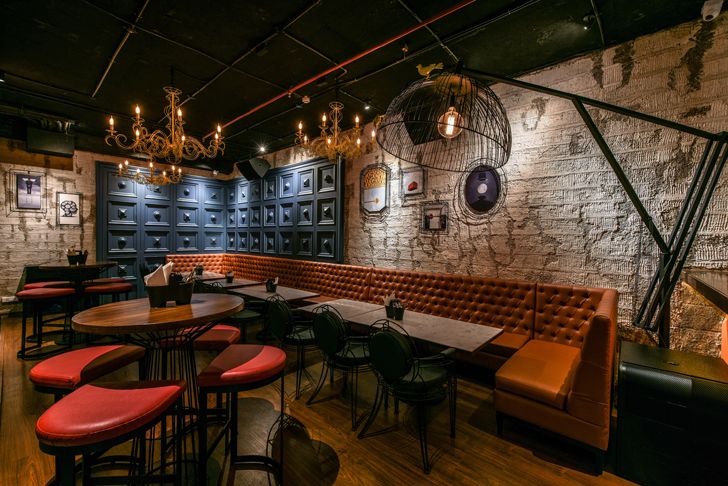 .
.
The clients gave us a free hand with the concept and the design. Drawing inspiration from Op art and wireframe art, we chose to create a surreal space with random design elements. We chose to work with wireframes as a design concept as things created with it, are visually there and yet not. The entire space was conceptualised with random objects denoting a drunk state of mind.
The site has an expansive glass facade, and we created faux external building details with metal wires forming arches and doors with colonial details. Indoors, the chandeliers, furniture, divider screens, a faux jukebox at the entrance, mirror frames… et al are all created with metal wires in sync with the overall design concept and to somewhat be able to look through it.
.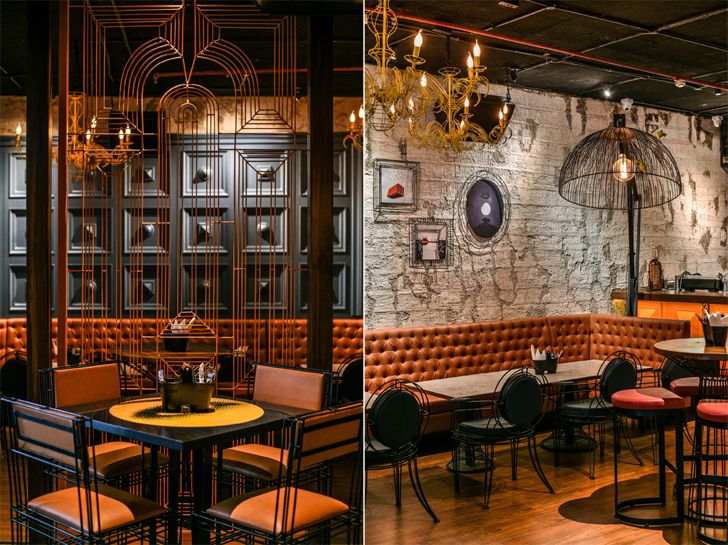 .
.
.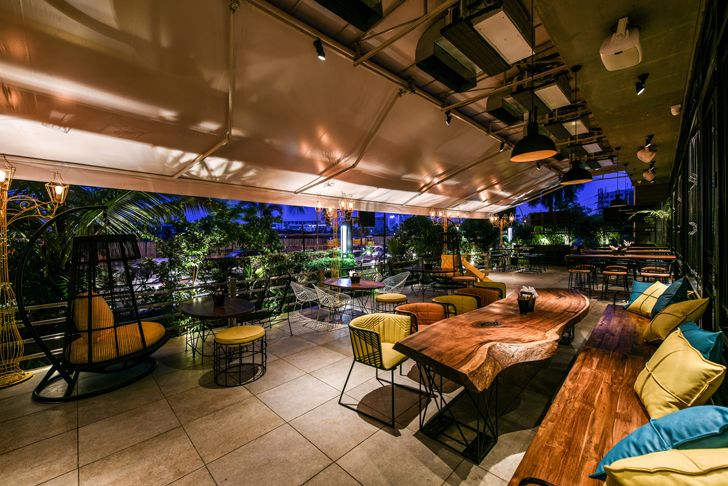 .
The artworks on the tabletops are custom designed and a blend of op art and surrealism. We had the artworks digitally printed on veneer and created tabletops with them. The booth seating too is created entirely with a metal framework with the seats being clad in faux leather.
The brand retails special cocktails sold in quarter size bottles. Being intrigued by this we created an expansive suspended display rack in metal and glass for these bottles above the bar.
The flooring design was conceptualised again with Op art in mind and it travels onto the bar apron. It has been done in IPS and was it was challenging to achieve the desired look in black and white stripes randomly travelling across the floor.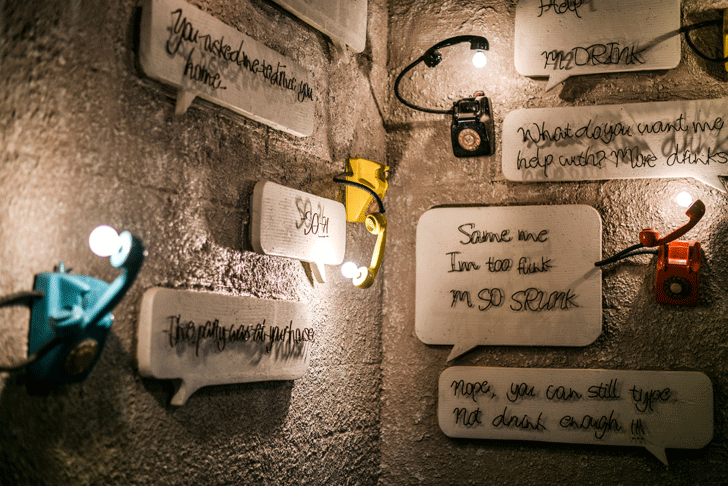 .
We dedicated a wall to drunken calls and conversations. We had speech bubbles created with Siporex and had text made in metal wire, creating a conversation. We added old telephones with light bulbs to dot the walls and visually depict drunk phone chats.
The wall texture was a great challenge to achieve and has been created with granular cement plaster and Plaster of Paris. It took a lot of experimentation to achieve the desired look.
This has been one of the most challenging and fulfilling projects of my career, but one of my best works till date.
Achieving this design was incredibly challenging and the outcome was enormously exhilarating as it looked exactly as imagined!