Photography: Ricken Desai; courtesy Urban Zen
Read Time: 2 mins
Numi Office (inset) Rohit Suraj
Human behaviour is complex, often hard to predict and partly a response to the external social environment. Urban Zen decodes organizational psychology to reveal an efficient and proactive workspace.
Refurbished from an old house and a product of several structural alterations, the 4500 sq. ft. Numi Office in Hyderabad draws on its impressionable exterior, both chic and charming. Highlighting a raw, contemporary and minimalistic character, the interiors accommodate an ingenuous workspace and a unique open area. From collaborative spaces to individual work zones, the inside exhibits flexible work settings, imbuing high spirits and learning.
.
.
.
.
.
Full-height glazing frames the reception area, unreserved and simple. In contrast, the studio inside maintains an industrial look, an array of grey finishes. Yet, spaces flow into one another through seamless surfaces and transparent partitions.
On the ground floor, the uncluttered expanse, minimal detailing, and grey colour palette balances the low ceiling height. A ceiling mesh and tiles at a 45-degree angle, Eduaro Tresoldi inspired, diverts attention away from the massive 40 ft. long, central workstation and help achieve a higher perceived height. In addition, a screen-like installation with characteristic yellow shelf-like boxes adds relief. Across the studio, the colour yellow plays a key role, energizing the space and tying together the entire design.
.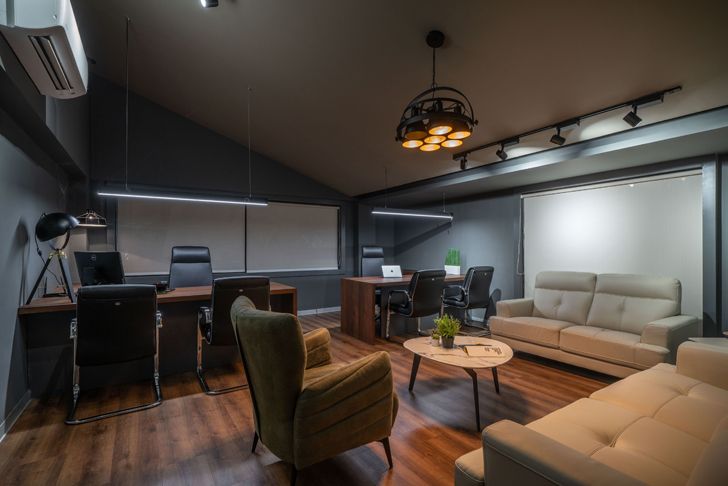 .
On the first floor, the spatial arrangement of the MD's cabin ensures maximum breathing space. Carved under the sloping roof is an unconventional porch of-sorts - equal parts indoor and outdoor, extending onto a civil platform with a rafter detail. Tall plants, distressed rafters and a grey limestone floor compose the space to be professional, yet effortless.
.
Warm and inviting, the choice of lighting instills comfort and induces productivity. A mix of linear lights and recessed downlights bring to prominence the colour palette of grey, white, lightwood, yellow and distressed bronze – a visually appealing canvas. Customized furniture adds to the aesthetic.
Going beyond established conventions to recognize, anticipate and address universal cognitive patterns and needs, Urban Zen transforms employee perceptions.
Project Name: Numi Office
Principal Designer/Architect: Rohit Suraj
Design Team: Rohit Suraj, Shakeel Patel, Tariq Patel
Location: Film Nagar, Hyderabad