Photography: Suryan//Dang; courtesy the designers
Read Time: 2 mins
BHive 11 (inset)l-r: Architects Sanjana Mathur & Ujjwal Sagar
Studio Bipolar catapults a basement into an inward-looking, youthful work space especially tailored to a millennial client base…
Vitality and dynamism characterise BHive-11 – the extension of a co-working space in the basement of a commercial building in South Delhi.
The rectilinear site with a ceiling height of 10 - 12ft (notwithstanding the beams), is planned aligning cabins, lounges, workstations, hot-desking, etc. along the sides of its entire length, creating a central circulatory path. This not only mitigates the lengthy feel but distributes the functional aspects generating two significant pauses at the two extreme ends.
Close-up of mural
Hot-desking area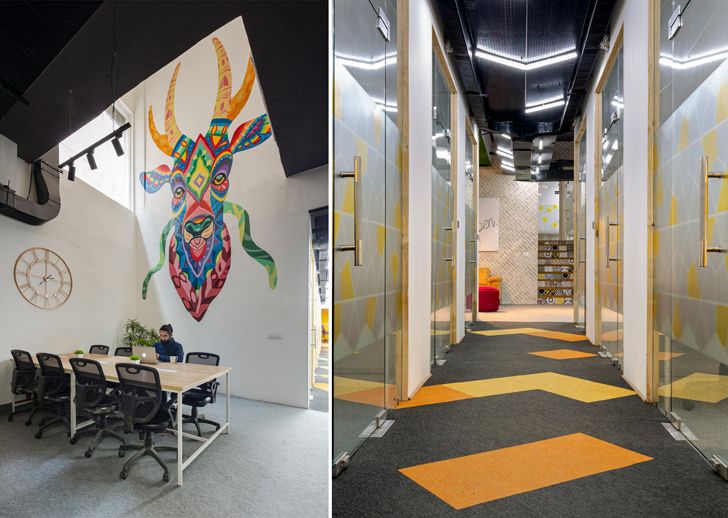 Double-height core & Central circulation path
The design really takes off from the distinctive double-height core that is bathed in natural light through a large window (its only source) and constitutes the lounge and hot-desking area. Drawing the eye upwards towards its dramatic verticality is an over-sized deer mural in psychedelic colours.
Hot-desking area & steps leading to premium cabins
Premium cabin & Ordinary cabin
Privy calling booths and break-out area
Break-out area & Brainstorming room
Conference room
Complementing this scenario is a flight of steps that leads to the premium work cabins – its treads finished with colourful hand-painted porcelain tiles - a subtle demarcation of hierarchy, where nuanced touches heighten the aesthetics adding a splash of 'premium-ness' through wooden flooring, gold frames and wall lamps versus grey carpet flooring, white frames and regular task lighting in the remaining cabins.
Whilst one end houses the lounge and premium cabins, the other end is where one alights from the lift lobby to enter into a vibrantly hued café-cum-event area, where flexible loose furniture facilitates different seating permutations including a smartly stacked area that maximises seating cum storage.
Men's washroom
Cafe-cum-event area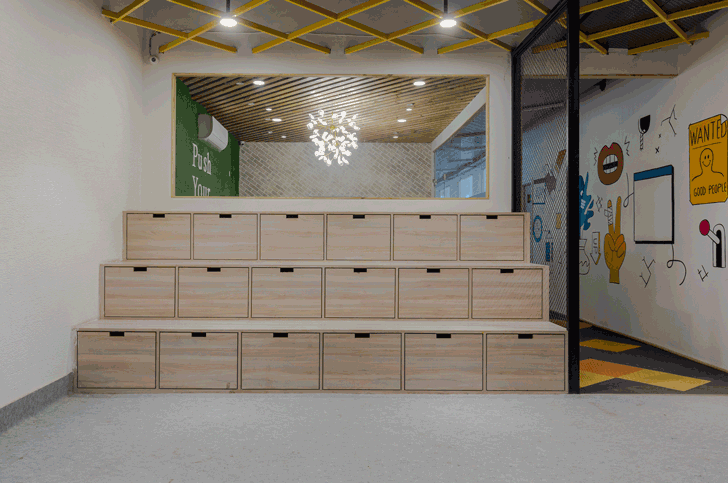 Storage cum seating
All along, motivational quotes; herringbone wood panelled wall backdrop; 3D MDF 'diagonal brick' wallpaper; artwork seen through arched walls etc., infuse much dynamism, fostering buoyancy into the entire schematic.
The highlight of the project lies in the way the lack of natural light is played to an advantage: Neutrality in the overall palette – a predominantly white shell with light oakwood furniture brought to life with strategic colourful accents and a dark grey ceiling becomes the starting point. Partially opaque glass doors and glass dividers atop walls add depth and visual connectivity. With artificial white lights as the mainstay, a combination of task lighting and direct lighting complete the scenario. In terms of HVAC, inline exhaust fans and fresh air intake ensures active ventilation to avoid odours.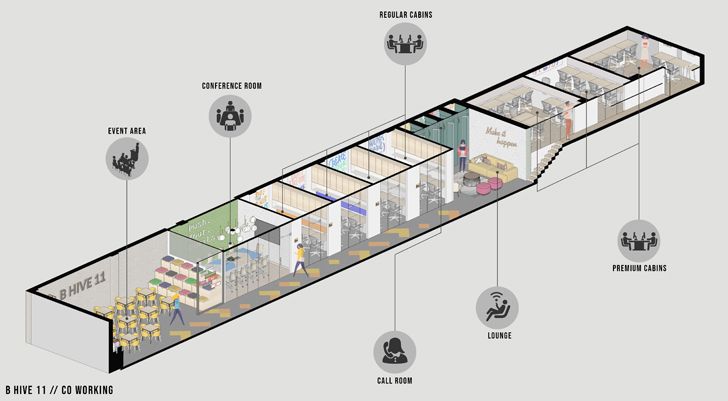 Axonometric view
Plan
With issues of privacy and security addressed via with access control, 24 x 7 CCTV cameras and partitions with acoustic wool panelling, the 3500 sq. ft. space fulfills an overall capacity of approx. 100 seats.
Client: BHive-11 co-working
Design Firm: Studio Bipolar
Principal Architects: Sanjana Mathur, Ujjwal Sagar
Built-up Area: 3,500 sq. ft.