By Team IAnD
Photography: Photographix, Ira Gosalia; courtesy; the architects
Read time: 2 mins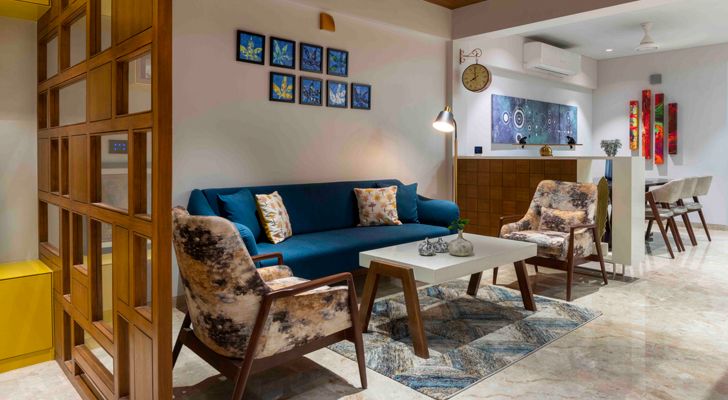 .
Ignitus Architecture Studio designs a vibrant, spacious and functionally active interior - facilitating all the basic needs of a traditional Gujarati family, concurrently spilling luxury into their lifestyle...
Refurbishing the home rooted in traditional values but weaving in strains of contemporaneity, the designers resort to an open plan. Incorporating a few civil changes viz., widening the entrance passage, repositioning the master bedroom door, and the like, the new layout is a beatific union of public spaces that are uncompromised on privacy.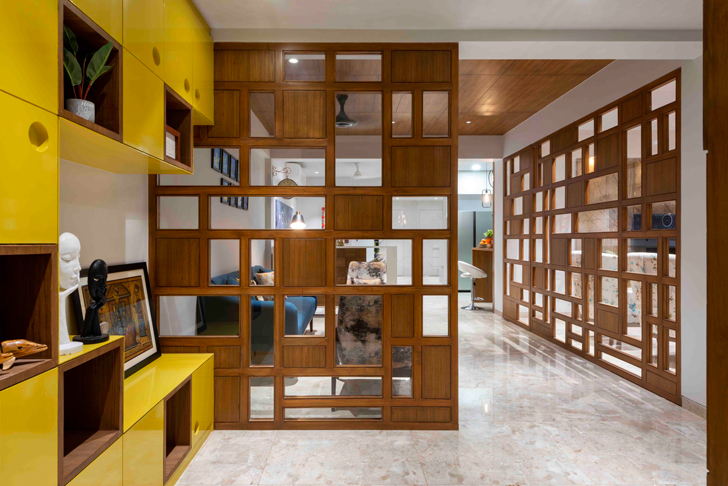 .
.
.
A cubist-inspired wooden screen organises the space into the living, dining and cooking zones. Its counterpart incorporates a sliding mechanism and sections the family room. Throughout transparency prevails. And connectedness – that is the crux of family life - is upheld with aplomb.
A highlight is the play of colour that uplifts the apartment lending it its distinct personality. The subtle use of warm yellow at the entrance plays with the senses as it introduces the visitor to the overall geometric thematic of the home. It finds space once gain in the upholstery of the family room – emboldening the area without being in-the-face. Combining it with the tried-and tested blue resorts to a safe design diktat as multiple hues compliment the ambience, making for charming spaces.
Acting as a buffer space between dining and bedrooms, a newly created auxiliary space holds the dedicated puja area with a designed backdrop, which camouflages its doors.
.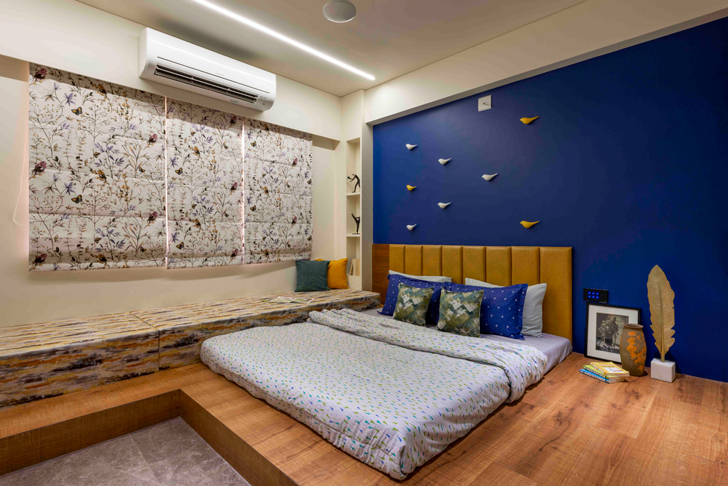 .
.
.
The bedrooms are tailored personal abodes – as is expected of any residential interior. However, the play of colour and texture makes each bedroom stand apart for its chic and understated style: the traditional block printed bed back signifies the vernacular taste of elders; the material, pattern used and colour tone portrays the grandeur of the master bedroom; the crème tonal nuance and simple way of handling the design conveys the minimalistic style of the other bedroom; whilst the kids bedroom is commemorated by a sense of freedom via a floor-mounted bed and a blue background articulated with flying birds and curtains to match.
The mingling of spaces tastefully avers to the communication between the areas – energetic, vivid; at the same time, secluded subtly, where appropriate.
Client: Mr. Manish Patel & Mr. Ravi Patel
Design Firm: Ignitus Architecture Studio
Principal Architect: Chirag Panchal
Design team: Ar. Chirag Panchal, Jignesh Vidja, Rutu Patel, Richa Chauhan
Carpet Area of project: 161 sq. m. (1733 sq. ft.)
Location: Sola, Ahmedabad