Compiled by Pari Syal
Visual representations: Courtesy GPM Architects
Read Time: 2 mins
.
Westin Spa & Resort is being designed by GPM Architects & Planners as an experience- driven destination not only for tourists, but also as a weekend getaway for the residents of Jaipur…
Conceptualised as a family-oriented space with ample facilities for all age groups, the resort located on the Delhi-Jaipur highway celebrates the peace and tranquillity of the place with a generous landscape that integrates the built form.
With the focus on wellness, the design manifests itself in a contemporary manner, stepping away from traditional Rajasthani architecture, yet rooted in culture via an extensive use of local materials in construction. The master plan delineates the public and private spaces through climate-sensitive zoning by creating a centrally positioned swimming pool that also constitutes the highlight of the inward-looking ambience. The public areas transition into a semi-private pool facility, which unfolds into a large open space surrounded by cottages.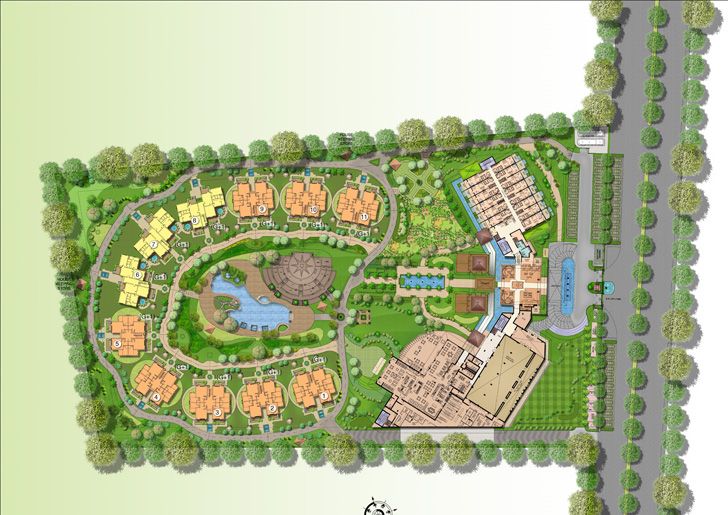 Site plan
Layout
Zoning
A linear axis defines the visual connect from the reception pavilion to the external landscaped courtyard and the guests can be ferried to their cottages via a buggy. The design of the cottages follows a compact plan bound by the central courtyard and a set of 4 rooms that are accessed on 2 floors. The rooms are designed to provide privacy at both levels and are highlighted by an intimate outdoor enclosure (an exclusive open shower facility) with a full edge of glazing which organically mingles with the landscape, creating luxury in the lap of nature.
.
.
.
.
Sustainability is ingeniously factored into the solar-passive design with adequate measures to regulate the water and air circulation of the place. A shallow water body along the public areas aids a cooler atmosphere. The roof is carefully designed to minimize heat through solar radiation. Planned with an insulation layer underneath the roofing material, the design allows air circulation for an outflow of hot air from the edge and this natural ventilation helps in maintaining a cool temperature even in the absence of air-conditioning. Furthermore, large overhangs and shaded pathways help in local wind patterns, facilitating the cooling of the micro-climate.
Incorporating tenets of Balinese architecture – especially spatial planning and sloping roofs, the architecture here lays emphasis on creating a tropical ambience. Yet, the planning principles are traditional Indian at heart.
Westin Spa & Resort, Jaipur is scheduled for completion by end 2020.
Design Firm: GPM Architects & Planners
Principal Designer/Architect: Gian P. Mathur & Mitu Mathur
Site area: 108492 sq. ft.