Photography: Courtesy Dadu's
Read Time: 2 mins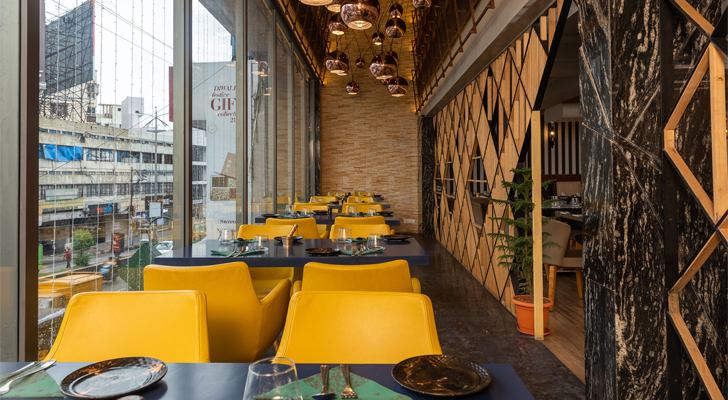 .
Dhruva Kalra of studio RMDK crafts a restaurant in urban Hyderabad, eclectically tying together elements of local flavour with chic décor, focussing on the sensory take-aways of a youthful dining experience…
Restraint is the foremost conductor of the design here, as the ambience is designed to easily veer between being playful, casual and sophisticated as the mood desires.
Treated akin to an elaborate art palette, the design combines various details, representing its extensive multi-cultural, inclusive and innovative menu. Spread over two levels, the spatial layout builds a distinctive visual narrative with individualistic spatial treatments for the ground floor, the upper floor and the outdoor ice-cream section.
.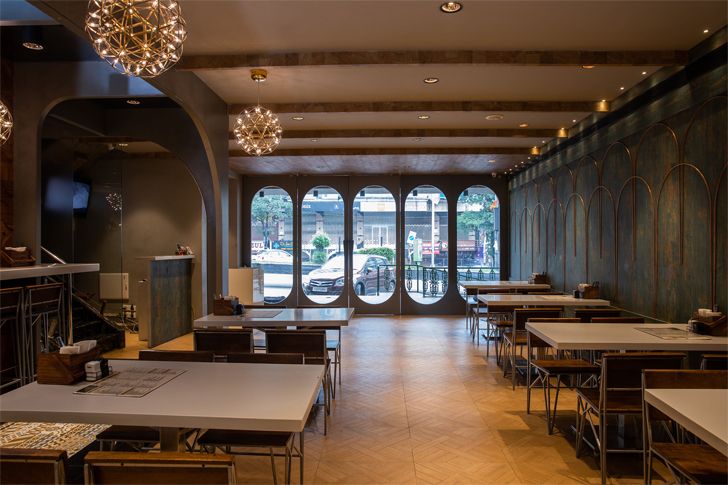 .
.
One enters through highly minimal and modern grey toned, arched, French doors that set the proprietary aura of visual fluidity. The curved profile of the arches continues indoors as a zonal delineator and as a signature element – as dual-profiled copper silhouettes on an accent wall glazed with a patina finish.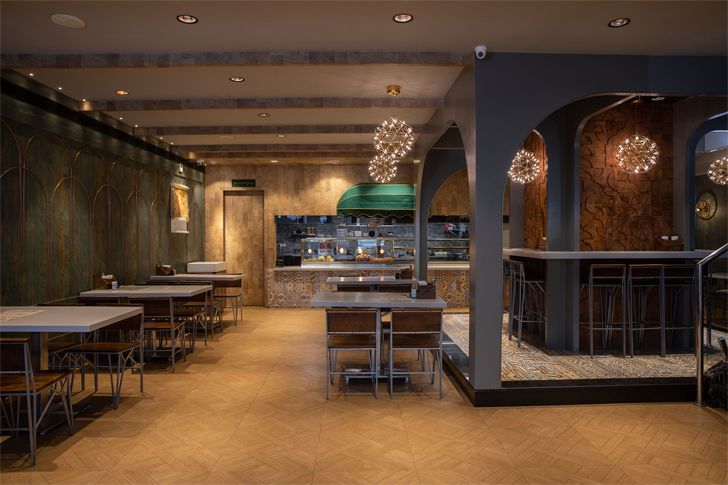 .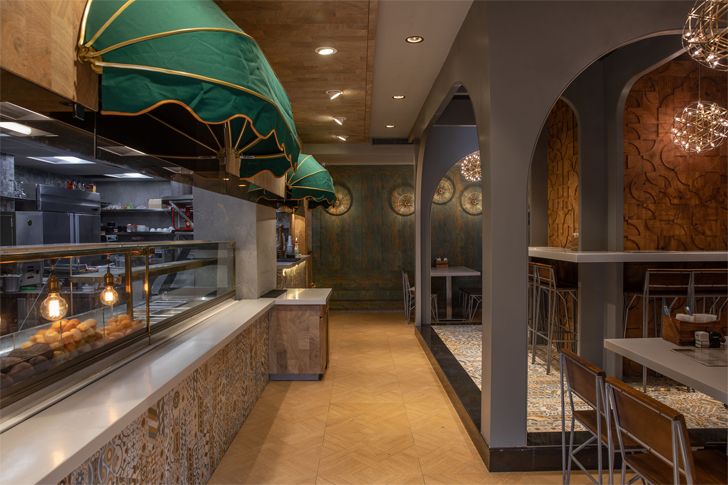 .
.
Straight lines of the furniture and battens that adorn the ceiling complement the robustly camouflaged wood-clad column as a designated high-seating area - a visual highlight – before moving to the floor above to create monochrome magic as thick-striped walls and tabletops, striated black flooring, linear light fittings on the ceiling and a geometric patchwork-like screen for the alfresco area.
Compared to the casual tone of the ground floor, the fine-dine on level one exudes restrained sophistication.
.
.
.
.
Both areas depict a plethora of materials woven skilfully to embody the thematic without shouting aloud. Engraved and rough-cut wooden blocks, a patchwork flooring, dull gold spoked wheel lighting installations, wooden floor planks in herringbone-pattern, granite flooring, backlit acrylic signages, bespoke statement lights, black tinted glass, strategic touches of vivid blue and yellow…et al augur well, in line with the client's proclivity for innovation, luxury, freshness and simplicity.
Overall, Masala Republic plays out the symphony of an ingenious overlay of materials, lines, colours and textures for the young and dynamic.
Design Firm: Ravish Mehra Deepak Kalra (RMDK)
Project Architect: Dhruva Kalra
Location: Hyderabad, India