By Ar. Vinita Wagh
Photography: Courtesy AKDA
Against the cuboid structures that dot Gurgaon's Udyog Vihar skyline, AKDA's Urban Loop stands out as an expression of iconoclastic spirit.
Udyog Vihar, primarily an industrial estate laid out in 1970 to promote the establishment of manufacturing industries in the area, has today grown into India's largest service sector, a bustling city. It is no surprise that the area boasts of commercial complexes and office buildings – quintessentially box-like!
The Urban Loop defies the traditional, playing not just with the visual form, but also the material aesthetic. With doubly curved milky-white aluminium cladding forming the envelope, the structure casts a non-linear silhouette. Aluminium – lightweight and low maintenance, enables the creation of curved panels, so intrinsic to the adoption and execution of new facade. Panels, forming a continuous surface, run in bands - interspersed with glass, almost as if floating in space - the use of glass reducing the heaviness of the cladding volume. The park in front guides the curves of the façade, outlining the geometry of the bands. An artistic solace from the structures in its surroundings, Urban Loop's form aspires for contemporary sensibilities.
.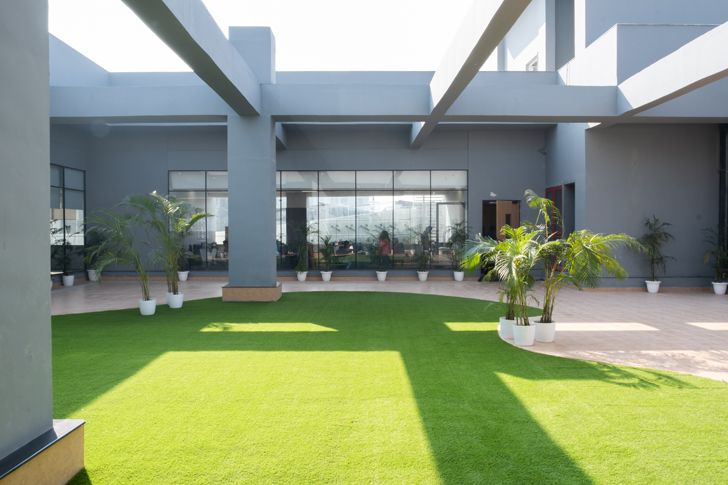 .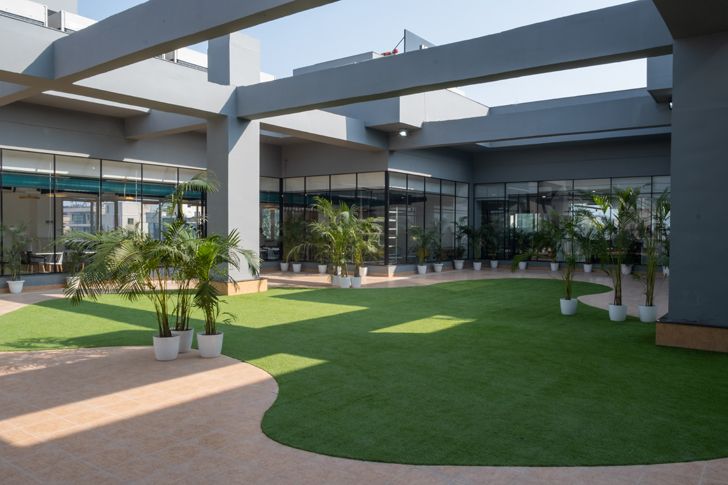 .
While the uninterrupted envelope unifies the view and brings in maximum daylight, the glazed core pushed to the north face, responds to day-lighting concerns, accounting for minimal heat gain and glare. The deep overhangs of the cladding too reduce solar heat gains during summers.
Internally, the positioning of the core results in a singular large volume, allowing for 15ft high ceilings and flexible partitioning of column-free spaces. The terrace courtyard adds an element of openness to the structure, enhancing user experience.
As such, the façade, the spatial planning and the courtyard, form the three key elements around which the design of the structure revolves.
Principal Designer/Architect: Amit Khanna
Built-up Area: 60000 sq. ft.