Compiled by Team IAnD
Photography: Photographix India; courtesy tHE gRID Architects
Read Time: 2 mins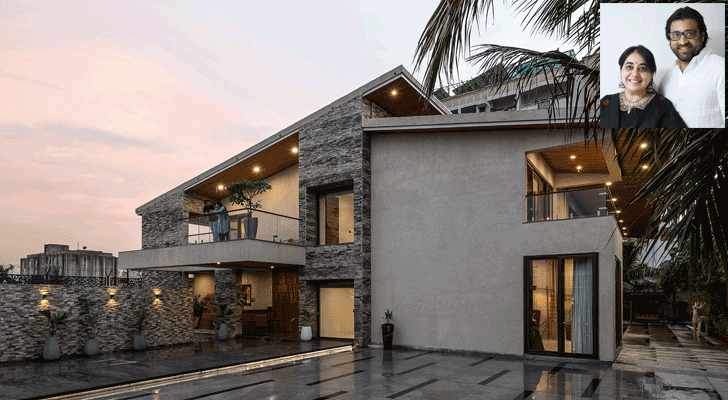 The Axis House, Nagpur (inset) Architects Bhadri & Snehal Suthar
tHE gRID Architects design a bungalow in Nagpur that holistically integrates light, air, greenery, materials and views, providing a living experience that extends beyond the built form…
Have you heard the expression 'buildings speak'? Well, it's true. The built form and the energy it emanates; its volume and the positive-negative spaces, its architectural vocabulary and its juxtaposition with its immediate surrounds have a lot to say, when an inhabitant or even a visitor interacts with it.
.
This home too starts off by having a dialogue with the vast sky above – the concept of earth and sky manifests as the roof and the plinth. In fact, the home derives its name from the axis defined by the intersection of two gently pitched roofs, along which is positioned a skylight that bathes the interiors in soft sunlight. Strategically planned, the staircase block is positioned here; and thus, functions as a light well, and constitutes the heart of the house around which different functional pockets are deployed.
The landscape planned around it brings in tranquillity, and a human sculpture installed on its walls, brings in a certain vitality and enigmatic flavour; its interaction with the sun creating an animation that is dynamic in its expression.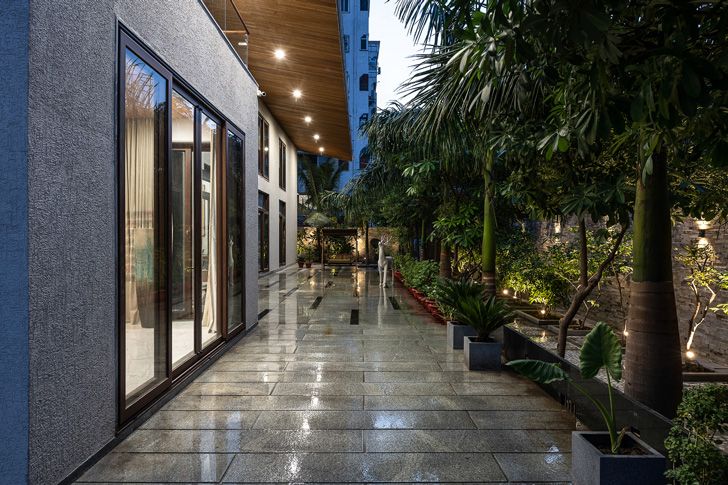 .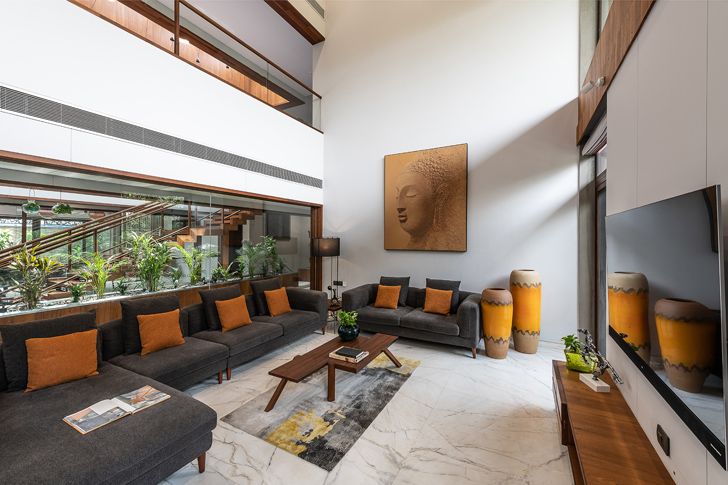 .
.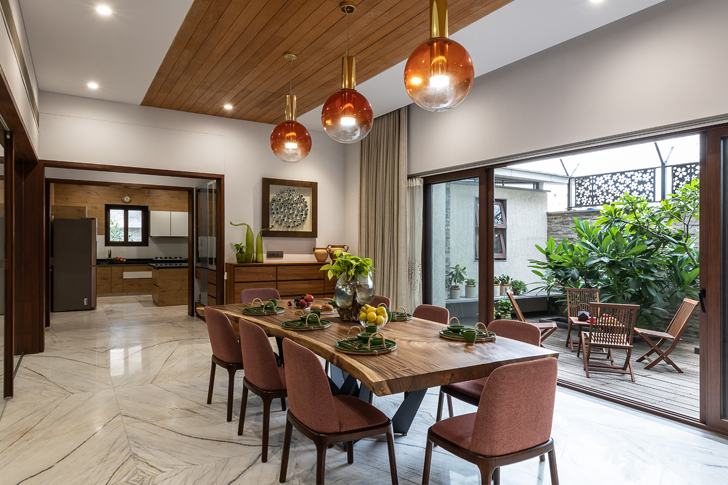 .
As one observes, nature and natural elements are the primary influencers of The Axis House. Taking a conscious decision to retain the mature trees on the south side of the plot, the orientation of the rooms, and the programme in general is calibrated to include as much greenery as possible into the spatial experience. Consequently, integrating the home into its natural setting is a key part of the design and a priority for the homeowners; and the home becomes an orchestration of spaces with large windows, semi-outdoor spaces such as terraces, decks, patios and al fresco seating areas.
.
.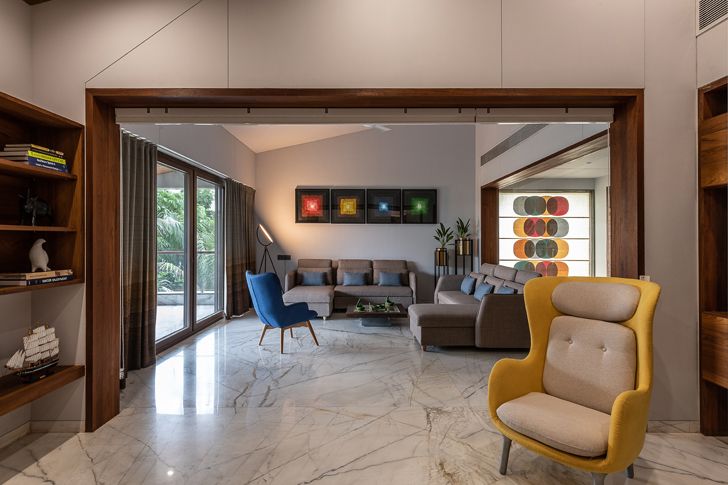 .
.
.
The interiors continue the natural materiality - natural stone and polished wood teamed with metal and exposed concrete. Spatial planning ensures versatile public spaces towards the front, where a double-height ceiling allows light and ventilation along with a visual connection to the upper floor. Functional, simple and clutter-free spaces, high on aesthetics, hold an element of surprise and awe.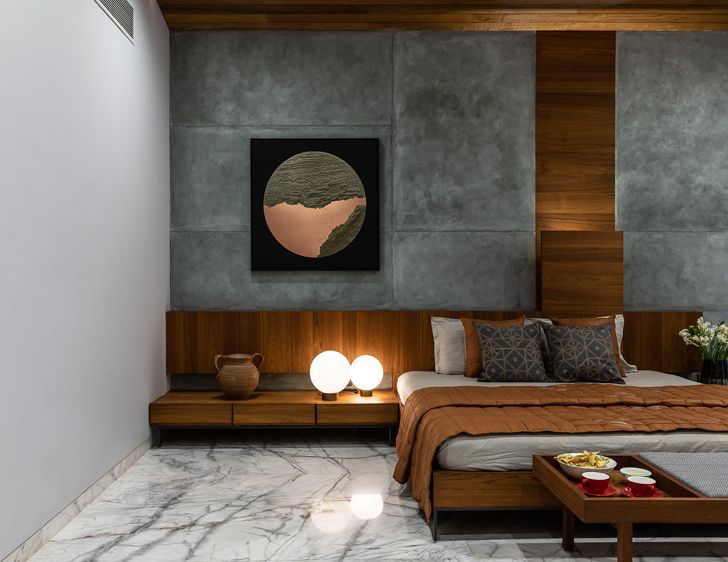 .
.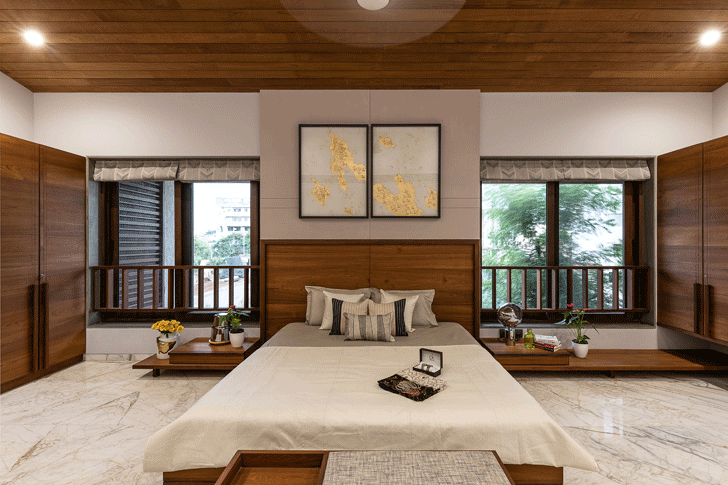 .
Private living spaces are diligently planned with versatile themes that add personality to the rooms and positioned towards the rear for maximum privacy. Spaces connected to leisure and relaxation are distributed between the basement and the terrace.
The endeavour towards seamlessness is evident in the large glazed expanses that modulate the programme instead of obtrusive walls, resulting in transparency, connectivity and a sense of inclusion.
The highlight of the home lies in its attention to detail and the dialogue of the built form with its occupants. Silent and compelling, yet sublime.
Project Name: The Axis House
Program: Residential architecture and interior
Design Firm: tHE gRID Architects
Principals/ Creative Directors:

tHE gRID (Snehal Suthar/ Bhadri Suthar)
Design Team:

Snehal Suthar and Bhadri Suthar, Vishvajitsinh Hada
Area: Plot area – 15000 sq. ft.
Total Built up area – 8769.07 sq. ft.