Compiled by Team IAnD
Photography: Courtesy SNK
Read Time: 3 mins
Vikram Sarabhai Library at IIM-Ahmedabad (inset) l-r: Nandini Somaya Sampat & Ar. Brinda Somaya
Somaya and Kalappa Consultants Pvt. Ltd. (SNK) once again stand apart for their diligence, sensitivity and vision as they win the UNESCO Award of Distinction for the restoration work of the Vikram Sarabhai Library at IIM-Ahmedabad…
As part of the ongoing conservation project to preserve, restore and upgrade the built fabric of the iconic 20th Century (C.) Modern Heritage structures (site area 3.25 Ha approx.) of the Indian Institute of Management in Ahmedabad (IIM-A), India, the restoration and conservation of the Vikram Sarabhai Library (VSL) were found to require immediate attention. With SNK helming the project, the building was taken up in the first phase of the Main Complex in July 2016 and completed in December 2018.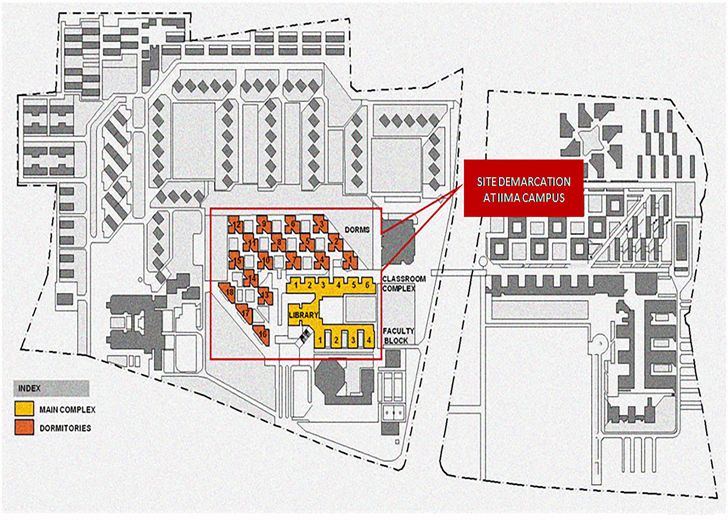 IIM-A Buildings under SNK Scope of Work for Conservation (Vikram Sarabhai Library, Faculty Blocks, Classroom Complex, Dormitories D1 to D18) 2014
The IIM-A campus is a cluster of buildings that are internationally known for their architectural vocabulary defined by the exposed brickwork and concrete used for slabs, lintels, and beams. The grandeur of this architecture comes from its monumentality, timelessness and spirituality demonstrated through its extensive brick façades and massive brick arches with concrete lintels.
Façade specialized cleaning mockups, 2015; (left to right): before, during and after cleaning
Pre Restoration, Ground floor, Publication Department and offices (non-library space), Vikram Sarabhai Library, 2016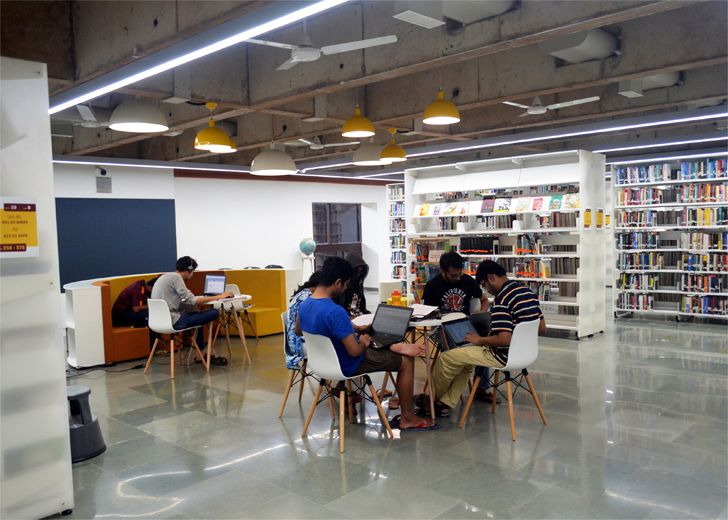 Post restoration, Ground floor, reintroduced into the Library with addition of a Children's section, 2018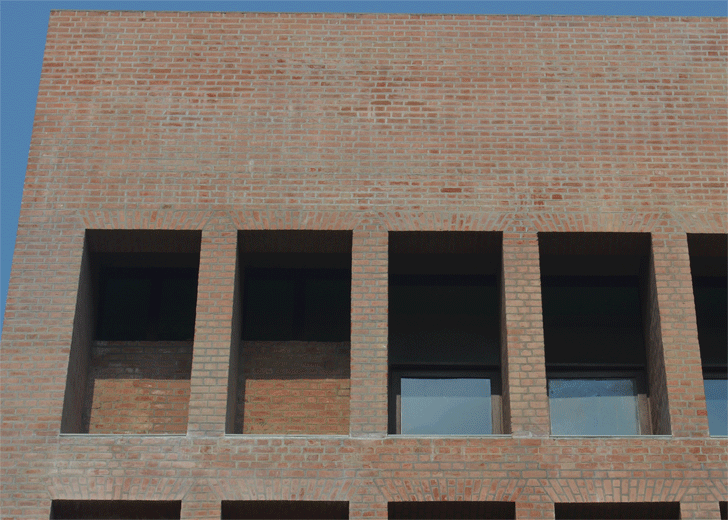 Pre and Post Restoration, East Façade,
Vikram Sarabhai Library, IIM-A
Post Restoration, East Façade,
Vikram Sarabhai Library, IIM-A,
2018
A detailed study conducted on the library building revealed that its conservation entailed the restoration of exposed brickwork, repairing reinforced brick arches, repointing, treating rising damp, façade cleaning for removal of efflorescence and biological growth, terrace waterproofing, part-terrace slab and parapet reconstruction, structural stitching, concrete repairs, flooring restoration and restoration of doors and windows. It also included restoration and upgrading interiors as well as internal planning for barrier-free spaces and upgrading services and lighting to develop it into a future-ready knowledge hub for digital learning and collaboration.
Designed by the renowned architect, Louis Kahn, the library building is located right in the centre of the Louis Kahn Plaza and can be approached by an imposing and magnificent flight of the 'Harvard Steps'. The renovation has changed the library into a dynamic collaborative research and learning space, with access to all the facilities of a modern library, bringing the building to the next state-of-the-art evolution. VSL was inaugurated on 11th March 2019.
Post Restoration, East Façade of Vikram Sarabhai Library, IIM-A, 2018
Post Restoration, Main Staircase,
Vikram Sarabhai Library, IIM-A,
2018
Post Restoration, the Main Reading Hall, Second Floor,
Vikram Sarabhai Library, IIM-A,
2018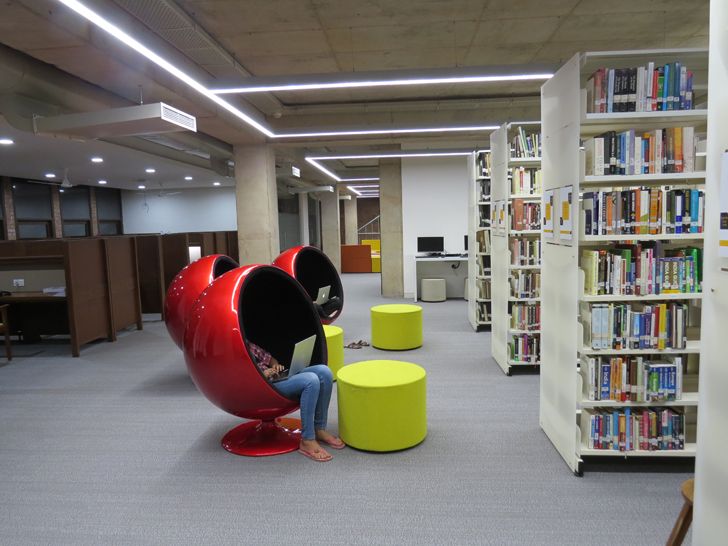 Post Restoration, Silent zone, Third Floor,
Vikram Sarabhai Library, IIM-A,
2018
Behind the scenes:
a) IIM-A through a global tender selected Peter Inskip + Peter Jenkins, a UK-based firm experienced in advisory work for exposed brick buildings constructed around the middle of the last century, to help develop the RFP (Request for Proposal) for the VSL restoration project. It was through a process of invited interest and qualification that the renowned restoration firm Somaya & Kalappa (SNK) was selected for the project.
b) To ensure that the library services remain undisrupted, the facility was relocated to KLMDC building shifting the entire collection of 250 thousand physical library items in addition to moving the existing library furniture, fittings and information technology systems. The transition was commendable in that physical borrowing of the books was suspended for just 10 days, whilst online borrowing continued. In fact, the KLMDC library space was designed and developed in such a manner that it was almost impossible for newcomers to make out that this was a temporary space and for the old-timers, all efforts were made so that they do not miss the earlier VSL.
c) The process of finalisation of the layout took more than a year. The design of the restored and upgraded library is based on a refined mixture of users' feedback, library expertise, architect guidance and international trends.
The UNESCO Award Jury cited on the conservation of Vikram Sarabhai Library:
"The restoration of the monumental Vikram Sarabhai Library heralds an important step forward in the preservation of 20th century architecture in India. The linchpin of Louis Kahn's iconic Indian Institute of Management campus in Ahmedabad, the library was rehabilitated from a state of extensive material dilapidation. Through careful studies and extensive modelling, the conservation team has conquered a range of difficult technical challenges to extend the life of the composite brick and concrete structure with its distinctive geometric forms. The project has recovered configurations and uses of space in line with the architect's original vision, while upgrading functionality to ensure that the library is ready to meet contemporary requirements and provide universal access. With Modernist heritage enjoying increasing acclaim, but still facing the widespread threat of demolition, this initiative promises to have major policy impact within Ahmedabad and throughout India."
Project Name: Vikram Sarabhai Library
Client: Indian Institute of Management, Ahmedabad
Architect Firm: Somaya & Kalappa Consultants Pvt Ltd (SNK)
Location: Indian Institute of Management, Ahmedabad