Compiled by Pari Syal
Photography: Bharat Aggarwal; courtesy the architect
Read Time: 2 mins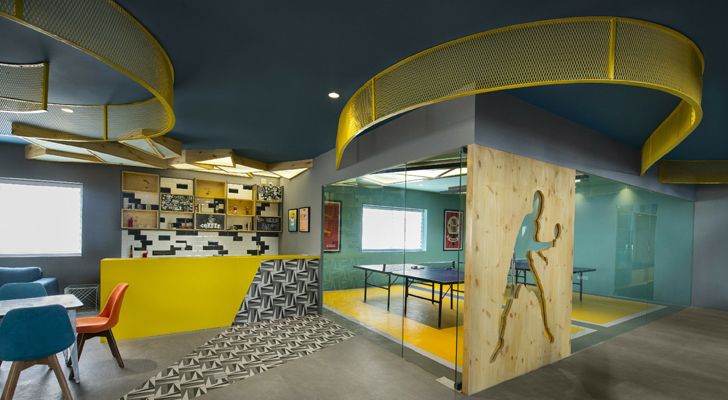 .
Spaces Architects@ka design a rejuvenating recreation area in an indoor sports facility in Noida, using colour as the mood driver…
The first thing that strikes you about this facility is the uninhibited colour palette and the way it blends in to create a space that is meant to unwind both, body and mind. Aptly christened the Colour Court, the expansive area strategically houses just four sports activities: badminton, snooker, table tennis and board games besides a well-equipped gym and the ubiquitous cafeteria.
The bold and bright interiors create a dream canvas as the sheer luxury of space in the 5000 sq. ft. area is celebrated through a peppy yet understated palette of graphic tiles, mild steel, vinyl flooring, wooden slats and glass walls. Areas are demarcated using glass walls to ensure privacy and undisturbed play; whilst keeping the space open and seamless.
.
.
.
Use of sports flooring, decorative black and white tiles, colourful decals and contrasting furniture contribute to the inward-looking atmosphere; for example the purple zebra theme in the billiards room stands out as a dramatically bold and unique design, drawing immediate attention as much as it aesthetically contributes to the adjacent feel-good lounge that helps to relax the mind and energize the body in one's free time.
.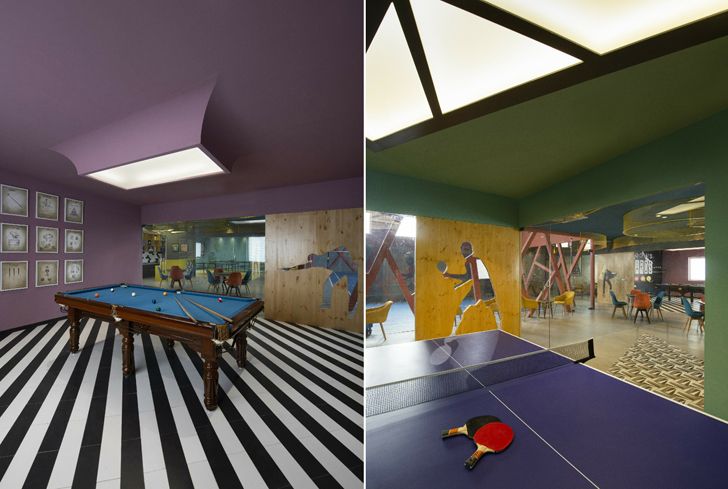 .
.
Design elements introduced are effortless and simple; yet, impactful, like the eye-pleasing, sporty yellow spiral in the ceiling that instantaneously becomes the focal element of the ambience. Almost like a visual diary of thoughts… colourful and cheerful spaces enlighten the mood and enhance fitness therapy.
The club is a confluence of ideas and inspiration with optimum use of natural and artificial lighting, reflective of a modern chic style décor. Peppered with playful interiors and precision, it provides an unbounded, refreshing experience overall. "Healthy body and healthy ambience justify the revitalization theory."
Design Firm: Spaces Architects @ka
Principal Designer: Kapil Aggarwal
Design Team: Kapil Aggarwal, Amit Bhatia, Karanveer Singh, Praveen Sharma
Built-up Area: 5000 sq. ft.
Carpet Area: 4200 sq. ft.