Compiled by Pari Syal
Photography: Arvind Hoon; courtesy the designer
Read Time: 2 mins
.
Chromed Design Studio adds a dash of pizzazz to the standard design format of brand Uno's Pizzeria in India, ingeniously homogenising the brand interiors to the local vernacular…
Going beyond the call of working on pre-set requisites to craft out not just one, but three Indian outlets for Uno's Pizzeria in Delhi, Bengaluru and Kolkata respectively, Chromed Design Studio's designs for the Chicago brand adapt to both – Indian context and cultural mindset.
In line with the popular brand's core ideology, the designer follows the brand's base footprints of red and blue colours, exposed brick walls and wainscoting panels to establish the vibe of a typical English bistro. Yet, he sets each outlet apart, highlighting cosiness as a well-defined, prerequisite vibe that ensures each of the eateries is culturally synched, yet globally conforming.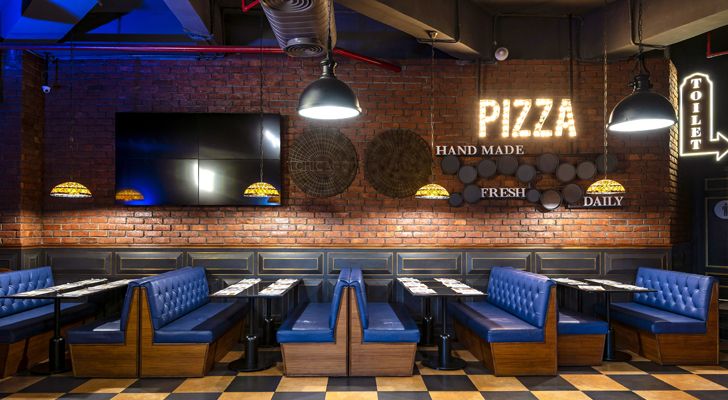 .
.
.
.
Keeping the thematic consistent throughout the three outlets, Uno's Garden Galleria, located in Noida, exemplifies the legacy of the group. Long, curved glazing panels section the space into indoor and outdoor dining areas, while consistently connecting them visually. Wainscoting wall panels and a bright colour palette of blue and red lend a warm aesthetic, amplifying the essence of imperial architecture. A clever use of tin tiles on the bar and black and white marble patterned flooring with brass inlay communicates a regal touch. Square columns turned to circular for better movement dressed in glass stripes spread natural light and create a beautiful deception of reflections. The timeline graphic on the curved wall along the passage is yet another highlighting feature of this bistro.
.
.
.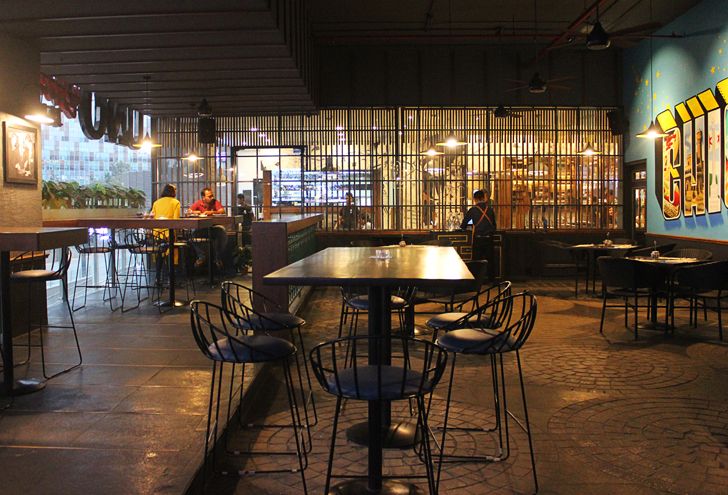 .
In contrast, Uno's Forum in Bengaluru has two indoor dining areas and an alfresco section divided by the DJ area – each singularly distinct. A 6-metre-wide entrance in the middle and a distinct entrance aisle with seating on either side, bold bulb letters and an aeroplane on the ceiling add a bijou aesthetic to the space. A loud Chicago graphic brightens the outdoor space and provides an overall connection and recall to the theme.
.
.
.
.
.
Familiar yet distinctly individualistic, Uno's Swabhumi in Kolkata oversteps the established guideline to incorporate Indian elements in form of local materials, exposed brick walls, mosaic flooring, wood etc., with a touch of greenery. Attractive large span bars add bling to the space, while metallic accents add defining elements. Large wall-to-wall graffiti anoints the outdoor area as ornamental Tiffany lamps, wainscoting panels and the black and white marble pattern with gold inlay is offset by a vernacular touch of wrought iron elements.
In all the three outlets, the prevailing schematics cull out a distinct warmth in the ambience, staying true to the intended English tavern approach; yet working consciously on the relatability factor of its local dialogue with place and people.
Design Firm: Chromed Design Studio
Principal Architect/ Designer: Ar. Abhigyan Neogi
Uno's Garden Galleria | Location: Noida (Delhi NCR) | Gross Built Area: 4400 sq.m.
Uno's Forum | Location: Bengaluru | Gross Built Area: 4500 sq. ft.
Uno's Swabhumi | Location: Kolkata | Gross Built Area: 10000 sq. ft.