By Ar. Vinita Wagh
Photography: Courtesy Creative Group
Read Time: 2 mins
Landport Terminal Building at Dera Baba Nanak (inset)l-r: Ar. Charanjit Shah & Ar. Gurpreet Shah
Eclipsing geographical boundaries and representing oneness and harmony, the Landport Terminal Building at Dera Baba Nanak, Punjab, marks a step towards unity between India and Pakistan.
Commissioned by the Land Port Authority of India, Creative Group designs the state-of-the-art terminal building along the Kartarpur Corridor, connecting the historic shrines of Guru Nanak Dev, the founder of the Sikh religion. Inaugurated on the missionary's 550th anniversary, the structure embodies his ideals and teachings, and catalyses economic growth. It facilitates the passage of almost 10,000 Sikh pilgrims each day. The green, smart and sustainable design is archetypal of the firm's projects.
.
.
The iconic facility, though not a religious or spiritual space, uses light, scale, volume, visuals and art to elicit admiration and piety. Addressing the topography, culture, heritage and social fabric of Punjab, the architecture seeks to spiritually empower and deepen the emotional bonds among the pilgrims.
.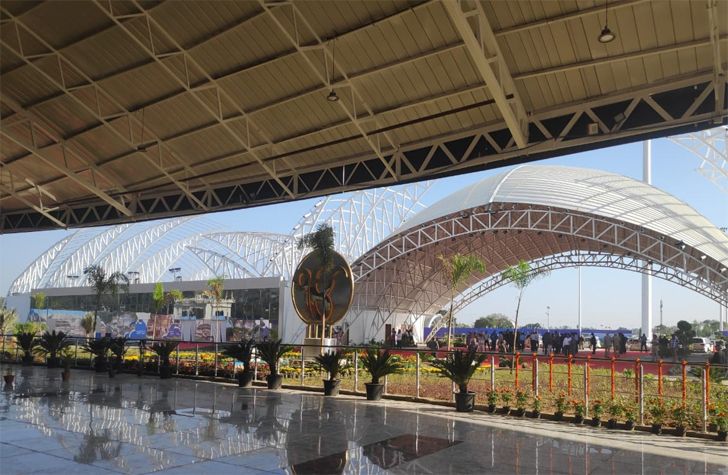 .
The built form is 30m high, derivate of 'Khanda', symbolic of peace, global brotherhood and co-existence. The five vows of Sikhism inspire the petals of the dynamic gateway crown, the distinctive slopes and merging with one another. The spatial planning, in contrast, is linear, function-oriented and simplistic, accommodating increased future footfall.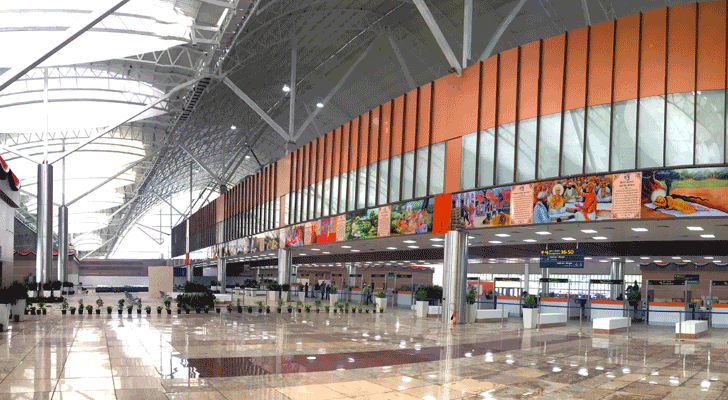 .
Contemporary and local art infuses the essence of Guru Nanak's universal message as The Wall of Pride and the Wall of Unity depict his journey, realisations, travel... Through illustrations of glorious history and Sikh legends, a connection to one's roots is established.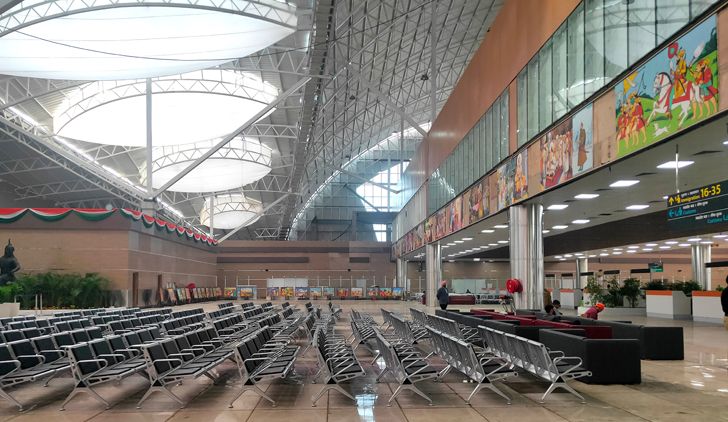 .
.
The steel trusses construct the primary structural frame, allowing larger open spans, strength, flexibility and minimal columns. This results in the abundance of natural light. The use of steel has made possible quick assembly and replication of an exact computer engineered design, all in a span of six short months! Aluminium composite panels clad the double–skin insulated roof, reflecting the contemporary aspirations of the project.
The project is an endeavour to amalgamate the philosophical with the pragmatic (the built form), the tangible with the intangible – architecture that takes on a whole new meaning when it echoes a sense of wonder… in more ways than one.
Name of the Project: Dera Baba Nanak
Client: Land Port Authority of India
Architecture Firm: Creative Group
Principal Architects: Ar. Charanjit Shah & Ar. Gurpreet Shah
Built Area: 21,653 sq. m.