Compiled by Team IAnD
Info: Courtesy P A L Design Group
Photography: Suryan // Dang; courtesy P A L Design Group
Read Time: 2 mins
SIS Prep School (inset)l-r: Designers Patrick Leung & Joey Ho
The SIS Prep preschool in Gurugram - Finalist in INSIDE - World Festival of Interiors 2019 Health and Education category - is sensitively designed to nurture the innate and nascent learning abilities of toddlers, rooting towards a holistic development that steers away from academic rote…
What children at the tender age of 1.5 years to 4.5 years need is loads of attention, care and loving playfulness that strengthens their formative behavioural traits and shapes the nascent beginnings of their personality.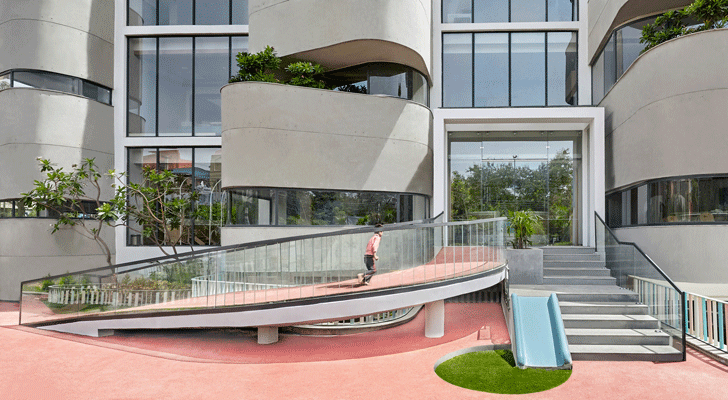 .
This innovative preschool hosts a customized environment for both, group learning and individual exploration, catalysed by various edutainment experiences that are careful in balancing the emotional and physiological needs of this age group.
The generous abundance of natural light and a close resemblance to the outdoors are close to the heart of this three-storey edifice. Playfully juxtaposing geometric shapes with rounded-off edges echoes the architectural vocabulary, as the design team puts together a delightful mix of fun and surprise-filled elements to stimulate the imagination by encouraging different modalities of learning.
.
.
.
.
A major design consideration is the way the different areas are connected: open areas are divided by see-through partitions and spaces progress one after another in a coherent flow. Playrooms are designed differently to accommodate diverse interests: some are better suited to music, while others resemble art studios and so on – each endorsing the significance of the all-important 'sense of wonder' that constitutes the crux of a child's intellectual development.
.
.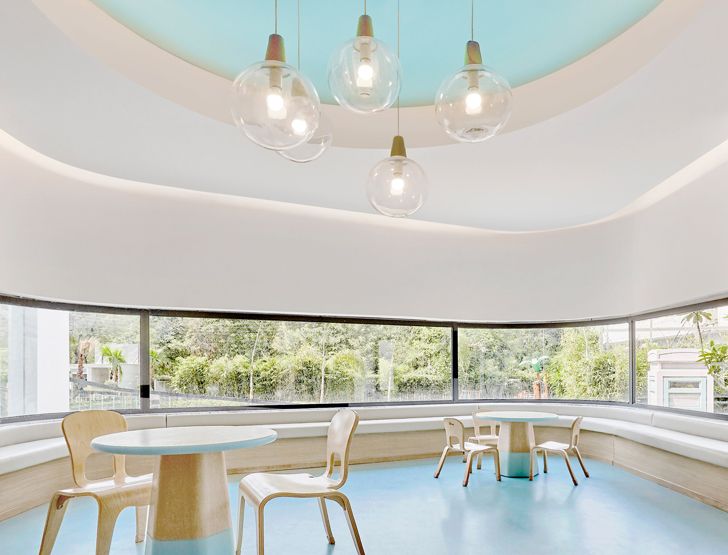 .
.
Steering clearly away from the conventional classroom model (though, one must admit, this is more a norm with preschool), the project aims to make diverse learning processes integral, irrespective of the definition of the space. In this, the designers do well to introduce a central multi-storey light well that directs and diffuses light downwards and sideways, filling the spaces with ample possibilities for the kids to enjoy. Meticulous care is put into the window slits, to fit to the young ones' proportions, feeding their curiosity and drawing their eyes towards the outdoor garden, in addition to devoting gathering spaces and seats towards the other floor-length windows to catch maximum light.
.
.
Another concept for the school is to create a transversal relationship between the interior and exterior worlds, enhancing the ambiguity between them. The exterior of the preschool is tailored to connect the interior space to its inhabitants with a series of physical activities and play including a sand pit, water game and outdoor reading area etc.
.
The overall design takes a minimalist approach to remove unnecessary decoration, with a sense of scale, soft lighting, and a neutral palette that ensures a calm but boundless environment for the children to explore and develop holistically.
Project Name: SIS PREP Gurugram
Architect Firm: Urbanscape Architects
Lead Architect: Mr. Dinesh Panwar
Interior Design Firm: P A L Design Group
Lead Designer: Mr. Joey Ho
Design Team: Mr. David Chan, Ms. Joslyn Lam
Total Floor Area: 809 sq. m.
Location: Gurugram, India