By Marina Correa
Images: Bharat; courtesy the architect
Read Time: 2 mins
'Mansha' (inset) Ar. Arun Sharma
Monochrome luxury, vintage influences and a mosaic of dissimilar styles… Atrey and Associates uses a confluence of design elements to cull out this well-appointed Vaastu-compliant abode…
Ar. Arun Sharma of Atrey and Associates designs a luxurious 6,095 sq. ft. home with diligence and depth, where the essence is drawn from ancient Indian Vedic texts translated as motifs, paintings, moldings etc.; whilst the furniture, fittings and lighting are contemporary, flaunting designer labels and bespoke paraphernalia.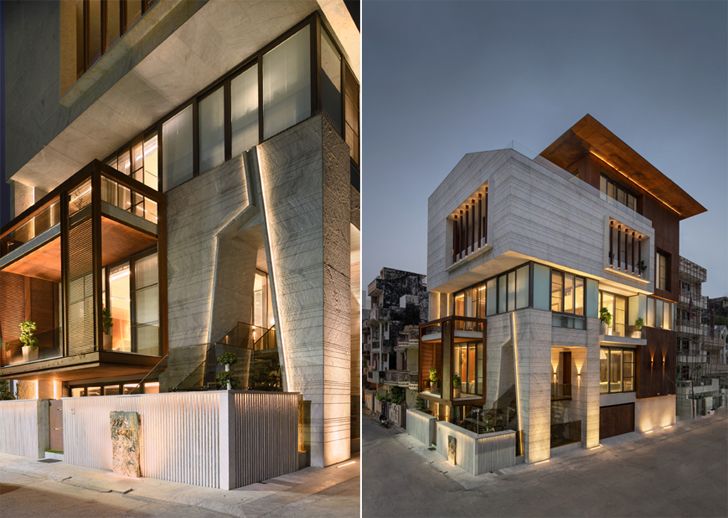 .
.
.
Repetition of frames in the façade and playfulness in form gives rise to various combinations of large overhangs and deep recesses, creating a building design that is at once striking as it is one with its surrounds. Enclosures that arise from these recesses accommodate diverse functions like balconies on each floor that expand the program into semi-outdoor cantilevered niches. Usage of rough grey stone and white stone lends sophistication, whilst corten steel and thermo ash wood bring warmth – balancing equations right from the façade through the interiors.
.
.
.
.

The three-level edifice hosts the public and entertainment areas and services between the stilt and ground floors; kitchen, study-cum-play area, lounge area on the first floor; master and children suites on the second floor; whilst the gym, spa and home theatre on the third takes care of the family's every whim and fancy.
.
.
One enters the living spaces via a glass staircase that opens into a double-height lobby with a metronome ceiling light and sleek glass overhead bridge that connects the upper floor and allows light, transparency, spaciousness and greenery to orchestrate the space - a sensibility that the client has sought throughout the home.
.
.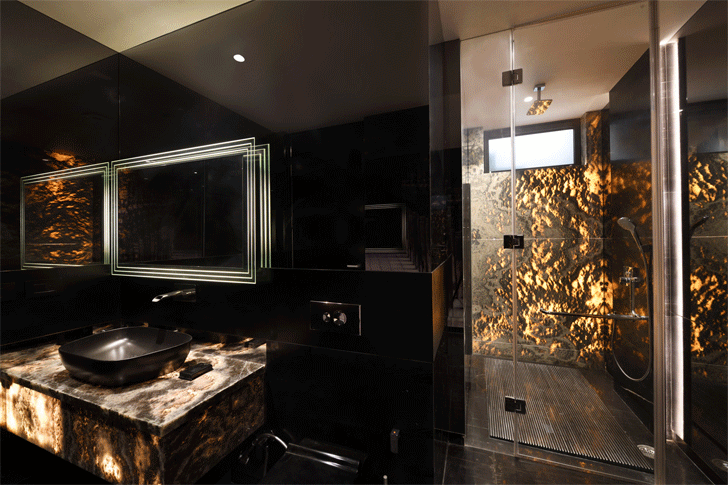 .
The interiors are characterised by the juxtaposition of richness of Indian spiritual motifs against diverse materiality such as rough split grey stone for the 'Gopuram' sculpture (monumental entrance tower of Hindu temples) in the master bedroom. Or Vedic motifs etched on the Corian vanity island in the master walk-in section; rose gold-finished glass cubicles in the master walk-in and bath areas; detailed glasswork featuring three chakras in the middle and yellow lights in the cove defining infinity in the puja room, a modern interpretation of the culturally rich Ajanta and Ellora-inspired moldings, and the like… whilst unifying the entire schematic is the flooring of ubiquitous white Satvario marble.
.
.
Whilst spirituality is the fulcrum of the design language, intrinsically and subtly woven into the schematic; a predominantly monochrome palette orchestrates a statement of uber-chic style and luxe appeal. Diligently and with discerning deliberation, one sees the use of umber and yellow, where the latter adds a splash of exuberance, balancing synergies, uplifting the style statement of the home living up to its christened name "mansha" translated "what the heart aspires"!
Firm: Atrey and Associates
Principal architect: Ar. Arun Sharma
Built-Up area: 6,095 sq. ft.
Location: Gujrawala town, New Delhi