Compiled by Team IAnD
Photography: Prashant Bhat; courtesy the architect
Read Time: 2 mins 30 secs
Adani Corporate House (inset) Ar. Abhijit Purohit
Archgroup International' designed Adani Group's headquarters is a building with an iconic aerodynamic form that when looked at closely, stands metaphorically regent, seeped in a legacy in the making…
Adani being a conglomerate with exceptional growth and global impact, the building for its headquarters mandated a built form that would stand as a silent testimonial of its stature. Employing an aerodynamic form that not just enhances the angle of view but offers a significant reduction in wind load and pressure resulting in structural cost saving – the towering edifice with its contoured facade comes across as a powerful icon.
East-side Elevation
North-side Elevation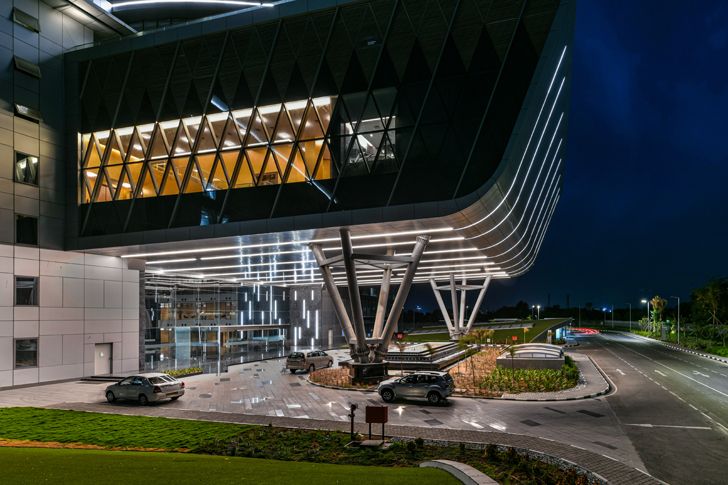 General drop-off
Section
The massing of the structure – the horizontal podium with ground-plus-three-storeys that straddles the footprint and the vertical trajectory, the tower with 15 floors, stand robustly metaphoric of the company's dependability and growth respectively, expressing the core philosophy of the firm.
Besides providing a state-of-the-art working environment for 3000 employees, the building comprising three wings - North, South and East - each approx. 17000 sq. ft. is equipped with up-to-the-minute amenities like a 300-seater multipurpose auditorium, 900-seater cafeteria, training rooms, lecture halls, 80 meeting rooms, a library, a centralised data and security centre and a yoga and medical centre. Noteworthy are the three basements – 2.5 lakh sq. ft. each – that cater to the parking needs of 2500 two-wheelers and 1000 four-wheelers.
.
.
.
.
Primarily, the design is conceptualised around two circulatory paths – that of the staff and the executives. Whilst the executive movement is guided strictly along the central axis facing the main road, the staff movement also along the same axis is approached from the rear side – both entries flanked by majestic atriums that reflect the status and ethos of the corporate.
The employees and common facilities like the cafeteria occupy the lower floors. The 14th and 15th floors house the executive offices, complete with elaborate 900 sq. ft. personal office space along with support staff and board rooms etc. Skylights at the executive level and the cafeteria – a humungous single continuous volume – usher in ample natural light, creating chiaroscuro elements, enhancing the ambience. Granite from different parts of the world, marble, tile and fabric panelling constitutes the material palette that promotes an uber chic aura around the entire office. All along, a diligent inclusion of patterned ceilings, wall panelling, and vibrant carpets vie for attention against an overall envelope of muted colours, giving the Adani Corporate House its inclusive, dynamic corporate aura.
.
.
.
The highlight is the architectural vocabulary and its interaction with its immediate surrounds and its inhabitants. The building is the recipient of the Lead Platinum certification.
Project: Adani Corporate House
Clients: Adani Corporation
Client Representative: Tarwinder Singh
Architecture Firm: Archgroup International, Mumbai
Principal Architects: Ashok Korgaonkar &
Abhijit Purohit
Project Lead: Abhijit Purohit
Design Team:
Swapnil Kamerkar,
Pramod Potdar
Interior Consultant: Design Phase DBA - Singapore
Landscape: Roots Design - Pune
Gross Built Area: 14.0 lakh sq. ft.
Location: Shantigram, Ahmedabad