By Rutvi Ashar
Photography: Courtesy AUM Architects
Read Time: 2 mins
.
AUM Architects design an eclectic inward-looking home in suburban Mumbai using materiality as the mainstay…
Mayfair Apartment located in Khar, Mumbai mirrors the lifestyle and personas of the three inhabitants of the 1,490 square foot home. Spearheaded by Ar. Manish Dikshit, Aum Architects believe that design should have the following: excellence, service efficiency and responsiveness. And these manifest in the various nuances of the interiors of this apartment.
The floor plate of this home is that of a typical open plan, three-bedroom apartment. The seamlessness of the marble floor throughout the home is interrupted only by exquisite rugs, while the marble wall panelling is creatively bonded with wood finishes. The play of simple material reflects the modernity of the home.
The predominant monochrome marble that constitutes the interior envelope is sombre and classic, establishing order and uniformity, broken only by accents of blue and dark shades of wood.
.
.
.
Most of the home uses contemporary patterns and finishes, for example, to a viewer of minimalist taste, the kitchen is a treat; the glossy granite countertop reflects the modern pattern of the backsplash, while as the grains of the marble interrupt the smooth flowing white floor, the white ceiling is also interrupted by white lighting fixtures. The kitchen cabinets are a matt grey canvas with a clean network of sharp lines.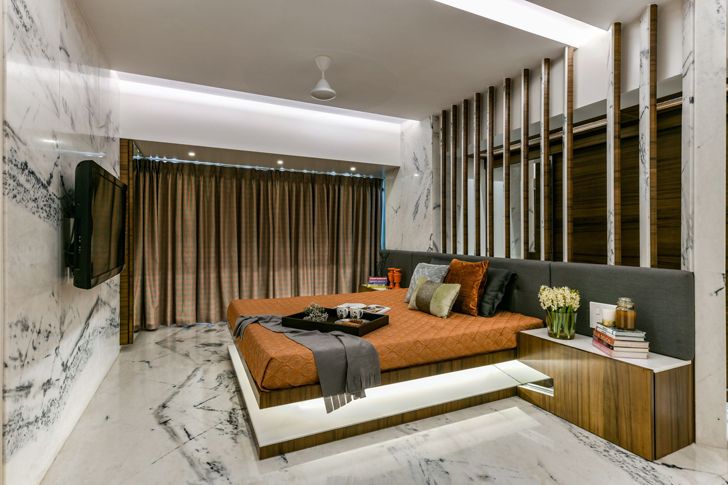 .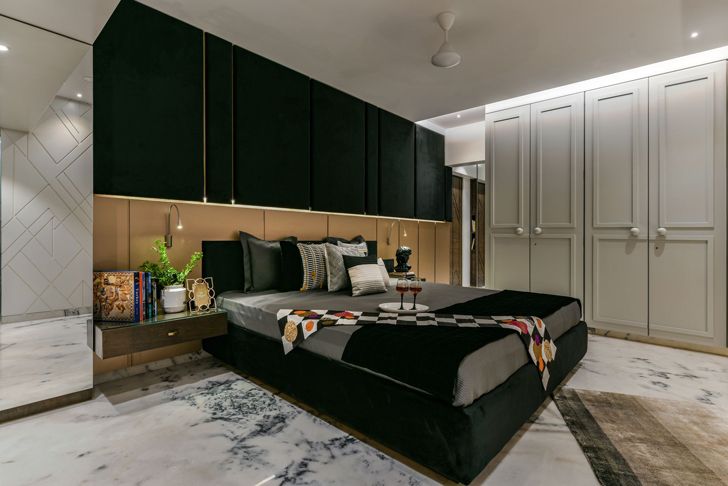 .
.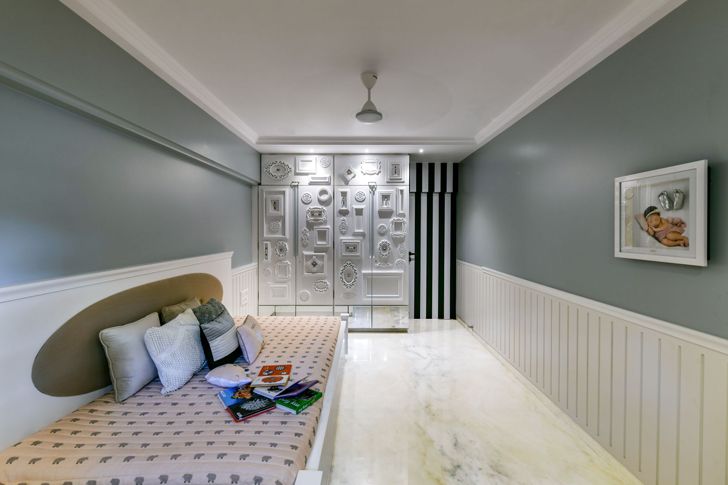 .
.
The master suite and guest room also follow the principles of modern design, complete with contemporary finishes. In complete contrast to this design language is the daughters' room, which is a beautiful representation of an era long gone. Black and white stripes, decorative frames and retro wall panelling all in subtle hues are almost reminiscent of an English nursery predominantly showcased in films.
This home follows a strong functional context while fulfilling an unsaid criterion of current trends; however, it is the story of the client that comes through, making this home a space for contemplation and relaxation.
Design Firm: AUM Architects
Principal Architect: Ar. Manish Dikshit
Built-up Area: 138.4 sq. m. (1490 sq. ft.)