By Ar. Vinita Wagh
Photography: Palak Jhaveri; courtesy the architect
Read Time: 2 mins
.
Through eye-catching furnishings and brightly coloured accessories, Shalin Gandhi harnesses the power of colour to energise, activate and anchor spaces.
This 1425 sq. ft. four-BHK residence in Ahmedabad's Prahladnagar is functional, spacious and stylish – designed to conform to the client's needs and yet allow for exploration of user experiences through its décor.
Crafting a clean, simple and contemporary ambience, the neutral palette of beige and brown acts as a muted canvas against which colour percolates through various elements. A combination of glossy and matte material finishes along with sharp, contrasting colours and textured fabrics render the apartment with an eclectic, effortless appearance; the open plan layout and the plentiful natural light filtering in, being value add-ons.
.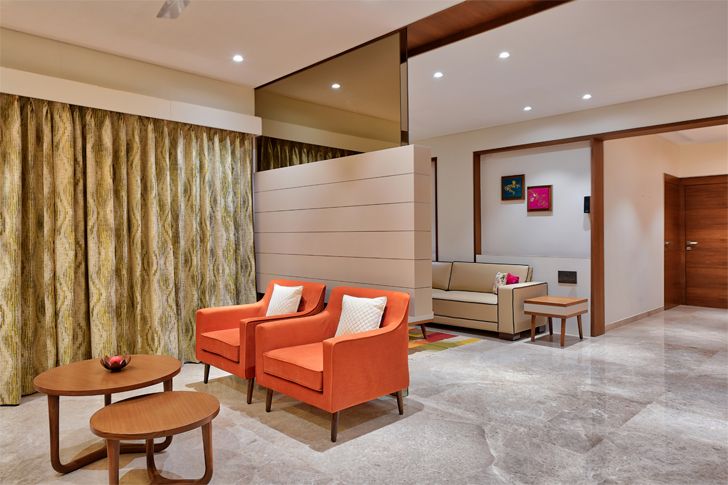 .
.
.
.
The spacious living room is cleverly cordoned off to host a privy nook without taking away from the open plan and the general interconnectedness of the public spaces. Whilst the guest bedroom doubles up as additional entertainment space when not in use, the dining area gets its spot in the sun.
Part of the openness is attributed to doing away with connecting doors between living - dining, and dining – kitchen. The large rectangular architraves frame the spaces while allowing free transition.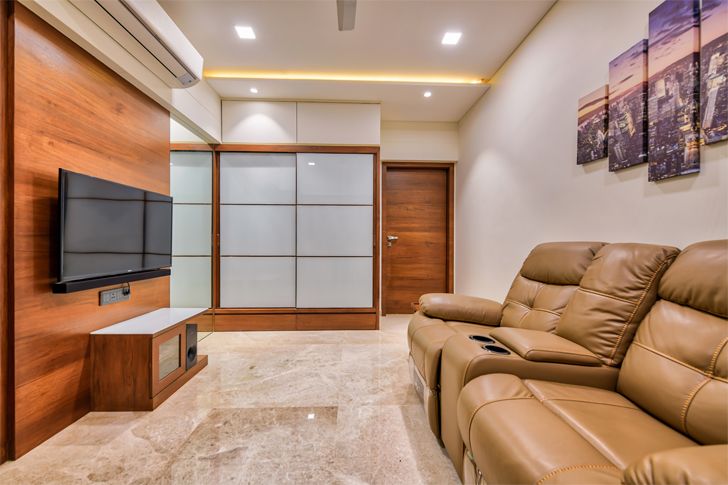 .
.
.
.
The décor is emboldened as vibrant orange hues grace the chairs and the rug underfoot comes alive with a vibrant palette. Similar traces of vivacious hues grace the bedroom furnishings and accessories as mirror becomes the official enhancing element. The other add-on is the planar treatment of the surfaces that gives rise to a play of levels, never letting an idle surface go by. Yet, the overall coming together of all elements involved – wall panelling, the gentle curvilinear forms, the straight lines…is harmonious and exudes a chic, understated vibe.
By curating focal points that add dynamism and spark inspiration, Shalin Gandhi redefines spatial and visual experiences.