By Beverly Pereira
Photography: Bharat Aggarwal; courtesy Modo Designs
Read Time: 2 mins
.
Modo Designs sensitively crafts a joint family dwelling to accommodate distinct living spaces that are a literal breath of fresh air.
Designed to accommodate a large joint family, the Elemental House responds to the client's requirement for a home that not only offers each sub-family a good deal of privacy but also living spaces that are well in tune with nature. Modo Designs strategically plots a vaastu-compliant home that lives up to its name.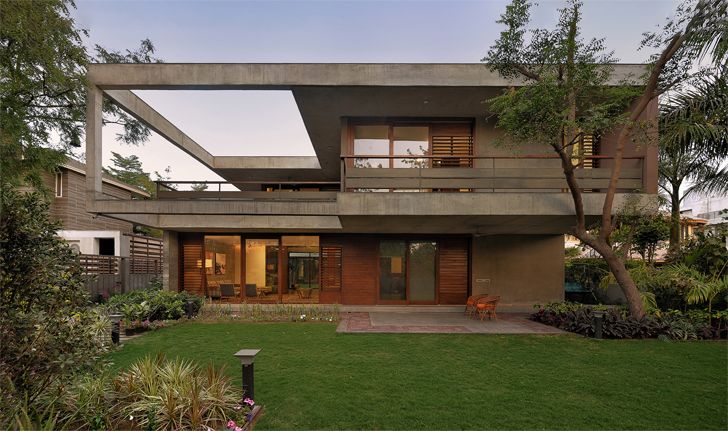 .
.
Spatially defined by a series of three open spaces — the central courtyard, the front garden and the backyard, and plotted on a linear footprint, the dwelling draws inspiration from the traditional courtyard typology to wrap around the central courtyard, which is open-ended towards the north, and invites natural light and ventilation into the home. The bonus is the retention of an existing Neem tree in the front garden to the west.
.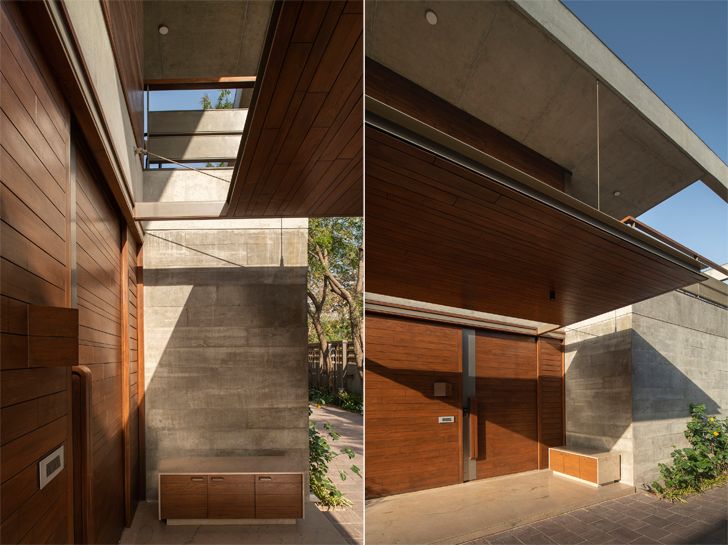 .
.
.
.
.
Two storeys space out the private and public areas: master bedroom, drawing, living, dining and kitchen areas on the ground level; whilst the first floor accommodates two segregated zones, to the west and the east, for the two sons and their families. Each zone breaks out into an outdoor terrace — a private space that encourages a connect with nature.
.
.
A floor above in the south east part of the house is dedicated entirely to recreation and entertainment with a small adjoining terrace. When viewed from the central court and front garden, this floor is barely visible, resulting in a scaled-down view of the robust architecture.
On the exterior, an earthy material palette of exposed concrete, Mandana stone cladding, and wood panelling forms a striking parallel with the surrounding greenery; its vocabulary dramatically intercepting the natural surrounds as floor-to-ceiling windows bring in natural light and verdant views. Inside, the starkness of white walls and ceilings against a flooring clad with natural stone stands out in contrast, while plush, contemporary touches — furniture with geometric facets and clean lines — allude to a progressive lifestyle.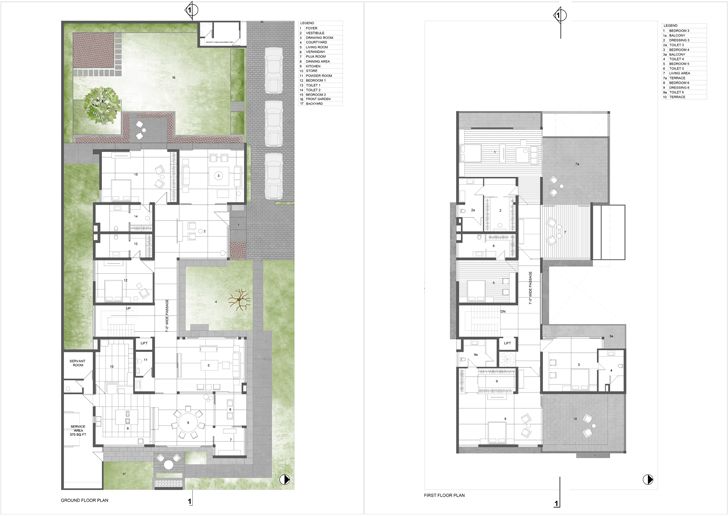 .
The home anchors a strong architectural and design vocabulary that forges a connect with the outdoors, while cultivating a sense of seclusion and privacy indoors.
Name of Project: The Elemental House
Design Firm: Modo Designs
Principal Architect: Arpan Shah
Design Team: Arpan Shah, Ameeta Kanakhara, Jaydeep Rathod
Built-up Area: 10,350 sq ft