By Ar. Shreya Kulkarni
Photography: Ravi Kanade, Shubham Photography; courtesy the architect
Read Time: 2 mins
.
Ar. Rajesh Patel crafts a well-lit workspace using a single source of natural light to maximise illumination in every inch of the available space…
An 850 sq. ft. contemporary office space sits inside a glazed commercial structure, located in one of the busiest areas of Navi Mumbai. The external glazing floods the interiors with constant, diffused north light that successively gets filtered on the inside through the conscious use of glass partitions to differentiate functions. The open, linear and flexible planning reflects a rhythmic hierarchy of spatial organisation to curb the sense of congestion and to incorporate this only source of natural lighting from the north along its entire length.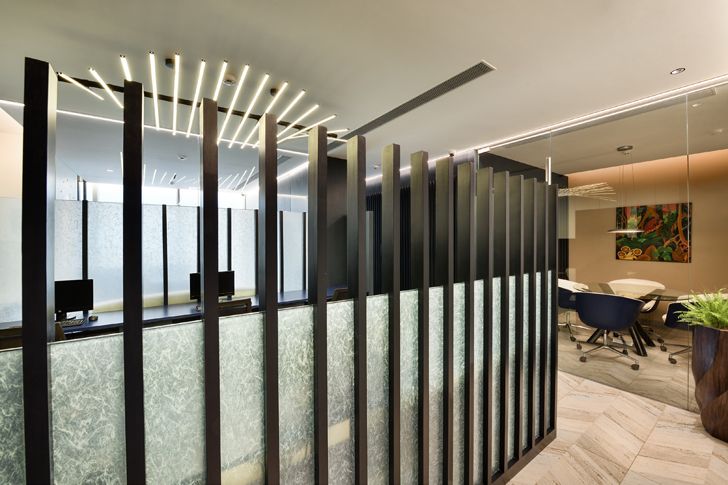 .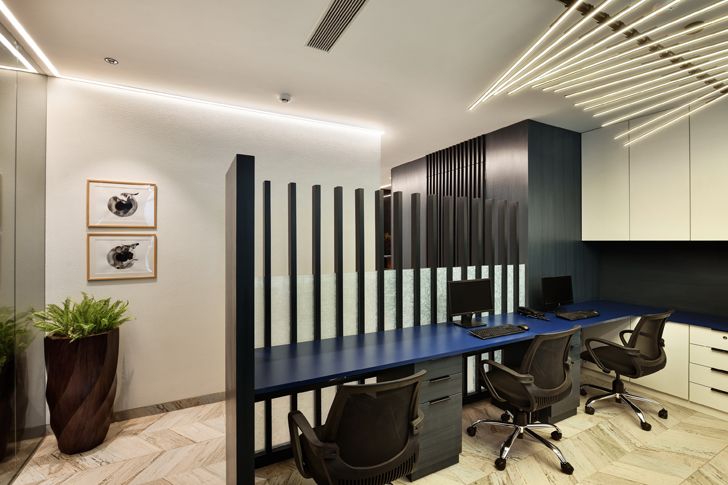 .
.
One enters the office from the south into a formal petite reception, complemented by a visual illusion of expansiveness created by the mirrored west wall. A linear double-loaded corridor is the spine guiding your way right from the entrance to connecting the rest of the spaces arranged along its length. A low-height partition composed of vertical wooden louvers and frosted glass conceals the workstation visually from the entrance, which accommodates six seating and wall cabinets uniformly illuminated by a unique light fixture - Orion, custom-designed by the architects.
.
.
A meeting room, toilets, service duct, and pantry are stacked sequentially on the right side of the corridor and the access doors to these spaces apart from the board room are camouflaged with a panelled wall of louvers observed as a common feature running throughout the interiors.
A spacious and vibrant MD's cabin pinned in the north-west corner of the office significantly contributes to the natural light due to the presence of an entire glazed northern wall. The partition walls are designed with floor-to-ceiling storage cabinets with dual-toned plywood, keeping the treatment minimal and chic.
.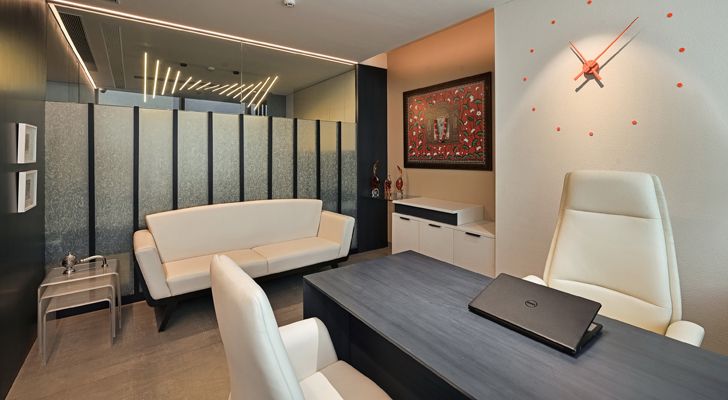 .
The black-and-white theme manifests a neutral environment and a punch of ochre induces a dialogue in harmony, creating an ambient atmosphere with diffused artificial cove lighting adding to its tranquillity. The brightness on the inside is enhanced by the white/beige wall finish and is balanced by the contrasting dark ply furniture.
Each square metre of this centrally air-conditioned office depicts efficient utilisation and planning doing justice to the client's brief of having a functional contemporary interior.
Design Firm: Rajesh Patel Architect & Interior Consultant
Principal Designer/Architect: Rajesh Patel
Built-up Area of project: 994 sq. ft.
Carpet Area of project: 850 sq. ft.
Location: Vashi, Navi Mumbai