By Ar. Vinita Wagh
Photography: Vivek Singh Rathore
Read Time: 2 mins
Fanattic Sports Museum, Kolkata (inset) Ar. Vivek Singh Rathore
Salient Design Studio blueprints India's very own multi-sports archive - the Fanattic Sports Museum, commemorating the country's revered tryst with the sporting world.
The 3725 sq. ft. space opened its doors in Newtown, Kolkata, replacing a non-operational food court within ECOSPACE's 20-acre GoldLEED rated office campus. Curated by famous sports historian and journalist Boria Majumdar, the museum exhibits his personal collection of memorabilia that spans over 29 years. With an aim to inspire sports stars to visit and contribute to this non profitable venture, the museum encourages the synthesis of a sport-conscious community that would champion mental and physical wellbeing within the new generation. With 133 exhibits and 60 graphic boards on display, indoor stage, deck theatre and retail merchandise, the museum treasures a variety of sports collectibles under one roof - a dream come true for an ardent fan.
.
.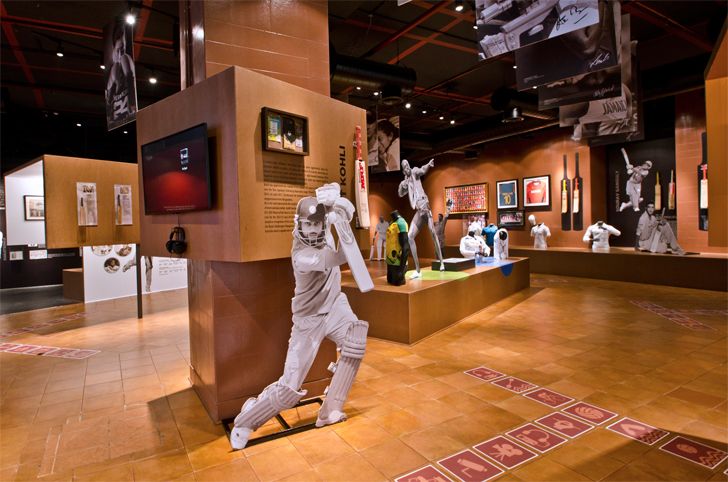 .
.
Augmenting visitor experience, the circulation is the main driver of the design. Consciously challenging the conventional system of linear and guided movement within, the design focusses on experiential and explorative routes and expresses freedom of movement, intersecting with memorabilia to create surprise interactions. Exhibit (tunnel) galleries lend structure to the open plan; simultaneously defining distinct zones and circulation pathways. Semi-partitioned zones demarcated through spatial and psychological segregation create alternate movement patterns and regulate crowd flow.
.
.
.
.
.
.
Reduction of both investment and operational costs have defined a 2-month design-to-execution timeline, with a focus on conserving and reusing existing facilities. Flaunting the reuse of 78% of existing flooring, 60% of existing wall finishes, and 70% of existing HVAC, the design achieves LEED interior standards and reduced energy costs due to daylight infiltration. With existing components reinstalled as per design, MDF and 60% recycled MS framing sections compose the interiors. LED lighting economises illumination while the glazing stays intact, extending external views to the green campus.
Invigorating the country's sports scene, this museum presents an authentic account of the importance and far reaching influence of sports in India.
Design Firm: Salient Design Studio
Principal Designer/Architect: Vivek Singh Rathore
Carpet Area: 3725 sq. ft.
Location: Newtown, Kolkata