By Rutvi Ashar
Photography: Photographix | Sebastian + Ira; courtesy the architects
Read Time: 2 mins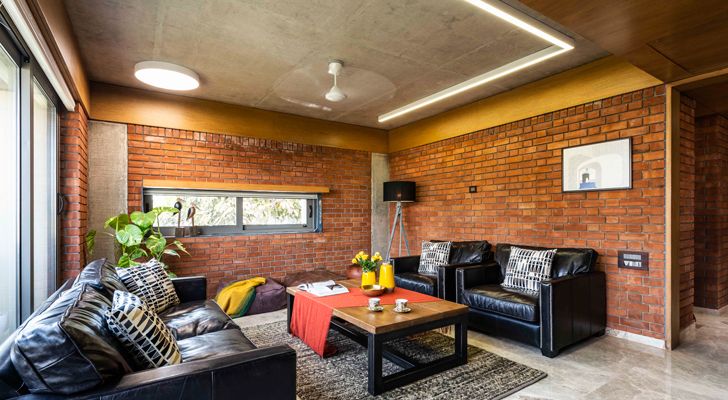 .
'Designing a home is equal to designing a lifestyle', believe tHE gRID Architects, who amalgamate the design of the surroundings i.e. soil, climate, material with the lifestyle of the family in this Brick House in Ahmedabad.
Staying true to the site, earth and atmospheric setting, the 2290 square-foot brick apartment
is a space that uniquely combines numerous influences that shape the relationship of a design and client. These influences include people, places, events, memories and perception.
.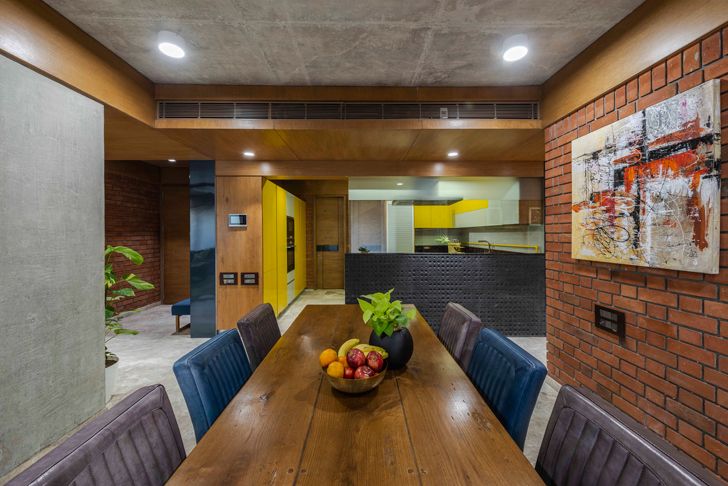 .
Despite being located on the 5th floor of a multi-storied apartment block, it is grounded and organically connected to the earth. The effort is seen strongly in the choice of materials, pops of colour and minimalist approach that speaks more of material honesty than stylistic approach. Using brick as the central material lends warmth and earthiness to the home while raw concrete and seasoned wood accentuate the amber bricks in a simple, stark, clean and uncluttered way.
.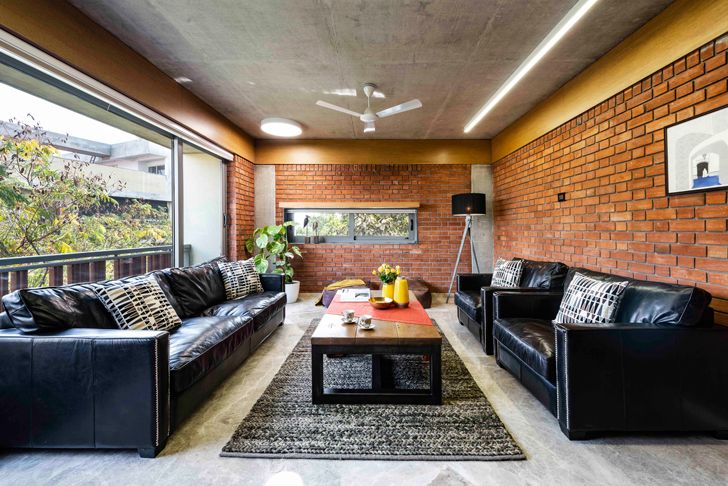 .
.
.
Huge windows unhindered by any grills, invite in the playful shadows of the surrounding landscape that seamlessly integrate with the indoor spaces. The open plan allows all spaces including the corridors to receive ample sunlight and natural breeze, infusing the interiors with vitality and yielding a comfortable internal environment in the challenging climate that is characteristic of Ahmedabad. The selection of furnishings, simple colours and textures abridge traditional thoughts in a contemporary setting.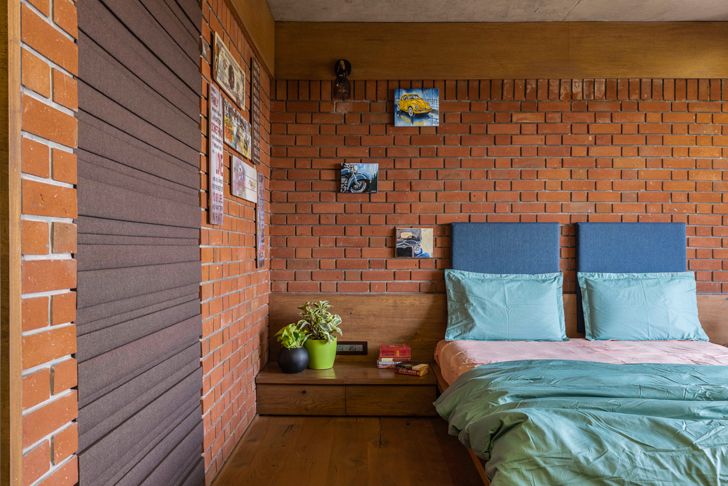 .
Homogeneity in terms of the form, material and design philosophy make a great combination of functional and aesthetical communication in the flow of spaces. Visual connectivity strikes the balance between semi-private (kitchen-dining, living room and deck) and private zones (three bedrooms and ancillary areas) in the home.
As we see it, the designers may only have the tangible house to show for their work; but, look a little closer, and they have visited the depth of their client's lifestyle to curate his home.
Design Firm: tHE gRID Architects
Principal Designer/Architect: Snehal Suthar and Bhadri Suthar
Concept and Interior Design:
Snehal Suthar and Bhadri Suthar
Design Team: Snehal Suthar, Bhadri Suthar and Vishvajitsinh Hada
Built-up Area: 212.74 sq. m. (2290 sq. ft.)
Location: Ahmedabad, Gujarat