By Ar. Vinita Wagh
Photography: Phxindia; courtesy the architects
Read Time: 2 mins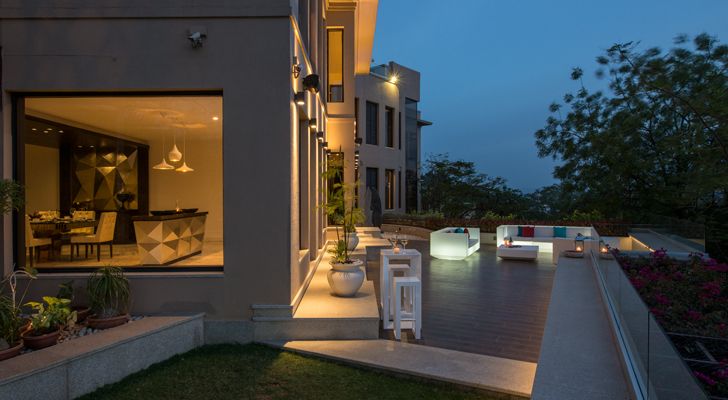 .
Design Inc. emboldens this sprawling home in Udaipur to portray sensibilities of modern luxury and elegance amidst traditional architecture and the bespoke craftsmanship of Rajasthan…
The 13,500 sq. ft. residence sits atop a hill, flanked by a rocky outcrop to the rear and looking onto the Fatehsagar and Pichola lakes on three sides. The remodelling of this multilevel terraced house integrates the dynamics of three generations and blends with its surroundings showcasing richly detailed interiors, whilst the shell and framework remain untouched.
.
.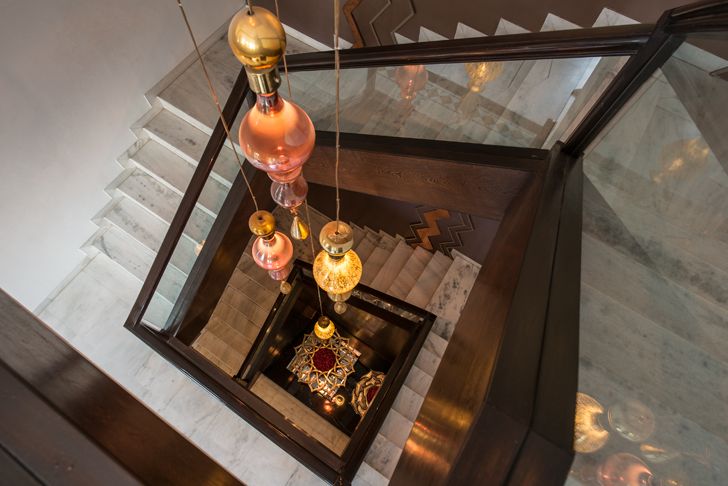 .
The exterior façade is now a distinct beige. Redesigned terraces incorporate mood settings, while invisible glass railings provide seamless views. The water body features light sculptures arranged on stone platforms and the edge seating against it outlines an infinite feel to the space. Back lit sculptural furniture and the bougainvillea pergola add to the surreal ambience.
.
.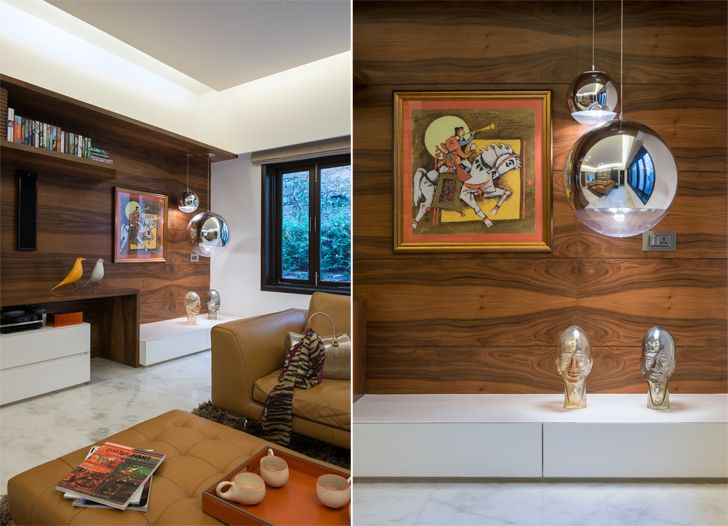 .
Inside, the living room boasts tall, louvered wooden windows. The ambience exudes luxe appeal as a central yellow onyx wall anchors the living room, contrasted by walnut veneer panels complemented by red textured and white leather sofas. Further on, faceted gold leaf elements wrap the walls and bar to characterise the dining space.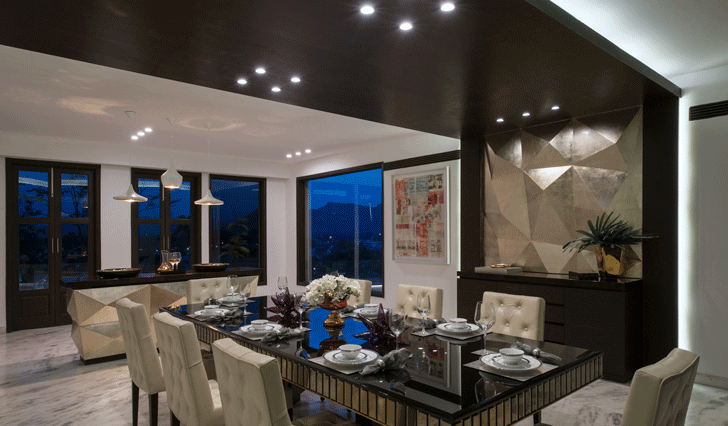 .
Detailing takes centre stage with a carved, gold leaf motif screen; brass, marble and distressed glass coffee tables, blown glass lights and pichwai paintings. The black glass topped dining table details a gold mirror fluting. Painted dull gold, the staircase walls overlay a patterned metal motif in shades of copper, gold and silver. Rajasthani thikri work finds its way into veneered walls while the black Marquina marble platform forms the stairwell base over which suspended lights hang. A rose-gold glass blown mirror plays up the drama and the modern aesthetic. The mandir acknowledges Rajasthan's karigari, with its Jaisalmer stone walls, ornate motifs and simple white marble ledges.
.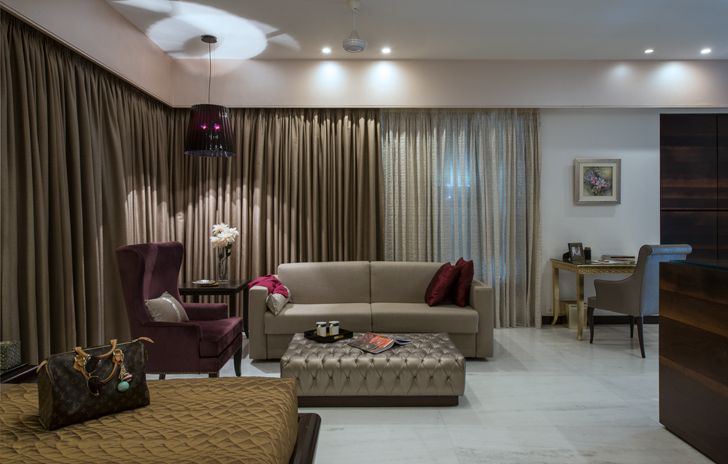 .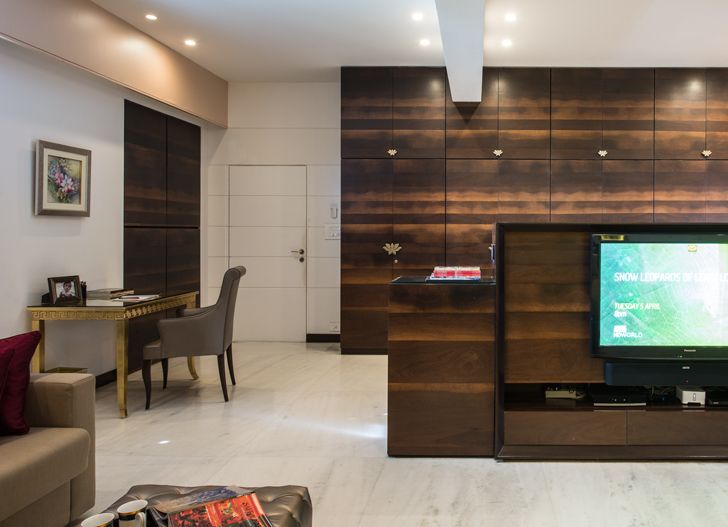 .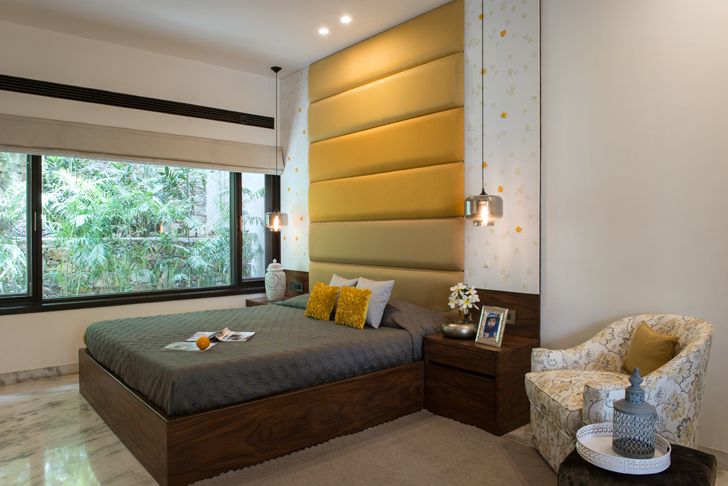 .
.
.
Each bedroom curates a unique style as does each washroom. The powder bathroom stands out - clad in red patterned tiles and a mirror ceiling against black Marquina marble. The den features leather clad square panels in shades of copper and gold and has a tan and gold carpet to complete the relaxed look.
As such, modern detailing cohesively amalgamates with a traditional yet chic aesthetic to symbolise 'India Modern'.
Principals and Founders: Architects Khushboo and Kunal Khandelwal
Carpet area: Main house: 8000 sq. ft; Terrace area: 5500 sq. ft
Location: Udaipur, Rajasthan