By Ar. Vinita Wagh
Renders and drawings: Courtesy UNStudio
Read Time: 2 mins 30 secs
.
UNStudio designs Bengaluru's Karle Town Centre (KTC) Masterplan, drawing on the quintessential character of the city and an urban vision that encapsulates its past, present and future.
In collaboration with Karle Infra, UNSense and Amsterdam's Baljon Landscape Architects, the Tech Hub masterplan curates an experience centred on the premise of 'Gardens', 'Health' and 'Culture' - a union that translates into a responsive design governed by the natural environment, resilience and social prosperity. KTC boasts connections to the city's major transport networks and overlooks scenic views of the Nagavara Lake. Designed to act as an urban magnet, KTC aims to define and stimulate India's urban future.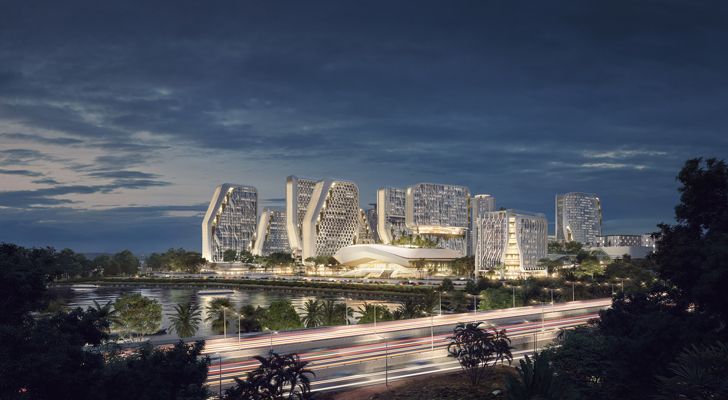 Highway
Waterfront
Cross-roads and view of the iconic tower
UNStudio implements the 'Urban Branding Manual', a tool developed to counteract urban stagnation and help realise the ambitious endeavour of a large-scale masterplan. Facilitating design intentions, analysing design components and filtering quantitatively, the tool safeguards the design vision while use of sensorial technologies throughout the masterplan attend to the overall well being through user dataset collection.
Movement
Iconic branding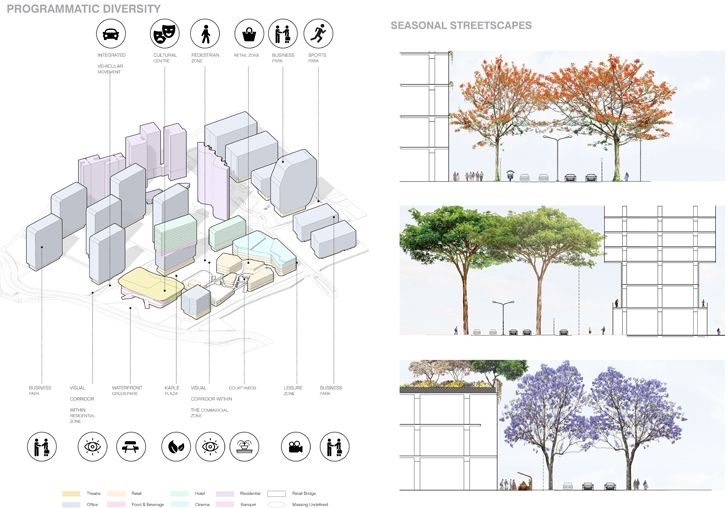 Environmental studies
Shadow studies
KTC's blueprint overcomes the slow growth and development phasing challenges of a traditional masterplan by introducing a thriving microcosm into each plot. Functionally powered by business and commerce, KTC also expresses a unique identity by encouraging working, living and entertainment. A grand central theatre, event square plazas, elevated retail stages and amphitheatre style staircases – all escalate cultural momentum. The masterplan also acknowledges security, connectivity, scale and openness. Pedestrian and vehicular networks integrate and transition seamlessly, with planned drop-off points and underground roads ensuring minimal commute time. Weaving multiple destinations through shaded environments encourages pedestrian movement.
Retail
Plaza
With a series of interwoven, dynamic volumes that rise against Bengaluru's skyline, lending contemporary identity to the KTC Masterplan, and painted in Monopol Color's 'Coolest White' shade, the structures propose to be a breath-taking sight. The landscape and architectural languages complement each other, their sensitive integration shaping the urban context at all scales – green pockets, roofscapes and facades. The public realm garners special attention with the lakefront promenade, avenue vegetation, semi-public vegetative sky gardens and urban elements.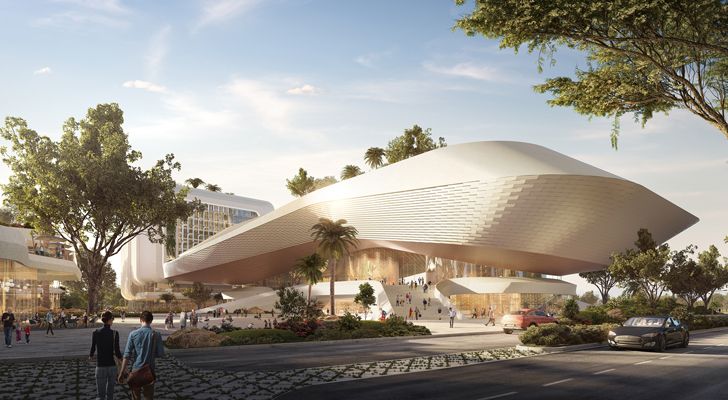 Theatre entrance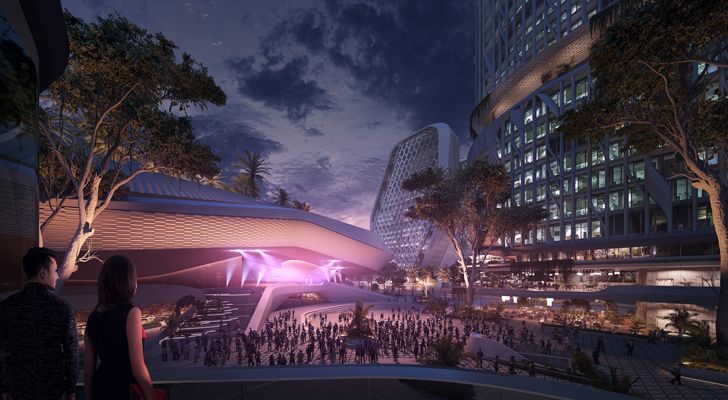 Performance area
The masterplan also aims to combat urban heat island effect, freshwater shortages and implement passive design techniques that capitalise on natural daylight and prevailing wind direction. Such strategies harmonise a sustainable landscape, while simultaneously preserving the green character of Bengaluru.
With the KTC, UNStudio proposes and invites change, metamorphosing not just urban destinations, but also laying out a progressive footprint.
Client: Karle Infra Pvt Ltd
Project: Karle Town Centre
Masterplan and Urban Branding: UNStudio
Principal Architect: Ben van Berkel
Landscape: Baljon Landscape Architects, Amsterdam
Infrastructure Master Planning: Aurecon, Melbourne
Masterplan consultant: Ross Bonthorne, Sydney
Building surface: 10 - 13 million sq. ft.= 930.000 - 1.200.000 sq. m.
Location: Bengaluru, India
Status: Under construction