By Marina Correa
Photography: Arvind Hoon; courtesy the designers
International nightlife brand Toy Room's first Indian outlet in New Delhi aligns perfectly with its foreign counterparts, where provocative playfulness amidst an elite clubbing experience is the norm…
Even though the interiors are enveloped in dark hues, a profusion of LEDs - neon lettering, chandeliers, back-lit panels, underlit combinations and permutations make the spaces appear vivacious and… naughty. Fueling this sprightly aura are dynamic seating arrangements, sound instigative LEDs, opulent chandeliers and an omnipresent teddy bear mascot, Franky, who pops up on wall graffiti, grills of table legs and as soft toys as the bar counter dado, constantly keeping visitors intrigued. Interestingly, the sheer magnitude of the stuffed toy mascots behind glass paneling of the 70-ft-long bar counter saturates the otherwise dark-toned colour palette with the colour of scorching sun.
.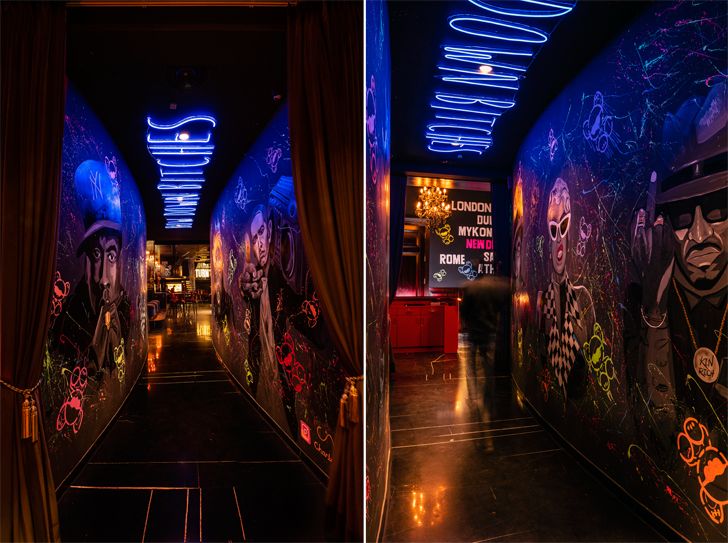 .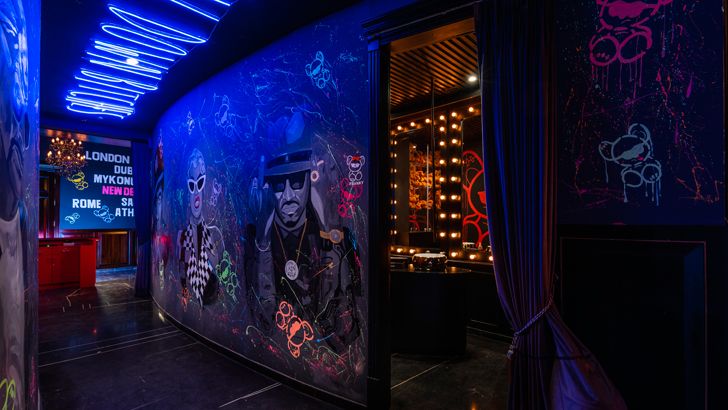 .
.
The design culls out three distinct zones. The reception area featuring a fluted red MDF counter with its brand signage and cute mascot emblazoned in LEDs; whilst a customised 'Last Supper' painting hangs above two mascot-clad 'selfie' chairs belying the fact that it's an intimate club.
Moving indoors, a sense of adultness immediately captivates the senses as painted murals on both walls speak of guns and cigarettes with neon lighting above leading to a bar area, where a Madrix-LED lighted ceiling synchronises its momentum to the beat of the music. The bar display counter is finished in rose-gold; painted murals featuring macho men with drooping eyelids stare at you from the sides, whilst minimal seating on the Nero Saint Laurent dark marble flooring allows clubbers to shake a leg.
.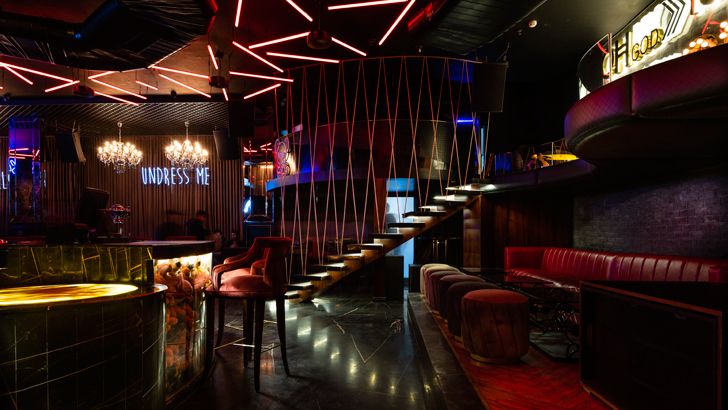 .
.
.
Around the periphery of the circular space are different seating options -- some elevated and designated for VIPs with comfortable booth seating. These cosy niches abounding in sexual innuendos (carved out in LEDs) are splashed across curtains or walls, whilst use of chandeliers add dollops of glitz and glamour.
Soft furnishings in wine-toned hues; herringbone wooden flooring edged in marble, curtained backdrop or wooden panels with brass inlays and luminous mountings of pop artists accentuate the luxe appeal.
A staircase leading to yet another intimate space is carved out of mild steel and plywood planks with marble-clad treads and fitted with LED lights below the nosing – alluding to a floating feel.
.
Tying the entire spectrum of design elements is the mascot that pops up everywhere, keeping true to its name, albeit with a sexually loaded difference; reminds you of the Playboy mascot – wondering if that is where the inspiration came from!
Design Firm: Chromed Design Studio
Principal Architect: Abhigyan Neogi
Gross Built Area: 3,600 sq. ft
Location: Aloft Hotel, Aerocity, New Delhi