By Rutvi Ashar
Photography: Niveditaa Gupta; courtesy RMDK
Read Time: 2 mins
.
RMDK Architects use design as the transitioning tool to transform a long-standing family business into a fresher, more contemporary avatar.
The Good Suit Co. located on the ground floor of a four-storeyed building within Corbusier's most famous cultural and commercial hub of Chandigarh, is crafted as a high-end retail experience cocooned in traditional values. The designers craft a carefully premeditated mix of traditional extravagance and contemporary novelty to represent the balance between a sumptuous past and the promise of a scintillating future.
.
Given the strict façade restrictions, a minimal yet bold and luxurious entrance display window entices the consumer finding a complement in a bespoke display at the back of the store that succinctly and silently speaks of repositioning the brand.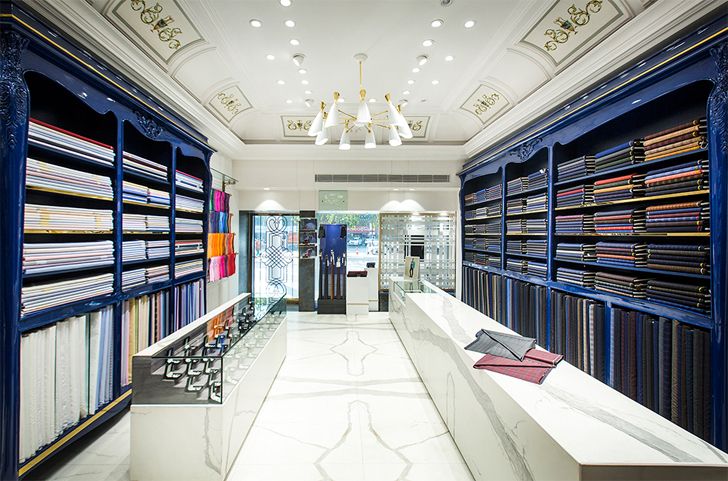 .
.
.
.
Indoors, the space is defined by three different sections in a linear layout, and is consequently zoned thus: the display area, discussion zone and the tailoring section. These are complete with classical vaulted ceilings, exquisitely hand painted, and finished with the inclusion of striking chandeliers. The panelled walls, cornice moulding and parquet carpeting along with a mix of open shelving with meticulous contemporary and classical detailing, paired with the royal colour palette of Antwerp blue, white and gold pays homage to the modern concept of pop-up exhibition zones within luxurious heritage buildings.
.
.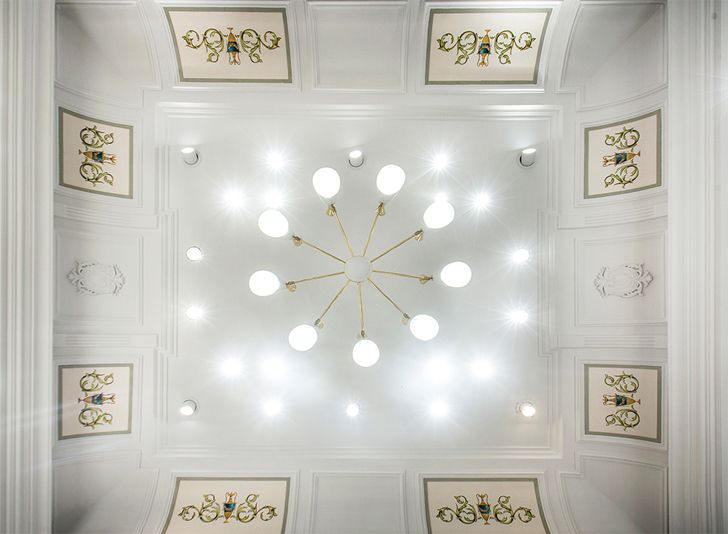 .
.
Custom-designed sleek brass fixtures, oak wood tables and Antwerp blue velvet upholstery only add to the feeling of "customer is king" making the consumer feel even more special. It comes as no surprise that in a market that is slowly losing consumers to online retailers, this retail experience focuses on creating a high recall value.
Client: Mr. Rishabh Gulati/ The Good Suit Co.
Design Firm: Ravish Mehra Deepak Kalra Architects
Principal Architect: Deepak Kalra
Project Head: Aarushi Kalra
Built-up Area: 130 sq. m. (1400 sq. ft.)