IAnD Exclusive
Plush Residences - evolving lifestyles!
By Marina Correa
Photography: Ricken Desai; courtesy the firm
Read Time: 2 mins
A luxury residence designed with a strong connection to nature and exuding a timeless appeal, sits amidst an urban jungle in Hyderabad…
Rohit Suraj of Urban Zen rises to the challenge of transforming a half-built structure into a luxurious home, sensitive to the client's desire for a tropical haven with a warm and inviting façade, reminiscent of a farmhouse.
.
Beginning with the façade, where the warmth of horizontal timber strips is juxtaposed against cool grey concrete, and glass railings that lighten the robust composition, almost every picturesque frame in this home seems like a premeditated composition.
.
.
.
.
The ground floor (comprising entrance lobby, drawing, dining, family drawing, kitchen, master suite etc.) is deliberately raised above street level to draw in abundance of natural light and ventilation. Entry via a long flight of stairs, built on stilts, overlooks a lotus water body.
.
Furthering the tropical theme, the living room is partially screened off by wooden rotatable panels (inspired by the plantain leaf) whilst 3-D wooden tiles on the ceiling exude a dense feel of timber in the family lounge.
.
A double-heighted dining area communes with the landscaped outdoors via floor-to-ceiling glazing that ushers in sweeping views of the lush podium gardens – truly capturing a tropical look-feel. The open kitchen further augments the spaciousness quotient – distinctly alluding to a timeless appeal.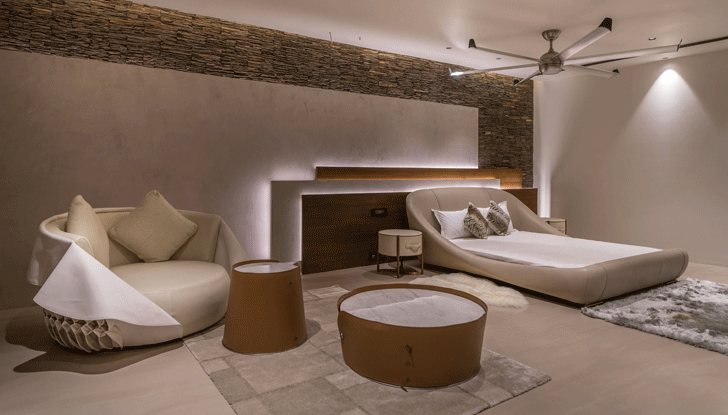 .
.
Overall a subtle colour palette and a variety of lighting options pepper this three-storey structure. But a splash of colour here and a few bespoke pieces there add vibrancy amidst the largely classic and serene ambience. For instance, yellow sofas; artistically-designed twin blue chairs; pink boxes set within wooden wall niches and twin bow-legged side tables grab attention. Interestingly, a play of strategically placed spotlights creates an animated diagrid pattern on the white gypsum board ceiling.
Natural materials such as rough-cut stone, heavy-grained timber and bamboo throughout the house anoint it with the beauty of a tropical aura.
Architect Firm: Urban Zen
Founding Principal: Rohit Suraj
Total area: 13,000 sq.ft.
Location: Jubilee Hills, Hyderabad