By Vinita Wagh
Photography: Prashant Bhat; courtesy Aum Architects
Read Time: 2 mins
.
Borrowing from a variety of design styles, Aum Architects fashion this home with harmony, flair and dollops of personality…
Remodelled out of 2 units, this 5-bedroom apartment spans 7300 sq. ft. and is complete with formal and informal sitting rooms, bedrooms, multiple guest bedrooms and a full-fledged office space. The diverse themes flow through the house effortlessly as spaces transform subtly at thresholds maintaining continuity, whilst creating an element of intrigue and leaving behind a touch of unique elegance.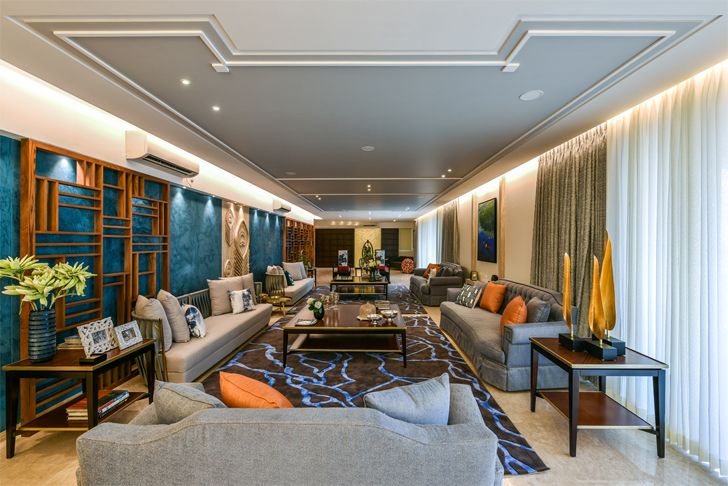 .
.
.
.
.
.
The entrance lobby sports a Grecian look, highlighted with powder blue furniture; as the dining space beyond dons a classical look, with a 12-seater customized table of wood and veneer. On the other hand, the informal seating area and a private office display an Asian theme. An eclectic vibe dominates one guest room, while the other is an amalgamation of classical elements with modern décor – a contrasting mix. Yet another guest room follows a geometric design vocabulary. The father's room displays a mid-century modern style in contrast to the master bedroom that exhibits a semi-classical style with intricate details and materials. The kid's room, a pale pink, features a four-poster bed and an exclusive library unit.
.
.
Undoubtedly, the living room feature wall is the pièce de résistance of the home. Composed of three elements – a turquoise texture wall, a marble feature that acts as the focal point and a wooden partition overlapping the texture paint, this feature wall not only accentuates the linear floor plan but is resourcefully designed to designate formal and informal seating without any visual partition. Inspired by Lord Krishna, the custom-made marble feature takes the shape of a peacock feather and is recreated in MDF and hand painted to mimic the travertine marble backdrop. The colour palette of the formal seating too follows the same thematic.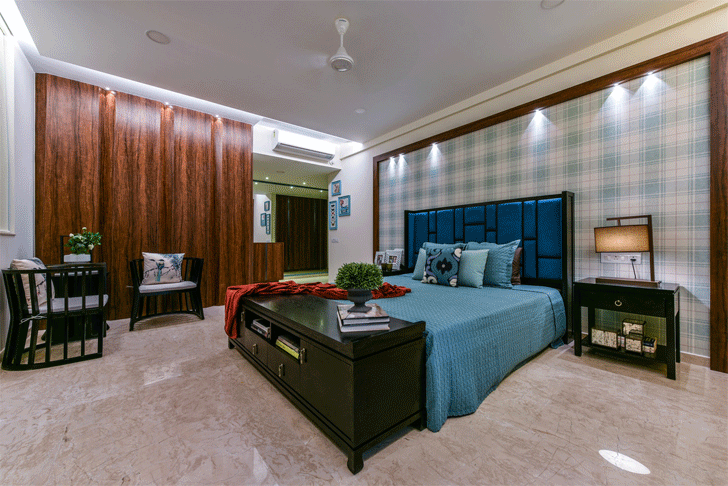 .
.
Although each of the spaces are treated differently, they seek common ground through scale, colour palettes and finishes, rendering a cohesive and balanced look – one that manifests from modern treatment applied to traditional elements - injecting character, identifying with one another and anchoring the room as a whole.
Architect Firm: Aum Architects
Founding Principal: Ar. Manish Dikshit
Design Team: Manish Dikshit, Sonali Pandit, Nachiket Borawake
Location: Thane, Maharashtra