By Vinita wagh
Photography: PHX India; courtesy the designers
Read Time: 2 mins
,
Regal, chic and glamourous - Devam, a luxury store designed by Limited Edition Design Studio opens its doors in Mumbai.
Designed within an 800 sq. ft. space inside a commercial complex in Hubtown Solaris, Andheri, this six-generation old Indian fashion and jewellery atelier showcases a statement interior that articulates an amalgamation of traditional elements set apart with contemporary details. The store concept takes its cues from its product line to establish a brand identity that exudes timeless elegance. Jewellery and Indian handloom patterns are at the heart of the design, in recognition of their artefacts section.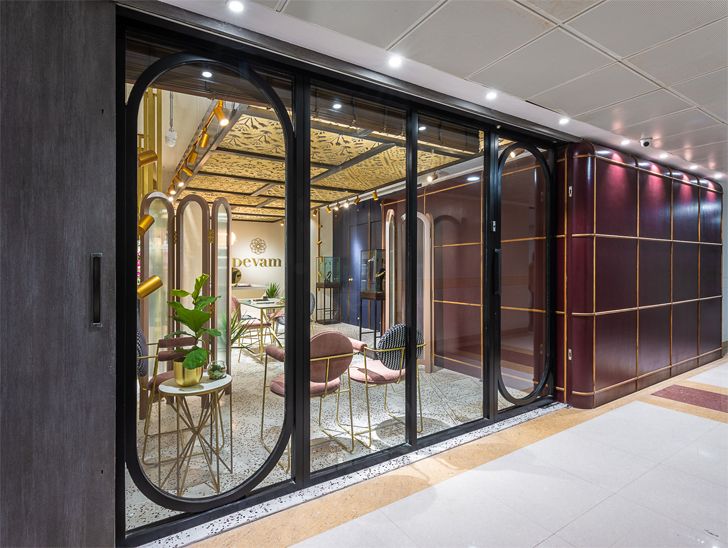 .
.
Three jewellery boxes frame the elevational walls of the space and compose a quaint picture and attract visitors. The Ruby red box displays fluted, golden oak strips and marks the MD cabin. Its cuboid contrasts the subtle black arch frames of the wide entryway. The vintage Sapphire box features wooden corner trims and brass studs, and functions as a staff anteroom and storage space. The Emerald box forms the doorway to the fitting and finishing room.
.
.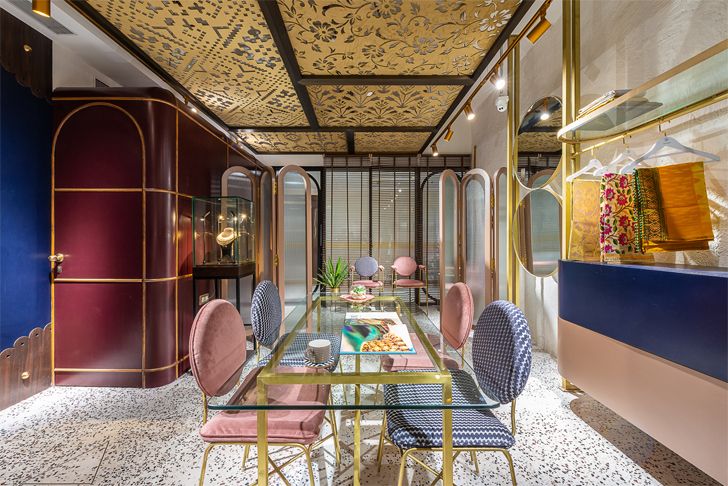 .
While the Ruby box is finished with PU (polyurethane), the latter two employ leather, brass and wood. Complementing the jewel tones is the gold suede fabric that crafts the ceiling, taking inspiration from fine handloom patterns – the result of meticulous research and experimentation on pattern and cut sizes. Each hung panel draws from the Benarasi, Bandhani, Patola, Ikat and Paithani motifs, with the fabric glued on acrylic, laser-cut and framed using aluminium sections.
.
.
Full-height brass stands display and store products against lime-plastered texture walls, while a movable screen partially conceals the store from outside. The cabin table emphasises the use of maple veneer, leather and brass; and the dressing room uses a floral wallpaper and brass-work on the mirror. Light grey terrazzo flooring inlaid with red and white marble chips is cast in-situ.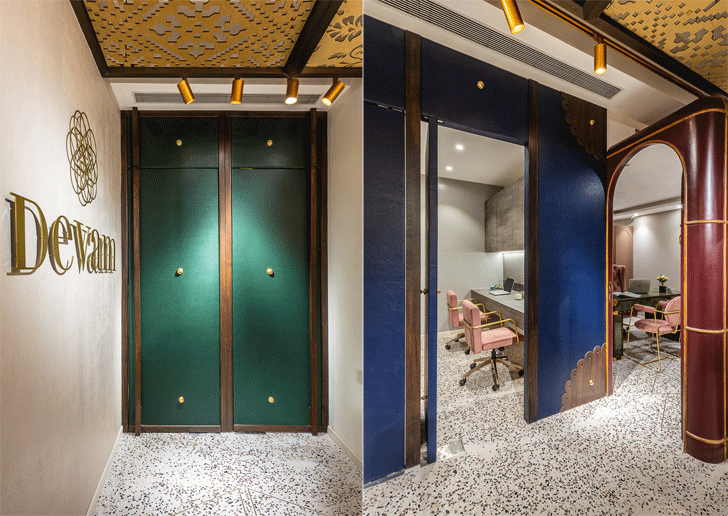 .
.
.
Incorporating elements that not only echo the brand image, but speak of a unique personality and lifestyle, the store brings about a stylish, modern spin on sophistication for those who appreciate and celebrate tradition.
Client: Devam - The House of Luxury
Design Firm: Limited Edition Design Studio
Principal Designers/Architects: Bhumika Patel and Chintan Patel