IAnD Exclusive
Hospitality Special
By Savitha Hira
Photography: Courtesy the designer
Read Time: 2 mins
.
The Punjab Grill at Bandra Kurla Complex, Mumbai sports an ambience that speaks of regional ethos, emphasising on the region's take on grandeur…
Speak of Punjab and you can visualise everything magnanimous, larger-than-life! Culling out the essence of the land and its unique culture, designer Ishvinder Kaur of ivpartners designs the restaurant using opulence as the underlying tool, strategically limiting the gold sheen to the ceiling – and completing the picture with crystal chandeliers that evoke memories of a bygone era.
.
.
The linear plan is well appointed with a glass façade that ushers the outdoors inside – just enough to mitigate the linearity and balance the opulence of the shimmering gold ceiling. Two unique elements – the craft of Phulkari embroidery and the rampant use of jaalis thread an interior ambience that references the regional influence – the rest is taken care of by the culinary expertise of the brand.
.
.
.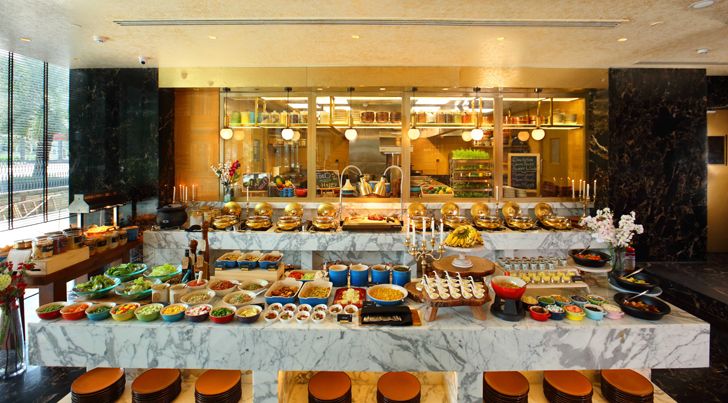 .
So, we see the two elements woven into the flooring, defining seating and circulation spaces and on the walls as panelling, interspersed with mirrors, in a subdued application. The earthy palette of neutral hues with red as a feature colour is broken by grey striated-marble buffet counters as the use of black marble in the washrooms, especially with its gold striations, adds to the grandeur; balanced by cove lighting, it complements the finesse that greets the diner and sustains the fine-dine concept.
.
.
Multiple seating options in twos, fours and sixes, and well-planned circulation caters to diner comfort as the bar along one length of the space grabs the spotlight. Anointed with a mirror, the simple shelving of the bar becomes the highlight feature as the display sparkles with the lights hitting the mirrored backdrop.
With the scenario completed by adding vignettes of old portraits and photographs of the erstwhile Royals of Punjab, the restaurant offers a little bit of the rich legacy of the land, catering to those, who seek an authentic ambience to match the regional flavours of their meal.
Lead Designers: Ishvinder Kaur, Vikas Sabharwal