IAnD Exclusive
Hospitality Special
By Rutvi Ashar
Photography: Ar. Purnesh Dev Nikhanj; courtesy Studio Ardete
Read Time: 2 mins
Cafés all around the world aim to please the customer sensorium. Studio Ardete focuses on exactly this to create an urban café, Boston Bites, a thematic experience of the Boston streetscape in Mohali.
Located in Chandigarh, India, the team at Studio Ardete spearheaded by Badrinath and Prerna Kaleru aims to make each project a study in logical and comprehensive designing. In Boston Bites, they marry the urban fabric of Boston to an interior layout. Simple elements such as newspaper-clipping upholstery, metal fabricated enclosures, vinyl tape floor marking for walkways, zebra crossings etc. create an abstraction of an extroverted landscape.
.
The designers feel they have captured the various moods of Boston. Walk through the basement or the ground floor and you come face-to-face with the aura of bleachers in baseball games at the heart of Boston or of daily happenings such as sitting by the street side or riding a bike. Even though the entire experience is stationed indoors, a play on outdoor activities as well as the pedestrian nature of the area opens up the senses of the customer to the external environment.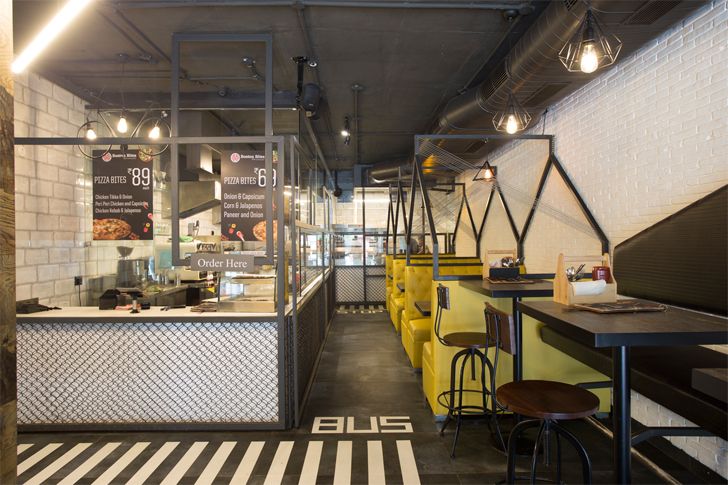 .
.
.
Diners can choose from a variety of seating which is spread over the two floors: a raised platform with a grounded seating scheme, booths that allow for a peek into the kitchen as well as a row of cosy seats that can be reconfigured for larger groups.
.
.
.
A certain amount of ruggedness of the streets (native to Boston) is focused upon that takes away from the colour yellow, which is commonly used to attract attention. In this case too, the colour grabs instantaneous attention; yet, soon wanes due to the matte finished metal frames, chain link counter and open services. It is interesting to observe how activities as well as the cultural identity of an American city are mapped out for locals of Mohali to mimic and enjoy.
Design Firm: Studio Ardete
Principal Designers: Badrinath Kaleru, Prerna Kaleru
Design Team: Badrinath Kaleru, Prerna Kaleru, Anusha Sharma, Sanchit Dhiman, Ramandeep Rathour, Vidit Chaudhary
Built-up Area: 175 sq. m. (1883.68 sq. ft.)