IAnD Exclusive
Hospitality Special
By Team IAnD
Photography: Richard Powers for Concrete
Read Time: 2 mins
.
The citizenM hotel at Honquio, Shanghai, diligently fuses the vibrant design style of the brand with a trickle of spirited cognition…
Amsterdam-based studio Concrete designs this 303-room hotel, exquisitely laying out a schema that combines both - the finesse of a hotel and casualness of a den inviting travellers to feel at home.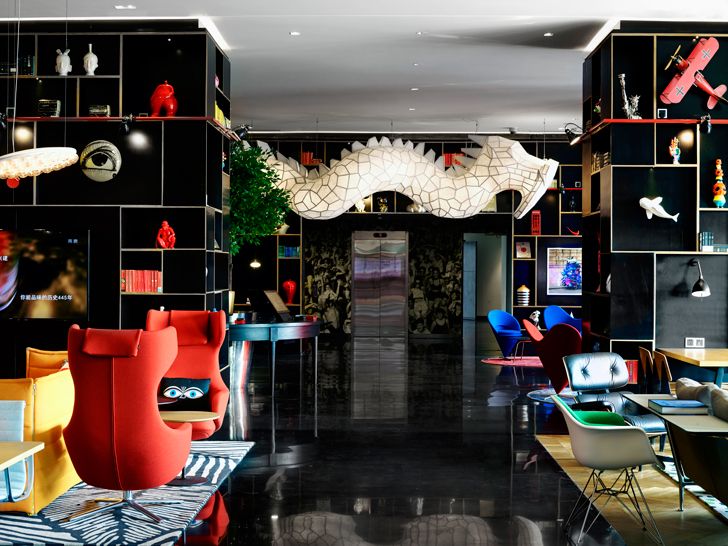 .
.
Two entrances – one formal with a portico and car drop and the other, informal – opening from the head of the two-level public space, along the length of an art wall ushers customers into a vibrant interior that is strategically interspersed with floor-to-ceiling cabinets adorned with select artefacts. Finished in black, the cabinets and flooring provide perfect neutrality for the energetic palettes of the furniture and furnishings and the colourful art.
.
.
.
From the centrally positioned bar and easy access to the hotel's signature collection of artefacts to the wooden-balustrade of the iconic staircase that connects the two levels, the layout accommodates all the signature features of the citizenM hotels worldwide. Configurations of muted seating with an imitative 'koi-pond' carpet that imparts the essence of sitting with your feet dipped in one; even a flamboyantly floating dragon at the reception area mark regional flavour…
.
.
.
.
At the first floor of the public area, two internal courtyards flank the bar on either side, and host prototypal impressions of the citizenM brand in the styling of the furniture and elements, namely red tree benches and lanterns. Posing for vitality, these courtyards effectively flush the bar with requisite amounts of daylight.
Organised with seven meeting rooms and a breakout area that comprise a social working-hub 'societyM', the first floor is also anointed with a corridor that circumscribes the meeting rooms and adjoins the internal courtyard and external terrace to peek into the lobby on the ground floor, visually connecting the two levels.
.
.
Designed as an ode to affordable luxury with the modern traveller in mind, the hotel communicates an aesthetic that is visually striking and unmistakeably youth-oriented.