IAnD Exclusive
Plush Residences - evolving lifestyles!
By Ar. Bineeta Ghoshal
Photography: Courtesy Moriq
Read Time: 2 mins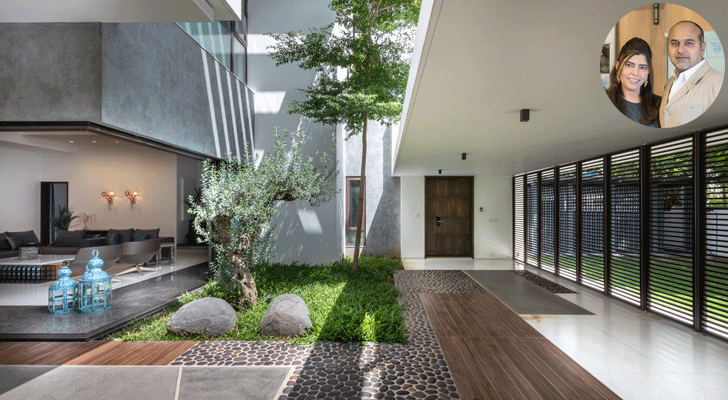 .
Moriq Interiors uses the courtyard typology to design a contemporary residence close to nature, aligning its ethos with understated luxury…
Magnificence in design can be depicted in the most subtle format, whilst keeping the vitality of an intimate setting intact. Architects Simeen and Riyaz Quraishi of Moriq Interiors endorse this statement in the design of this habitat, crafting it with a minimalist approach and an essence of the client's stylised personality.
.
.
Located in Hyderabad, the abode is composed as a single-family dwelling catering to the aspects of Vaastu, along with creating a contemporary schema for the well-travelled clients. Analogous to the natural vegetation of the north-facing plot, and with the home opening to the east, the landscaping incorporates the existing trees as a part of the entire design concept.
.
.
.
.
One enters the home through a bespoke brass door, stepping into a lush central courtyard that is interestingly demarcated by floor-ceiling openable louvered doors, schemed as an intermediary on the north-east side to maintain the privacy of the living areas. With a magnanimous planning set-up, intricate details like the use of natural stones from Pondicherry along with white marble and wood-finish tiles, along with colourful accents and sleeper wood, blend to create the plush vibe of the habitat.
.
.
The double-height living room makes way to the other private areas that comprise a quaint bedroom with an attached deck, a dining and a technically-sound kitchen on the ground floor; an elegant lounge and three bedrooms on the floor above; and amenities like a puja room, a gym, a study, a home theatre and a lift-lobby powder room… each complying with the understated tone of the overall design approach.
.
.
This residence can thus be pinned for maximising the naturalness of the habitat, luxuriously playing with space and the elements of a modern interior, without compromising on the warmth of home and hearth.
Principal Designer/Architect: Simeen Quraishi & Riyaz Quraishi
Built-up Area of project: 7500 sq. ft.
Carpet Area of project: 5300 sq. ft.
Location: Hyderabad, Telangana, India